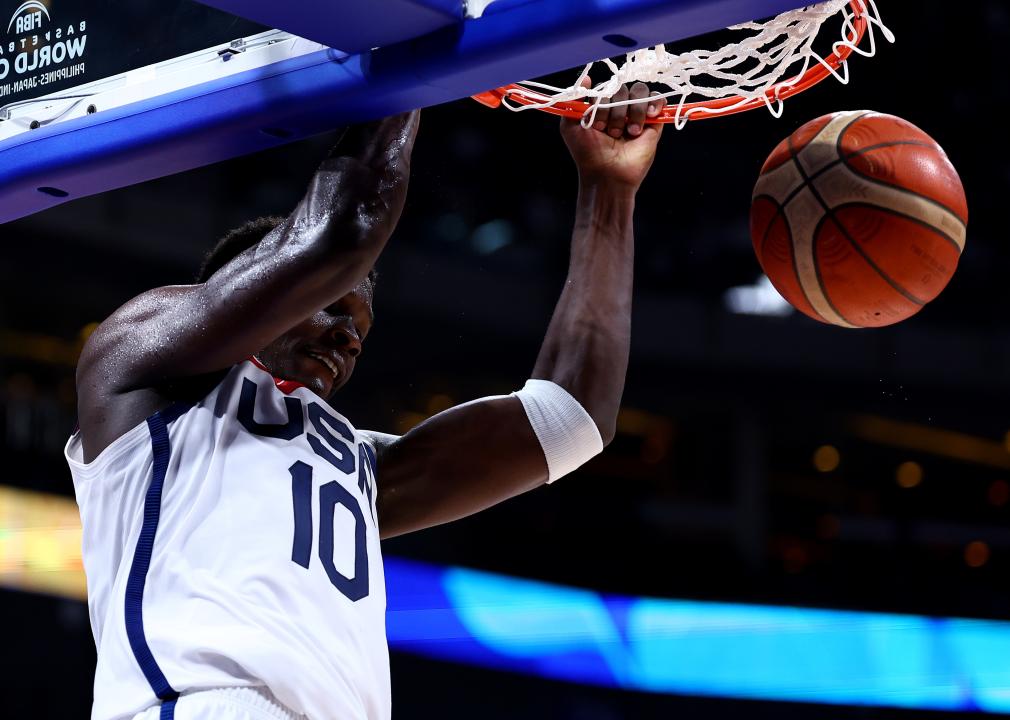 Yong Teck Lim // Getty Images
The international player pipeline to the NBA is as strong as ever right now. Foreign players made up over a quarter of the league in the 2022-23 season, and the winners of the last five MVP awards were born outside of the U.S. The unselfish style of play and exceptional work ethic of Nikola Jokić, the 2021-22 season MVP, is a testament to the distinct mindset that international players bring to the NBA as basketball becomes a global sport.
International basketball competitions are especially important to advancing the worldwide growth of the game, which is why the Fédération Internationale de Basketball, the governing body for basketball throughout the world, came to be. Because of FIBA's efforts (along with the support of 32 other nations), basketball was included in the 1936 Berlin Olympics.
When the United States sent a team of iconic NBA superstars to the 1992 Olympics, a generation of future international basketball players were inspired to pursue their passion by the "Dream Team." Almost three decades later, the 2019 FIBA World Cup would reach over 3 billion TV watchers and engage new segments of fans across the globe.
In recent years, the FIBA World Cup has also become a barometer of basketball growth in different countries. Some national teams have begun to rival the U.S. with the number and experience of NBA players on their rosters. With that in mind, OLBG compiled a ranking of countries with the most NBA players in the 2023 FIBA World Cup using data from the NBA. Ties were broken using total years of NBA experience on each team.
3 other FIBA teams rival USA in total NBA experience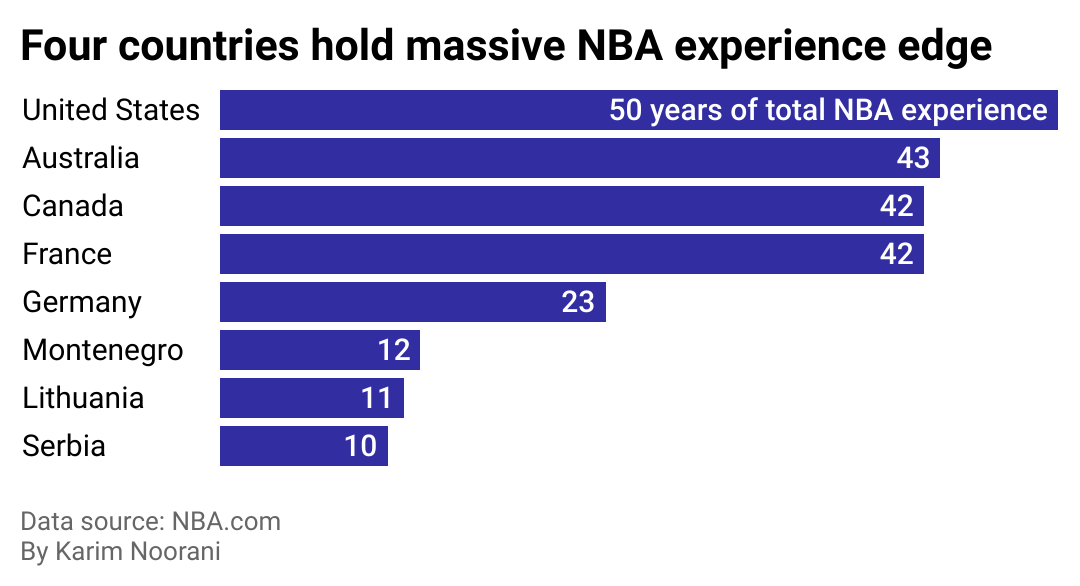 OLBG
Although the United States dominates the heap of top-end basketball talent, the FIBA World Cup teams are often composed of younger stars with only a few years of experience under their belt. The average NBA experience for U.S.-born players is just four years. International teams, however, are much more successful at luring their veteran NBA players to play for their country.
So, without further ado, here are the countries that have the most NBA players participating in the 2023 FIBA World Cup.
#5. Germany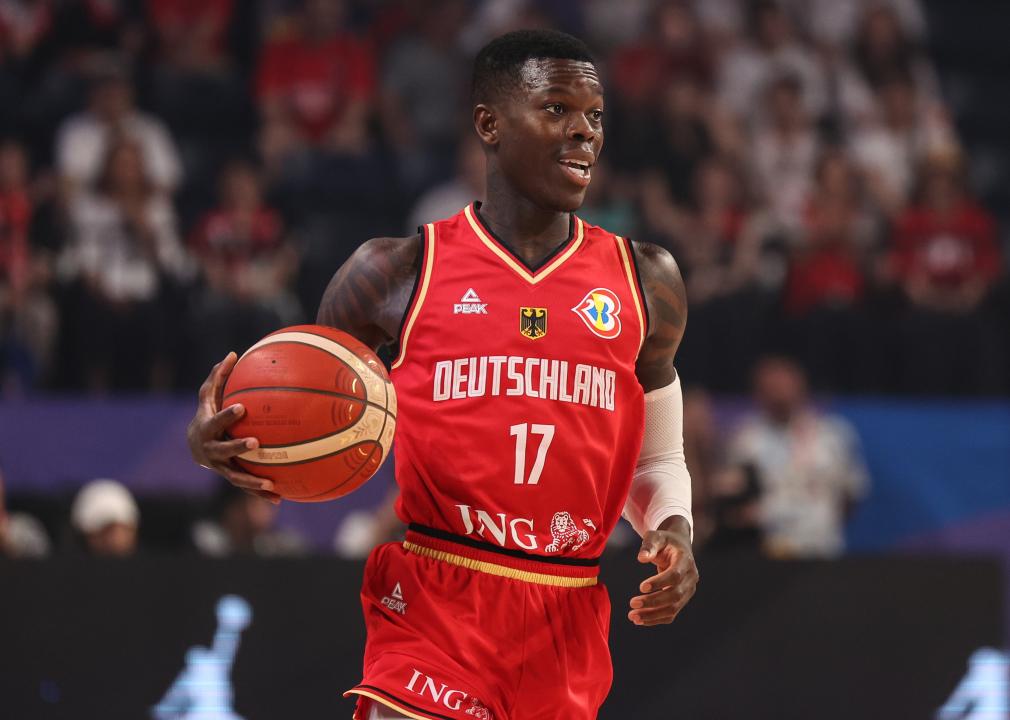 Takashi Aoyama // Getty Images
- NBA player count: 4 players
- Total NBA experience: 23 years
- Notable participants: Dennis Schröder, Franz Wagner, Moritz Wagner
Ever since Dirk Nowitzki retired from basketball in 2019, the German national team has been searching for its next star. Dennis Schröder performed exceptionally well in the 2019 FIBA World Cup, leading the tournament in assists per game and finishing in the top 10 in points per game, but his play alone couldn't elevate the team past the group phase.
In the 2023 World Cup, Schröder was joined by promising young talent Franz Wagner, who helped the country secure their first FIBA World Cup championship. Wagner possesses a rare well-rounded skill set with a 6-foot-10-inch frame, which nicely complements Schröder's nimble and attacking style of play. The duo also led Team Germany to a bronze medal in 2022's EuroBasket tournament, with impressive victories over tournament favorites France and Greece.
#4. France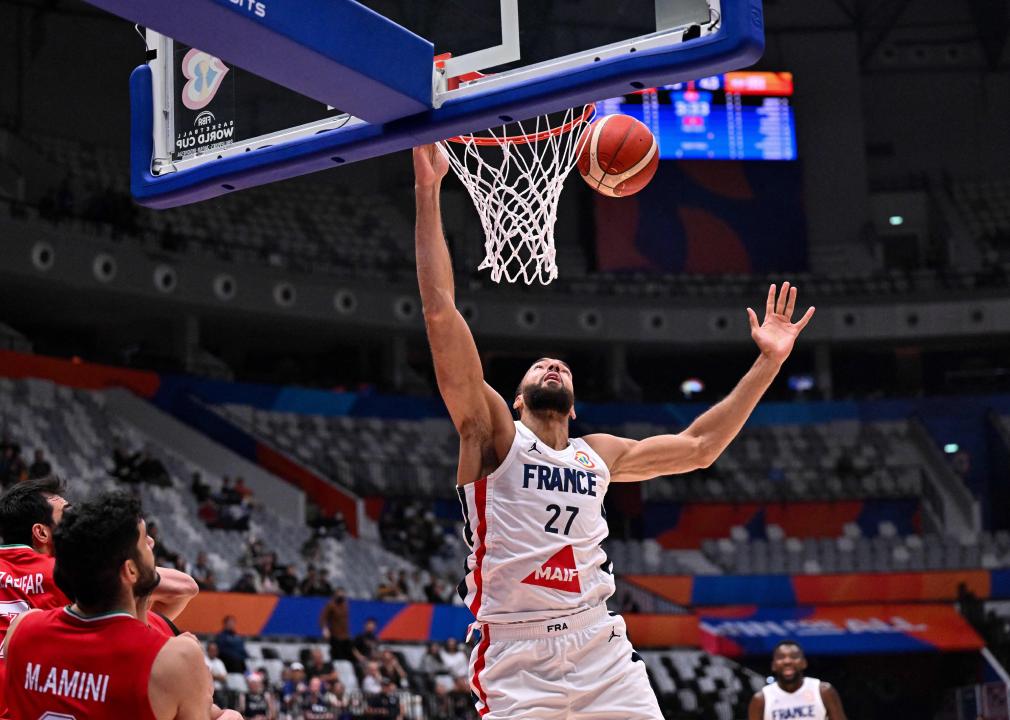 ADEK BERRY/AFP // Getty Images
- NBA player count: 4 players
- Total NBA experience: 42 years
- Notable participants: Rudy Gobert, Evan Fournier, Nicolas Batum
France has been a lurking giant in international tournaments for almost two decades. The team seemingly always fields a solid crop of NBA players, with the likes of Rudy Gobert leading the charge. Gobert becomes even more impactful under FIBA basketball rules, which allow defensive players to camp out in the restricted area and swat away balls bouncing on the rim.
The 2023 FIBA World Cup was likely the last tournament before basketball phenomenon Victor Wembanyama enters the equation for the French national team. The 2023 #1 overall pick in the NBA Draft declined to play in this year's World Cup, citing need for rest after just concluding a long season with Metropolitans 92 in France. Wembanyama's awe-inspiring size and skill combination will make him a terror for opposing teams to deal with when he decides to suit up for France.
#3. Canada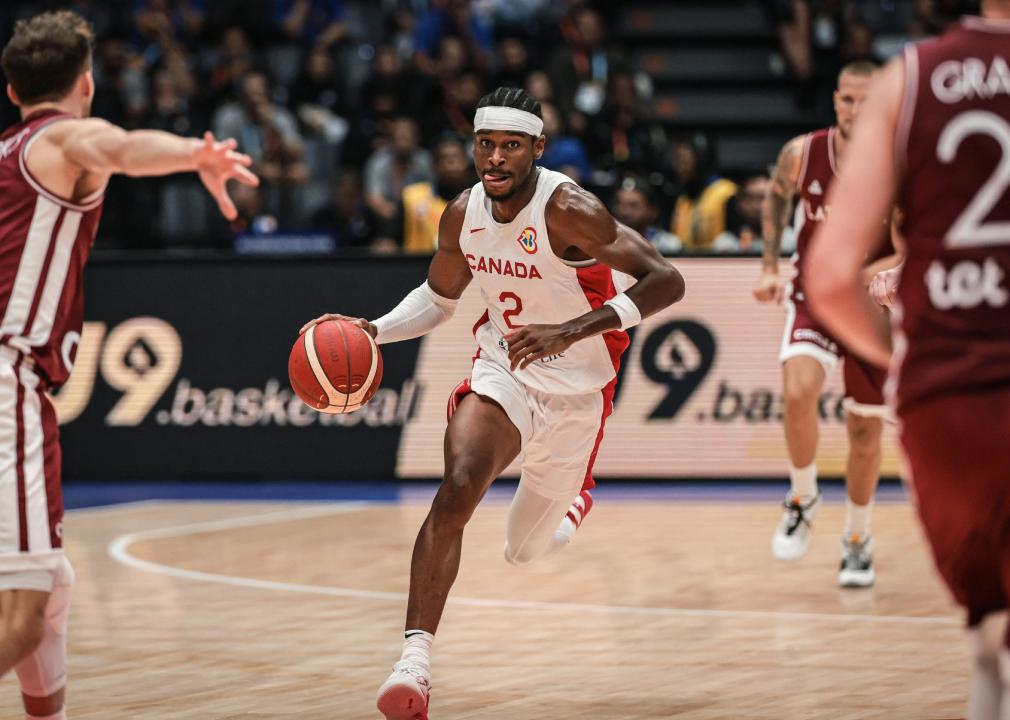 YASUYOSHI CHIBA/AFP // Getty Images
- NBA player count: 7 players
- Total NBA experience: 42 years
- Notable participants: Shai Gilgeous-Alexander, RJ Barrett, Dillon Brooks
Canada originally seemed like the most formidable threat to Team USA in the 2023 tournament. Aside from Luka Dončić, Shai Gilgeous-Alexander was the only other player in the World Cup who received a 2023 All-NBA selection. The 25-year-old is a very crafty and prolific scorer who can go head-to-head with anyone at the end of close games.
Gilgeous-Alexander also had a strong supporting cast on this year's team, headlined by RJ Barrett, Dillon Brooks, and Luguentz Dort. The players may not have had the same top-down star power or offensive skill as Team USA, but they did have enough talent to beat the Americans and take home a bronze medal.
#2. Australia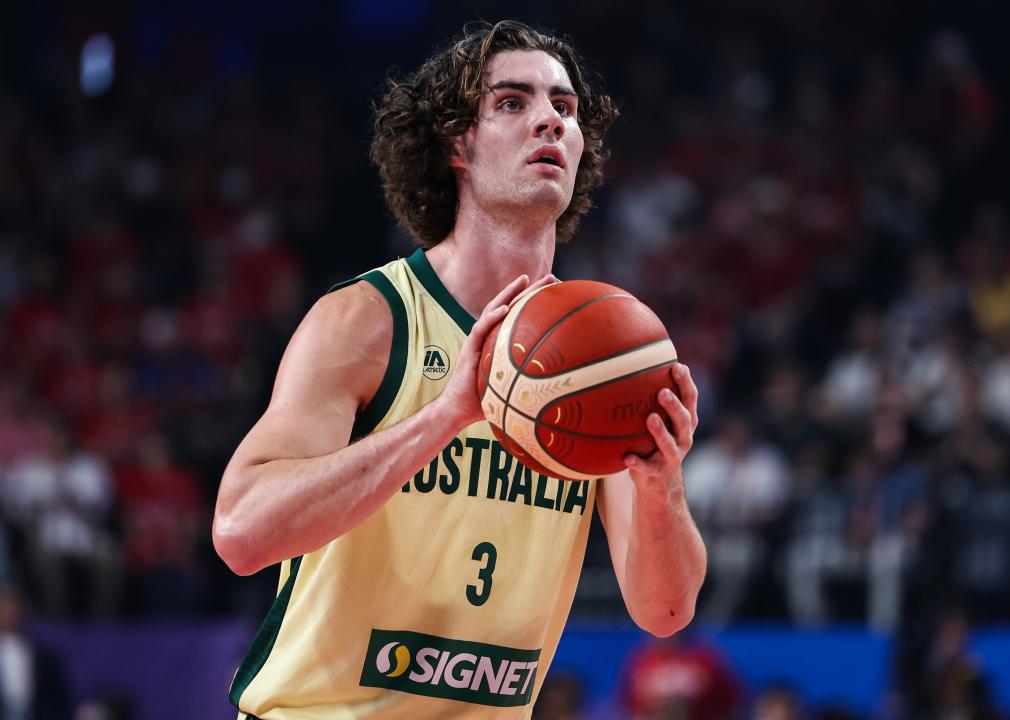 Takashi Aoyama // Getty Images
- NBA player count: 10 players
- Total NBA experience: 43 years
- Notable participants: Josh Giddey, Patty Mills, Joe Ingles
Due to the popularity of the National Basketball League (NBL) in the 1990s, a generation of Australian basketball players grew up watching the likes of Andrew Gaze and Leroy Loggins play in their home country. The NBL has spawned the careers of many future NBA players, including veterans Patty Mills and Joe Ingles.
Josh Giddey, who played in his first FIBA World Cup in 2023, will be a key player for Australia. Giddey possesses a unique combination of size and passing, which allows him to see over opposing players and create open shots for teammates. Australia most recently took home a bronze medal in the 2021 Olympics.
#1. USA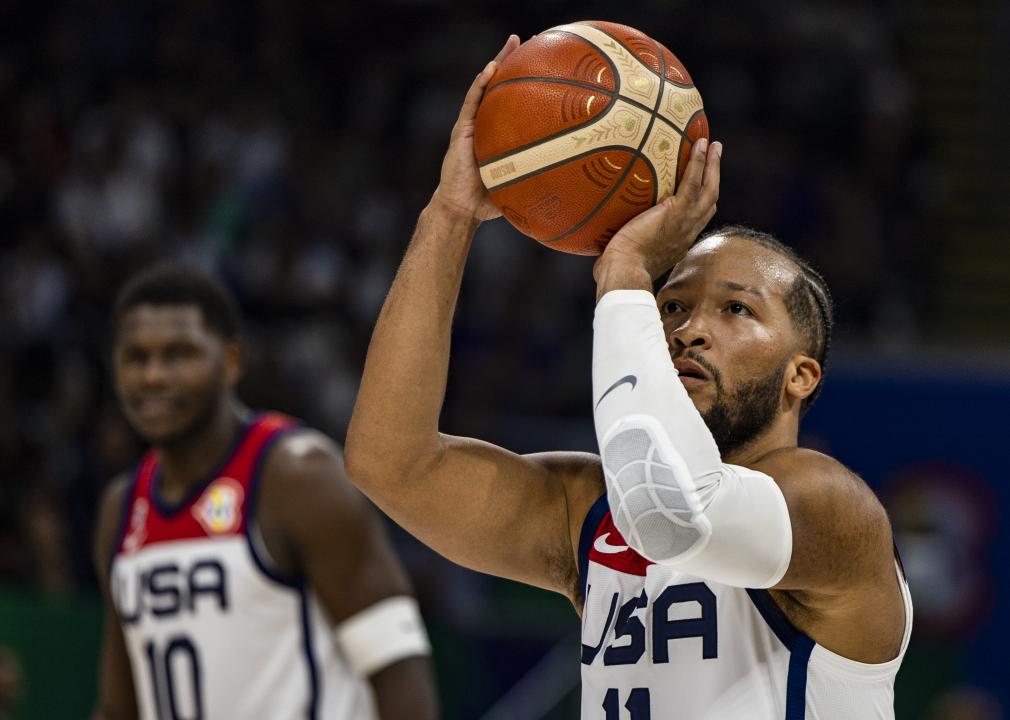 Ezra Acayan // Getty Images
- NBA player count: 12 players
- Total NBA experience: 50 years
- Notable participants: Anthony Edwards, Jalen Brunson, Jaren Jackson Jr.
The United States has been an indomitable presence in the FIBA World Cup since 1994 when NBA players first began participating. Despite an overwhelming talent advantage, Team USA often lacks the chemistry and roster continuity of other countries, making it vulnerable to upsets against more experienced teams in the tournament.
The World Cup is often a great display of budding young stars for the United States. This year's team featured three 2023 All-Stars and two former #1 overall picks, but it still wasn't enough to take home a medal. (Germany won the gold, Serbia won the silver, and Canada won the bronze.)
Data reporting by Karim Noorani. Story editing by Carren Jao. Copy editing by Robert Wickwire. Photo selection by Clarese Moller.
This story originally appeared on OLBG and was produced and distributed in partnership with Stacker Studio.