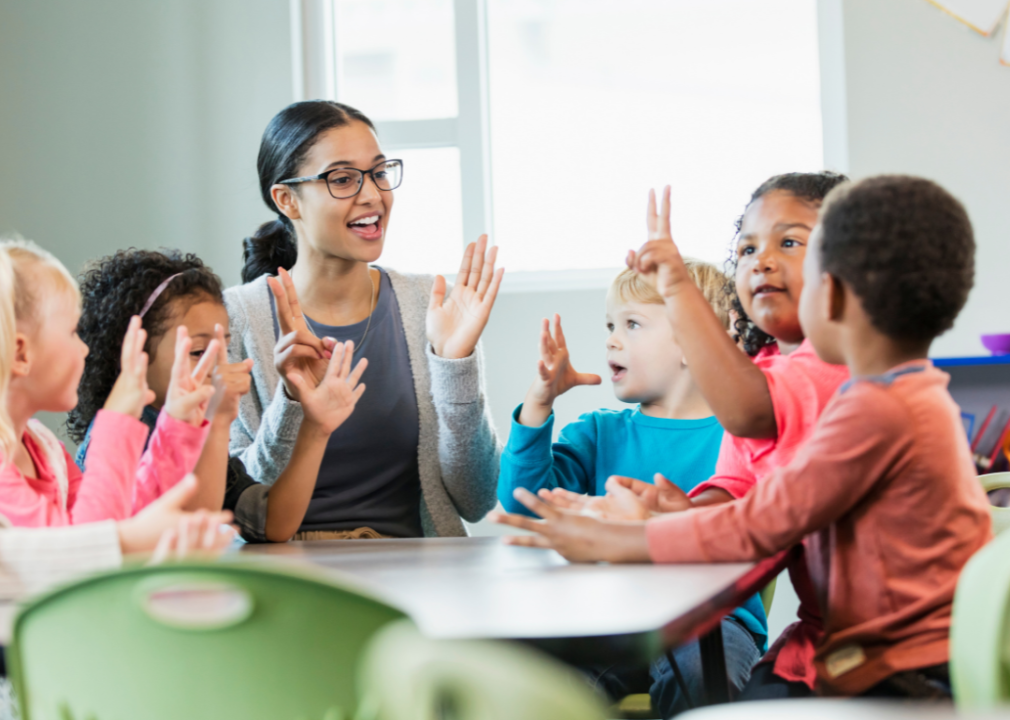 Canva
The COVID-19 pandemic hit teachers like a pop quiz. The shift to the virtual classroom tested their technological skills, while the new digital learning environment forced them to modify their lessons.
As the need for new skills increased, so did teachers' workload and feelings of burnout. Combined with the uncertain future and widespread health concerns that characterized the pandemic, many experienced teachers opted for early retirement while others left the profession altogether.
Filling those openings has proven to be a daunting task. In October 2022, 45% of public schools reported at least one teacher vacancy, according to the National Center for Education Statistics. Using NCES data, HeyTutor contextualized the current state of teacher vacancies in public schools.
While a 2022 National Education Association survey of over 3,000 educators found that 55% are considering leaving the field or retiring early because of the pandemic, that is only part of the problem, as fewer educators are entering the field. The number of students pursuing education-related degrees dropped by over a third between 2008 and 2019, according to a 2022 report by the American Association of Colleges for Teacher Education.
The pandemic seems to have exacerbated an existing decline. This is partly due to the pay discrepancy teachers face compared to their college-educated peers. According to a 2021 report by the Economic Policy Institute, teachers earn an average of 23.5% less than comparable college graduates.
The economic impacts of the pandemic made teaching positions even less appealing, with potential educators seeking job stability and higher salaries elsewhere. Those who remain interested in teaching continue to face pandemic-related setbacks. The closure of schools during the pandemic resulted in a lack of student teaching opportunities and reduced in-person training. This has potentially delayed the introduction of new educators into the field.
Certain teaching roles significantly more difficult to fill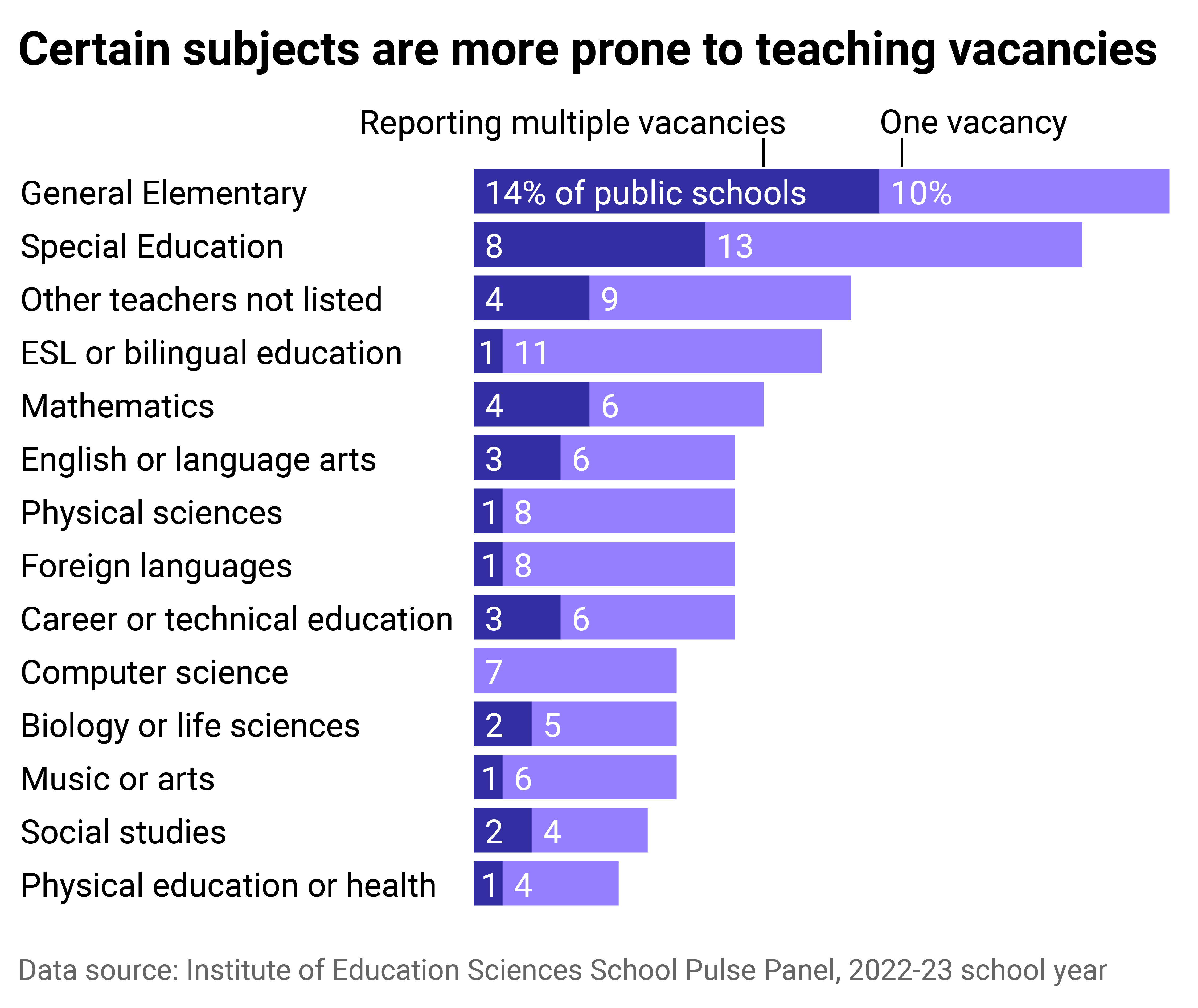 HeyTutor
While interest in teaching careers is declining overall, it is especially concentrated in a few subject areas. There have been 44% fewer degrees conferred in foreign language education over the last decade, as well as 27% fewer in science and math education, and 4% fewer in special education, according to the 2022 AACTE report. This discrepancy is emerging in the education system in the form of teacher vacancies, as data from the 2020-2021 school year shows.
According to the NCES, 7% of special education teaching roles are unfulfilled—the highest amount of vacancies in any subject. This is especially troubling considering that enrollment in special education courses is on the rise. Students with disabilities accounted for 15% of all students during the 2020-2021 school year, up from 13% in 2009-2010, according to the NCES.
English as a second language and foreign language teachers had the second-most vacancies, with 6% of positions remaining unfilled. This is due in part to more stringent qualifications that vary by state. However, foreign language teachers also have an annual turnover rate of 20% compared to the teacher average of 16%.
In an effort to incentivize educators in the face of the widespread shortage, school districts are exploring a variety of solutions. Some districts are offering retention bonuses or signing bonuses for teachers who fulfill a critical need, such as special education teachers. Meanwhile, other districts seek to expand their potential talent pool by reducing qualifications for teaching roles. For example, Arizona Gov. Doug Ducey recently signed legislation eliminating the requirement for teachers to hold a bachelor's degree.
Data reporting by Emma Rubin. Story editing by Ashleigh Graf. Copy editing by Tim Bruns. 
This story originally appeared on HeyTutor and was produced and distributed in partnership with Stacker Studio.