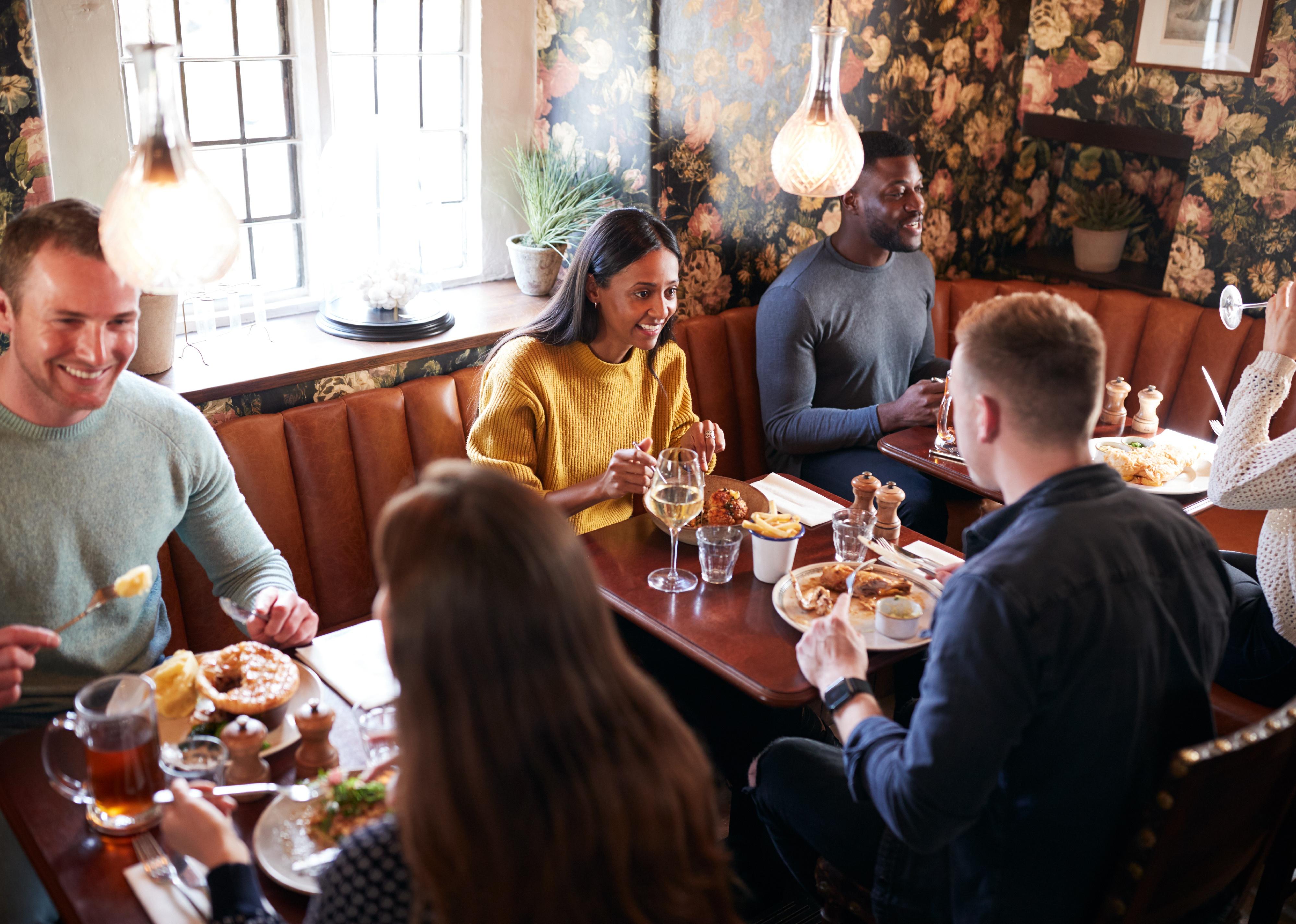 Monkey Business Images // Shutterstock
The COVID-19 pandemic wreaked havoc on the restaurant industry, nosediving consumer spending and hammering supply chains.
By March 2021, those challenges led to the permanent closure of 79,438 eateries—approximately 10.2% of the 778,807 U.S. restaurants in operation at the onset of the pandemic, Datassential reports.
Yet today, restaurant sales have grown faster than even pre-pandemic levels.
Task Group analyzed Census Bureau data to identify the recovery and continued growth of restaurant sales in the years since COVID-19 disrupted the industry. The data represents sales at restaurants and other eateries, adjusted to May 2023 dollars using Consumer Price Index data. The data is not seasonally adjusted, meaning it shows seasonal fluctuations in consumer spending.
Restaurant spending quickly surpassed pre-COVID values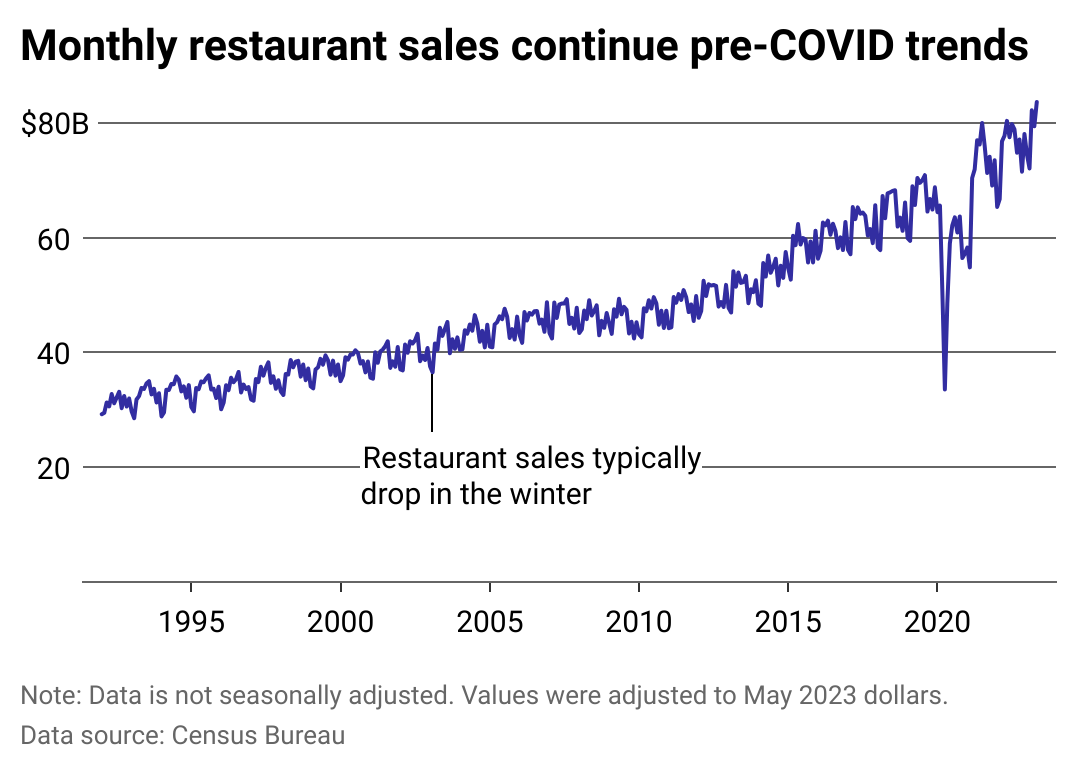 Task Group
Monthly restaurant sales have exceeded pre-COVID levels nearly every month since March 2021, according to Census Bureau data. This is partly due to higher food prices overall—the Department of Agriculture estimates food costs are up 4.1% this year.
Notably, however, the growth rate of annual restaurant sales is increasing over time as well. Between 2021 and 2022, annual restaurant sales grew by 6.1%. In contrast, the annual restaurant sales growth rate ranged between 3.2% and 3.7% from 2016 to 2019. Part of this growth is attributable to the surge in carryout and delivery sales. A study called the "Agency Forward Restaurant Survey" by Nationwide Insurance revealed that at least 1 in 4 restaurant decision-makers have added or expanded delivery services to their offerings since 2020. Perhaps unsurprisingly, the food delivery market saw its most rapid growth in 2020 due to the pandemic. The industry is expected to reach $165 billion by 2029.
Though the restaurant industry is outperforming its projected recovery, challenges remain. The leisure and hospitality industry is short nearly half a million workers from 2020 levels, the Bureau of Labor Statistics reports. In fact, the ongoing labor shortage in the country is rather concentrated in industries comprising restaurants, which have the highest quit rate at over 4.9% since July 2021, per the Department of Commerce. The unemployment rate in the leisure and hospitality industry is also higher than in any other industry at 5.8%.
Restaurant owners also face slimmer profit margins due to inflation and supply chain difficulties. Wholesale food prices are up 13.2%, while menu prices are only up about 8%, according to the National Restaurant Association. Operation costs—such as electricity, utilities, and rent—are also increasing, further reducing owners' profit margins.
While inflation is affecting profit margins and menu prices, it has not yet seemed to impact customer enthusiasm for spending on eating out. In fact, Americans are spending more on restaurants than groceries per month.
In 2022, the average consumer spent $130 at a restaurant for every $100 spent on groceries—and that gap continued to widen throughout this year. Since February 2023, Americans have spent approximately 10% more on eating out at restaurants than before.
Story editing by Ashleigh Graf. Copy editing by Paris Close. Photo selection by Clarese Moller.
This story originally appeared on Task Group and was produced and distributed in partnership with Stacker Studio.