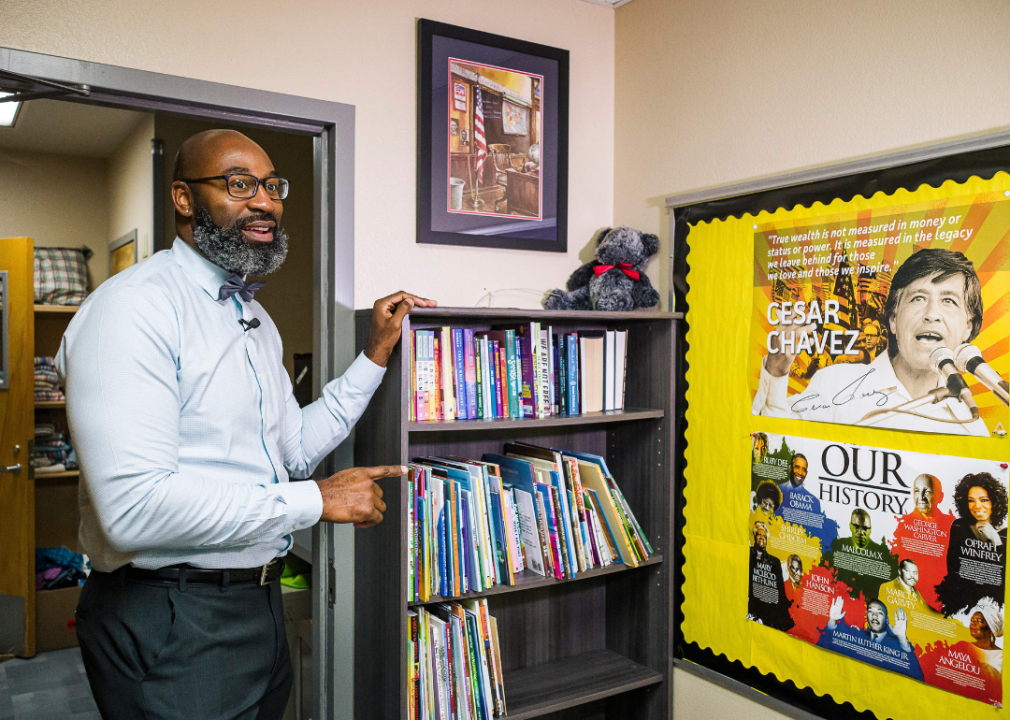 OLIVIER TOURON/AFP // Getty Images
Most of America's public school teachers have advanced degrees, but studies show that highly educated teachers are seeing sharper declines in pay. TeacherCertification.com explored how salaries aren't keeping up even as more teachers earn post-baccalaureate degrees, citing National Center for Education Statistics data.
Low teacher pay results in fewer young people entering the profession, fueling a nationwide teacher shortage.
"We are not taking our country's economy and wellness seriously as long as teachers are working as Uber drivers and bartending on the weekend to make ends meet," said Nínive Calegari, co-founder of The Teacher Salary Project. This nonpartisan organization seeks to involve teachers in education policy discussions, including pay.
In 1999-2000, 47% of teachers had degrees above bachelor's level. Compare that to the 2020-21 school year, which had 60% of teachers with degrees above a bachelor's degree. Meanwhile, 51% of all teachers held master's degrees—a significant change from past years.
Despite being among the most educated professions—some states even require master's degrees—teachers earn just three-quarters as much as comparable college graduates, according to research published by the Economic Policy Institute in 2022.
Declining salaries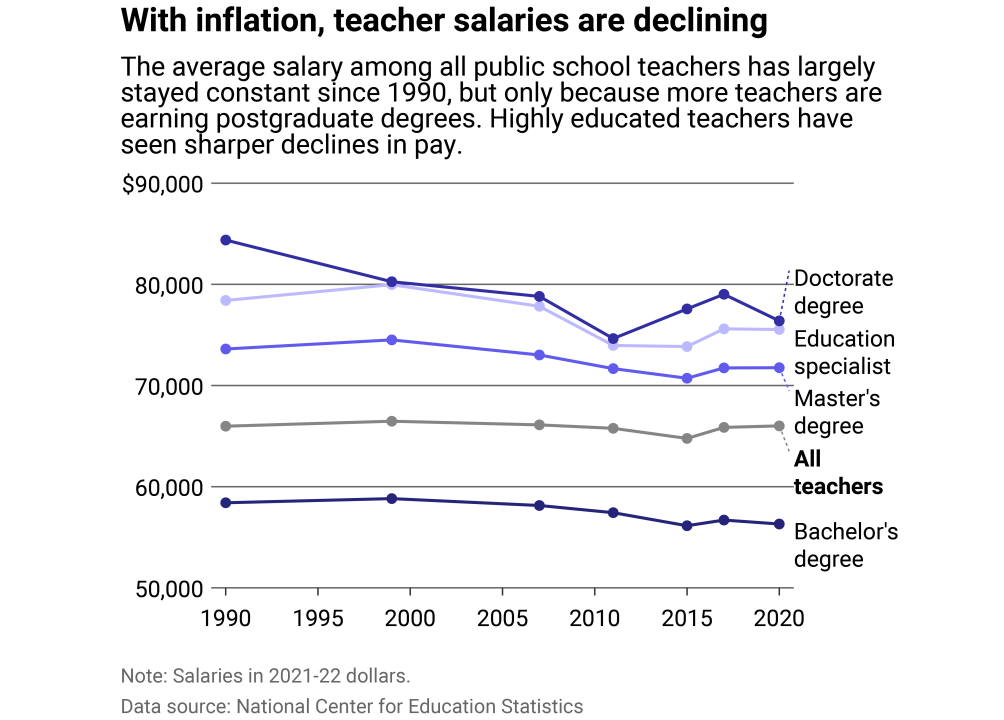 Teachercertification.com
In 2020-2021, a teacher with a bachelor's degree earned an average of $56,310, while other professionals with bachelor's degrees earned an average of $71,518. Teachers with master's degrees earned $71,760 on average, but other professions earned an average of $84,671.
Teachers who earned an education specialist degree, regarded as an intermediary between a master's and a doctorate, earned an average salary of $75,540. In contrast, nonteachers with a similar level of education earned $103,742. Teachers holding a doctorate earned an average of $76,390, while doctorate degree holders in other professions earned $26,913 more.
"This is a long-term trend that is getting worse," said Sylvia Allegretto, a senior economist at the Center for Economic and Policy Research, who has studied teacher pay for two decades.
Since the 1970s, about 75% of teachers have been women. Because the profession deals with children, it is feminized and perceived as glorified babysitting to some, Allegretto said. That undeserved reputation and low pay are unlikely to attract men to the profession. It also won't entice as many women as it once may have: Today's women have more career options—unlike the college-educated women of yesteryear who could only get clerical, nursing, or teaching jobs.
No clear solution to boost teacher pay
Calegari's organization, The Teacher Salary Project, is pushing the American Teacher Act, which would use federal grants to help establish a minimum $60,000 salary for public school teachers nationwide. The bill was referred to the House Committee on Education and the Workforce in February 2023.
Michael F. Addonizio, professor of educational leadership and policy studies at Wayne State University, said that one solution to the low wages is to make teacher salaries market-sensitive.
For instance, a high school math teacher could make much more in the private sector. Instead of using a "lock step" salary model that pays all teachers with similar education and experience the same, schools could adjust pay according to the value of teachers' specific skills in the overall labor market, Addonizio said.
Shannon Holston, chief of policy and programs at the National Council on Teacher Quality, said it's time to reimagine encouraging teachers to get advanced degrees. She said studies show that advanced degrees don't necessarily create better or more effective teachers outside of secondary subjects such as math and science.
"We are in essence paying teachers for advanced degrees that may not be building their capacity to teach," Holston said. Holston's group advocates for higher starting salaries and for "strategic pay," such as paying premiums for teachers certified in areas of need such as special education.
"Every state needs more special education teachers but only seven actually pay special education teachers more than someone who doesn't have that certification," said Holston, who discovered the number when doing research for the NCTQ's State of the State Teacher Compensation Strategies report published in 2022.
Allegretto advocates for more federal money for public schools, but says solving the problem is more complex. "Why do we not have the greatest public school [system] that is the envy of the world?" said Allegretto, who advocates for more federal funding for schools.
"It certainly isn't wealth or resources. It's only will. If we had the will to do it, we could do it."
Story editing by Jeff Inglis. Copy editing by Kristen Wegrzyn.
This story originally appeared on TeacherCertification.com and was produced and distributed in partnership with Stacker Studio.