ABC TV/Archive Photos // Getty Images
Part of the magic of television is in the casting—finding the best actor to bring a particular character to life on screen. The right cast immerses viewers in a fictional world with characters so authentic one might forget they aren't real.
Stacker curated a list of popular sitcoms and compared their casts at the show's beginning and end, including photos of the principal cast from each point in time.
Television casting poses some unique challenges, as shows can continue on season after season, year after year. Some of the greatest TV shows of all time became just that because of their long-standing casts, groups of actors that remained in their roles from the pilot until the very last episode.
Imagine what "The X-Files" could have looked like had David Duchovny or Gillian Anderson dropped out halfway through the show's 11-season run or "Sex and the City" continuing without Sarah Jessica Parker. The shows just wouldn't be the same.
If a TV show stays on the air long enough, actors may leave to seek other opportunities, or showrunners may mix things up by bringing in new characters. Shonda Rhimes' long-running drama "Grey's Anatomy" is a great example, losing lead actors like Sandra Oh and Patrick Dempsey while gaining others like Jesse Williams throughout its 20 seasons and counting.
Keep reading to learn more about how 20 of your favorite TV casts changed—or not—throughout the seasons, with shows presented alphabetically.
30 Rock: 2006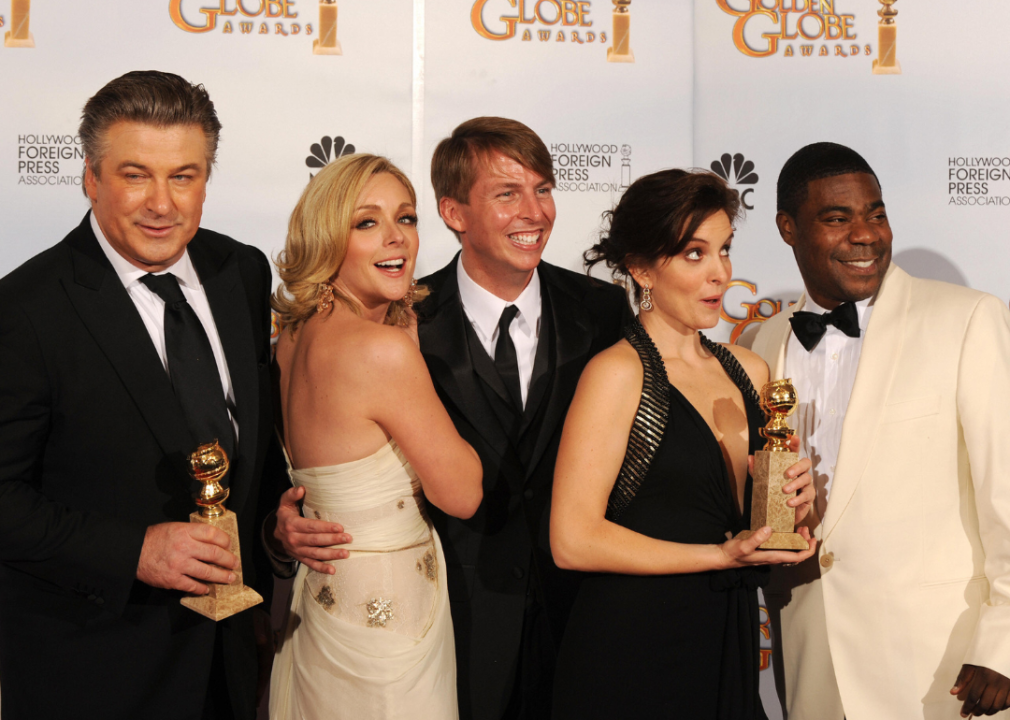 JEWEL SAMAD/AFP via Getty Images
Comedian Tina Fey was the first woman to become a head writer on "Saturday Night Live," an experience she later used to create her own successful sitcom about life behind the scenes of a sketch comedy show. "30 Rock" debuted on NBC in October 2006 with Fey starring as head writer Liz Lemon, Alec Baldwin as network executive Jack Donaghy, and Tracy Morgan as the fictional show's lead actor Tracy Jordan.
30 Rock: 2013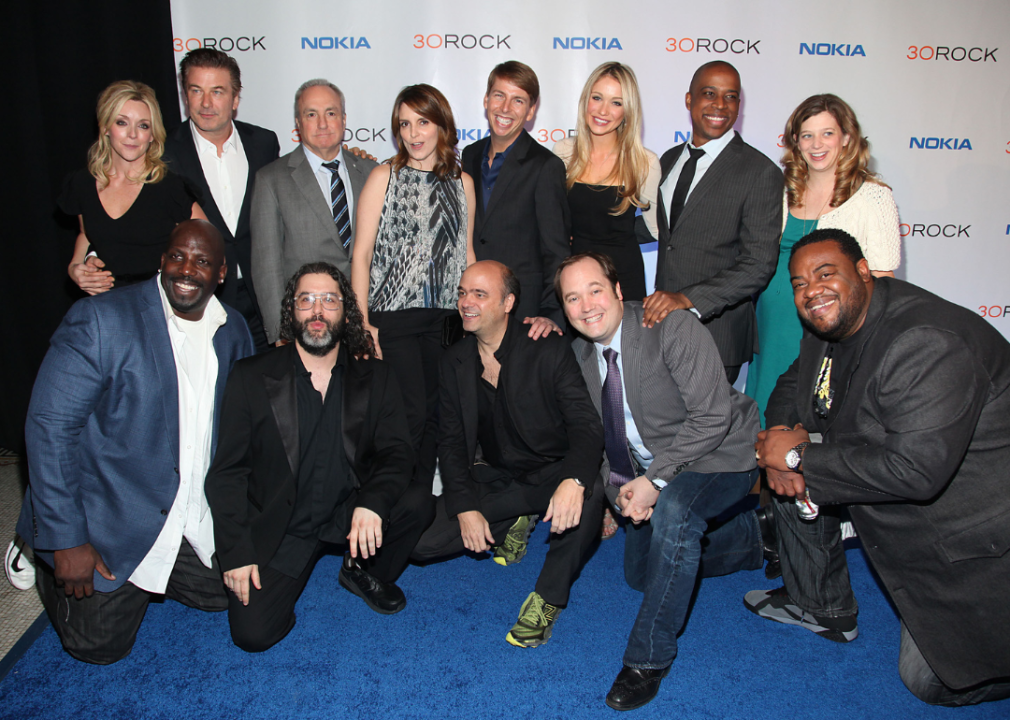 Rob Kim/FilmMagic // Getty Images
By the end of its seven-season run, "30 Rock" earned 16 Primetime Emmy Awards. Six of the show's top stars (Baldwin, Fey, Morgan, Scott Adsit, Judah Friedlander, and Jack McBrayer) appeared in all 138 episodes. Supporting actors like Grizz Chapman and Kevin Dotcom Brown—Tracy Morgan's real-life buddies, who played fictional friends Grizz and Dot Com—also became fan favorites.
All in the Family: 1971
Bettmann // Getty Images
From the very beginning, a core group of four actors anchored what would become one of the most groundbreaking TV shows of all time. Carroll O'Connor—a seasoned actor with a long list of previous more minor roles under his belt—led the cast as Archie Bunker, the outspoken patriarch known for delivering zingers from his worn living room chair alongside his wife Edith (Jean Stapleton).
Archie's daughter Gloria (Sally Struthers) and her liberal husband Michael "Meathead" Stivic (Rob Reiner) rounded out the cast, which quickly became known for a level of cultural commentary previously unseen on primetime television.
All in the Family: 1979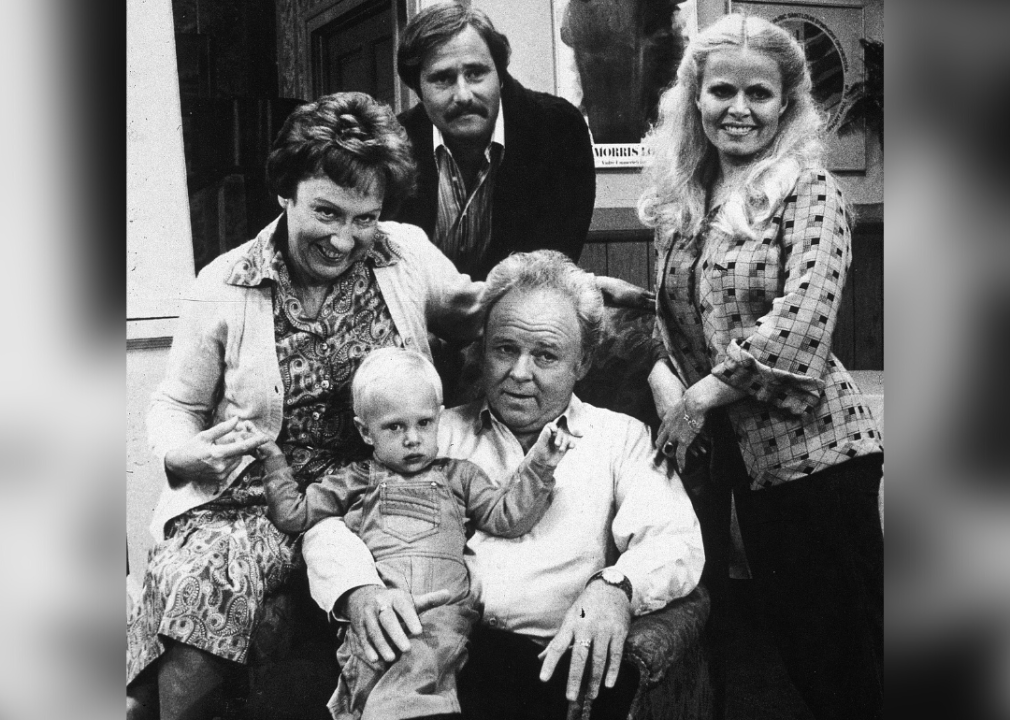 CBS Photo Archive // Getty Images
"All in the Family" became the #1 rated TV series for a record-setting five years in a row. The original four primary cast members remained throughout most of the show, with Rob Reiner and Sally Struthers bowing out together in the eighth season.
Popular secondary characters also generated seven spinoffs, including Bea Arthur as the title character in "Maude" (1972), Esther Rolle headlining as Maude's housekeeper Florida in "Good Times" (1974), and Sherman Hemsley alongside Isabel Sanford as the Bunkers' neighbors "The Jeffersons" (1975).
Arrested Development: 2003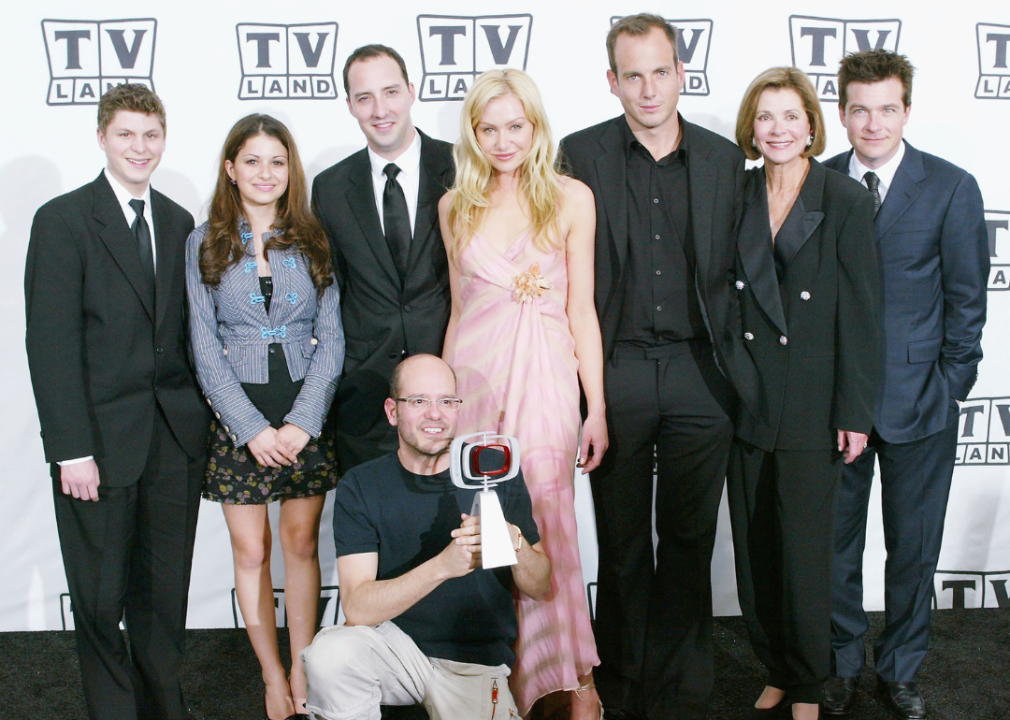 Frederick M. Brown // Getty Images
Jason Bateman had numerous TV roles under his belt prior to "Arrested Development"—including a long-running stint on "Valerie" in the late-'80s—but nothing close to the success he found playing Michael Bluth. This quirky comedy served as a launchpad for several other rising stars, including Michael Cera and Will Arnett, cast as Bateman's son and brother on the show.
The dysfunctional Bluth family included veteran actors Portia de Rossi, fresh off the success of "Ally McBeal," and Jeffrey Tambor, whose decades of experience influenced creators to make his patriarchal role much more prominent than originally planned.
Arrested Development: 2019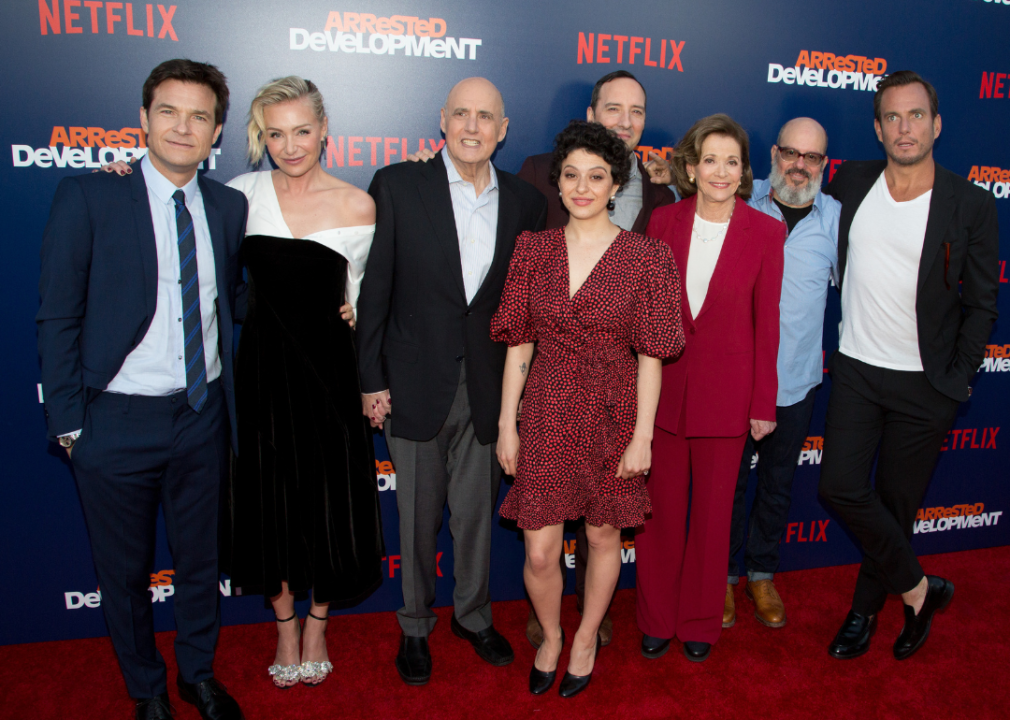 Gabriel Olsen/WireImage // Getty Images
"Arrested Development" ended in 2006 after just three seasons; however, Netflix resurrected it in 2013, then again in 2018 for a fifth and final season. Critics and fans alike took issue with various aspects of the show's reboot, but showrunners got one thing right: They managed to bring back the entire original cast to portray the Bluth family.
This was no small feat considering the level of success actors Jason Bateman, Michael Cera, and others found on the big screen in the interim—Porta de Rossi even returned for a few episodes despite retiring from acting in 2018.
The Big Bang Theory: 2007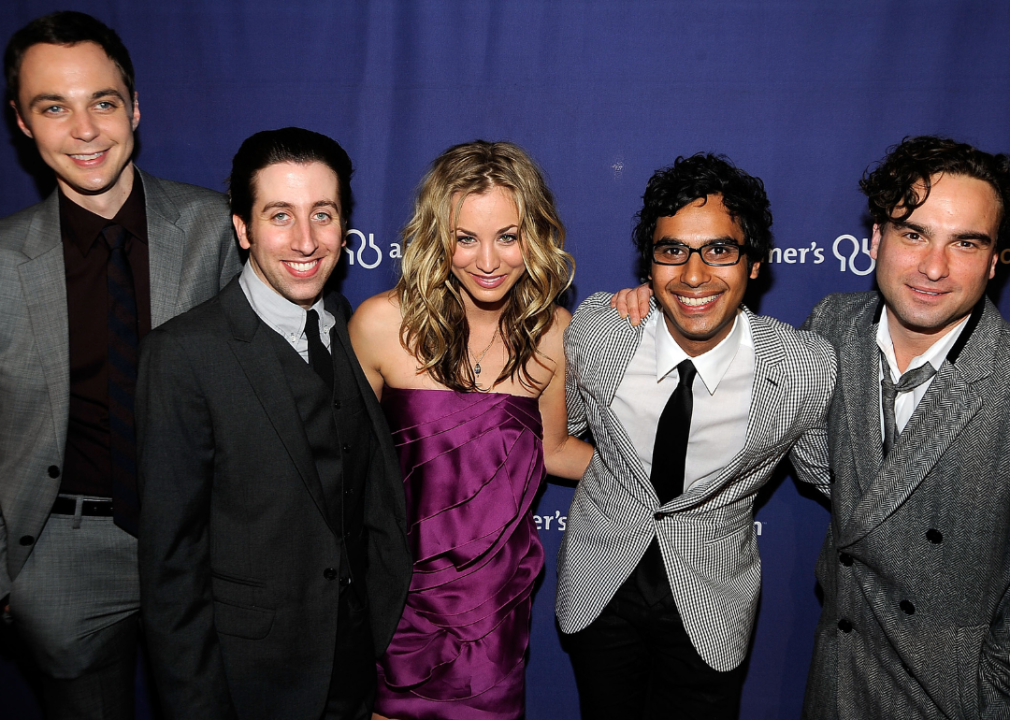 Frazer Harrison // Getty Images
A few years after finding success as Bridget Hennessy on "8 Simple Rules," Kaley Cuoco saved an up-and-coming CBS comedy series from being scrapped. "The Big Bang Theory" nearly wasn't picked up by the network—until showrunners reworked it with Cuoco as Penny, the neighbor to a quirky but lovable pair of physicists.
Jim Parsons studied classical theater before being cast as the now iconic Sheldon Cooper, alongside "Roseanne" alum Johnny Galecki as his roommate, Leonard Hofstadter, and nerdy friends Howard (Simon Helberg) and Raj (Kunal Nayyar).
The Big Bang Theory: 2019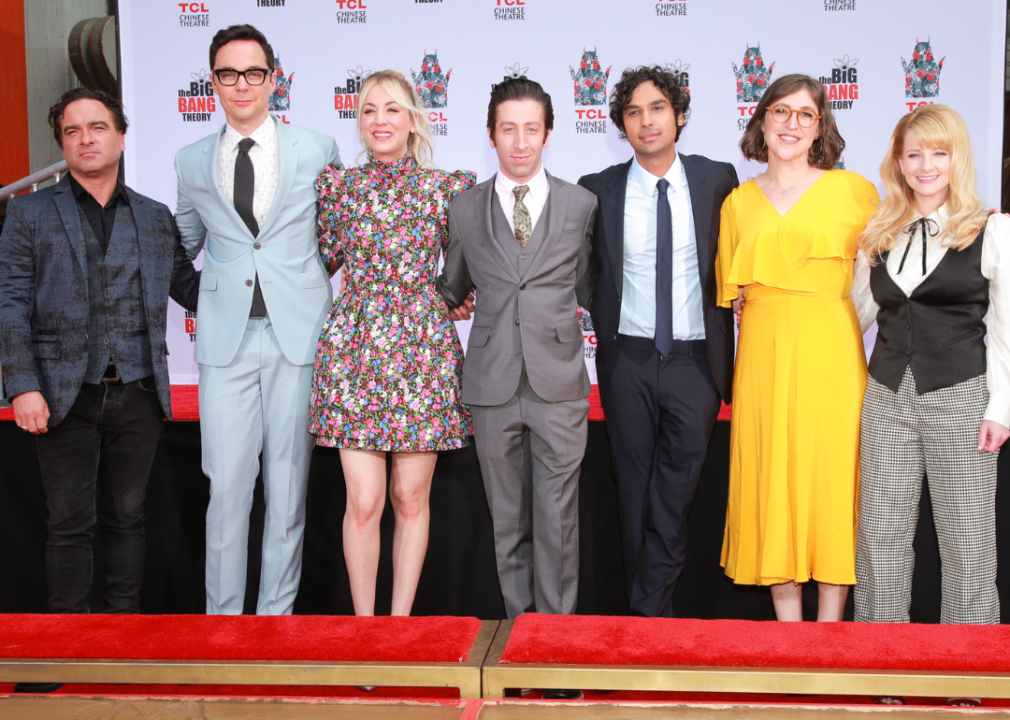 Rich Fury // Getty Images
Cuoco, Parsons, and company maintained their roles for the show's 12 seasons—and Parsons picked up the narrator gig on the spinoff series, "Young Sheldon." Two characters also found memorable love interests along the way, adding Mayim Bialik to the show's line-up as Sheldon's girlfriend, Amy, and Melissa Rauch as Howard's girlfriend (and later wife), Bernadette.
By the final season, the show was so popular the original five core cast members earned $1 million per episode each.
The Brady Bunch: 1969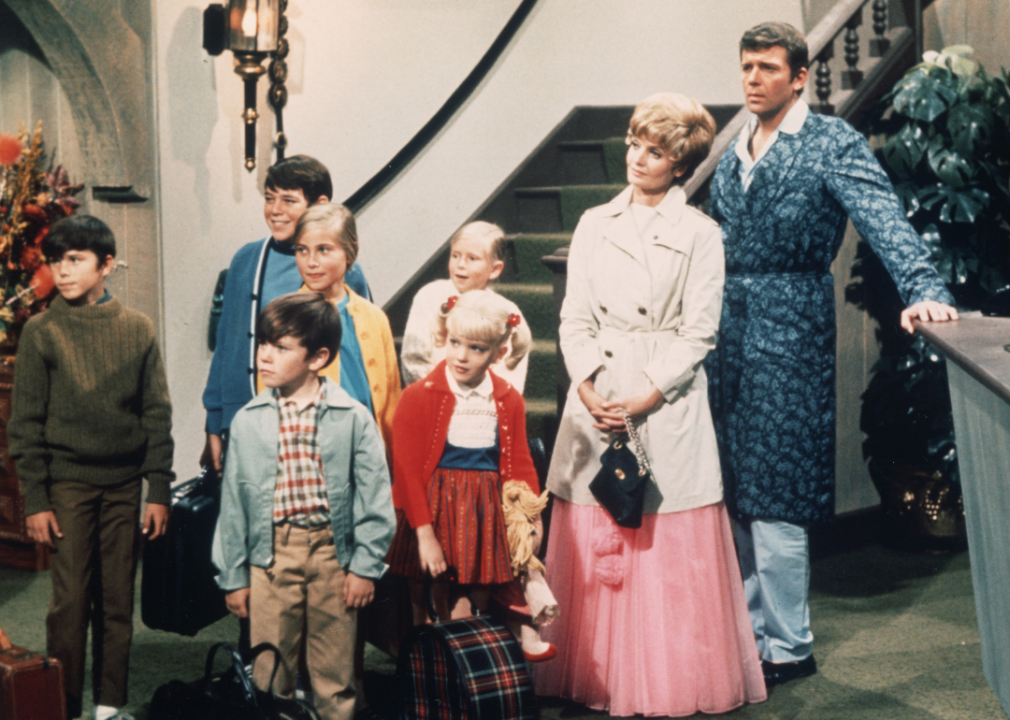 Paramount Television/Courtesy of Getty Images
Florence Henderson had 15 years of acting experience before landing the role of her career at age 35: Carol Brady, a widow with three young daughters who falls in love with a widower (Robert Reed) who has three sons of his own. Together, this eight-pack (plus beloved housekeeper Alice) became one of television's most iconic families, "The Brady Bunch."
For the younger child actors, this was their first big gig; however, the older kids had some prior experience: Maureen McCormick (Marcia) appeared on "Bewitched," Barry Williams (Greg) on "Mission Impossible" and Eve Plumb (Jan) on "Lassie."
The Brady Bunch: 1974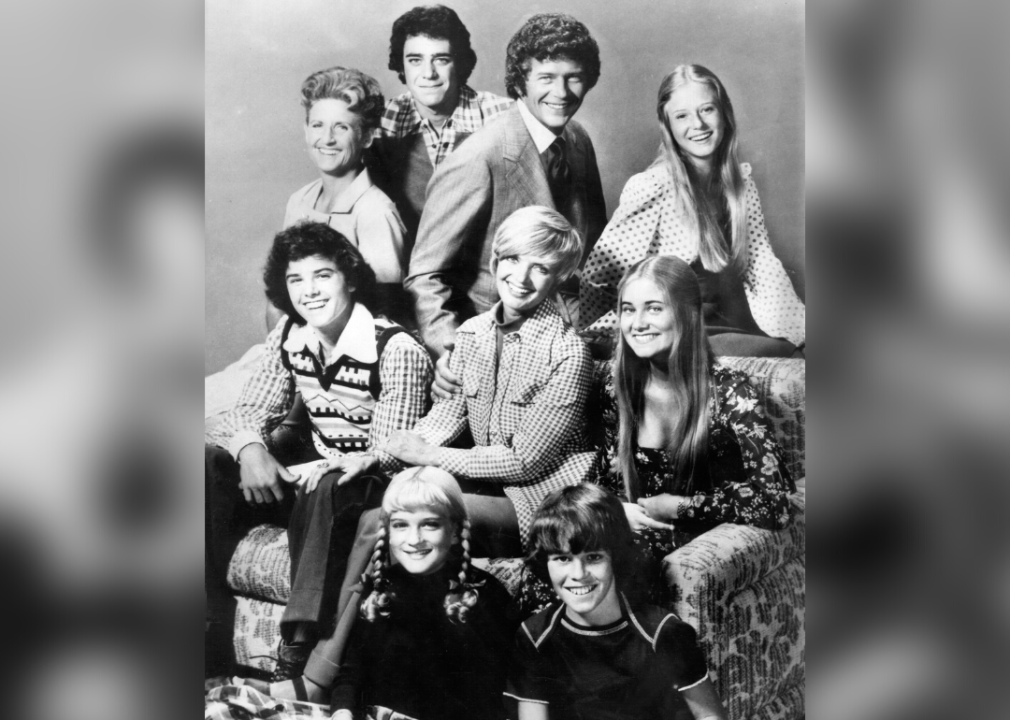 Michael Ochs Archives // Getty Images
For 117 episodes across five memorable seasons, the young actors who portrayed the Brady children grew up on screen. Once virtual unknowns, they became household names that remain part of popular culture today. Along the way, they taught viewers real-life lessons about coming of age, friendship, and family.
Brooklyn Nine-Nine: 2013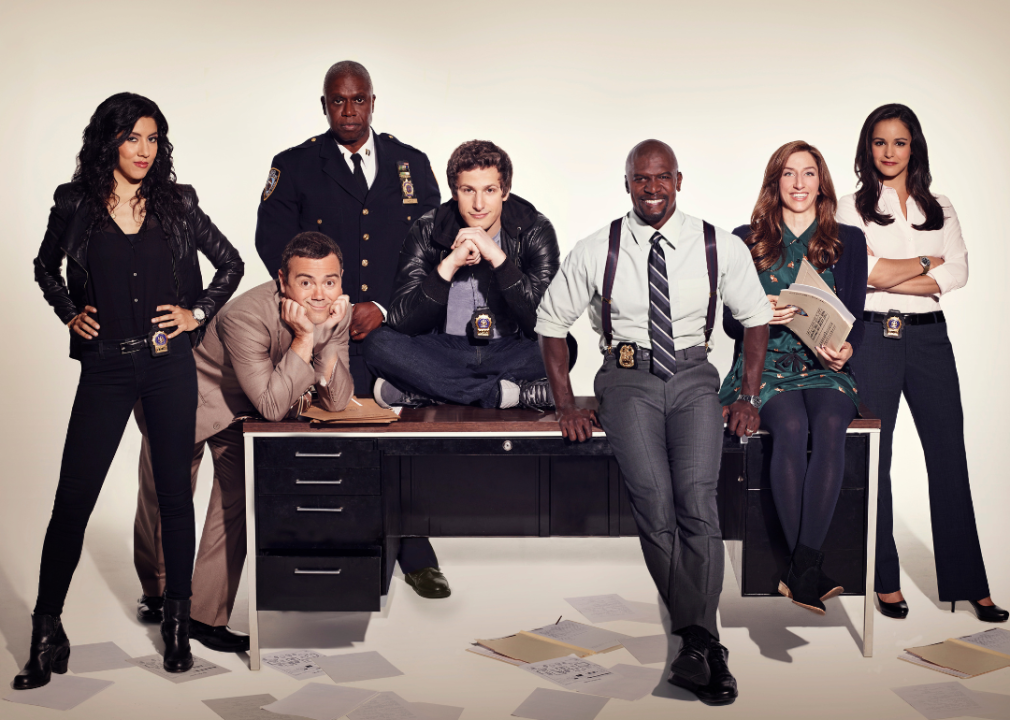 FOX Image Collection via Getty Images
A number of seasoned actors played detectives in the city's 99th precinct on the long-running comedy "Brooklyn Nine-Nine." "Saturday Night Live" alum Andy Samberg—boasting 141 episodes on the sketch comedy show—headlined as lighthearted Jake Peralta.
Melissa Fumero brought experience from 210 episodes on "One Life to Live" to her role as career-driven Amy Santiago. Pro football player turned actor Terry Crews even had a lengthy on-screen resume before taking on the role of Terry Jeffords.
Brooklyn Nine-Nine: 2021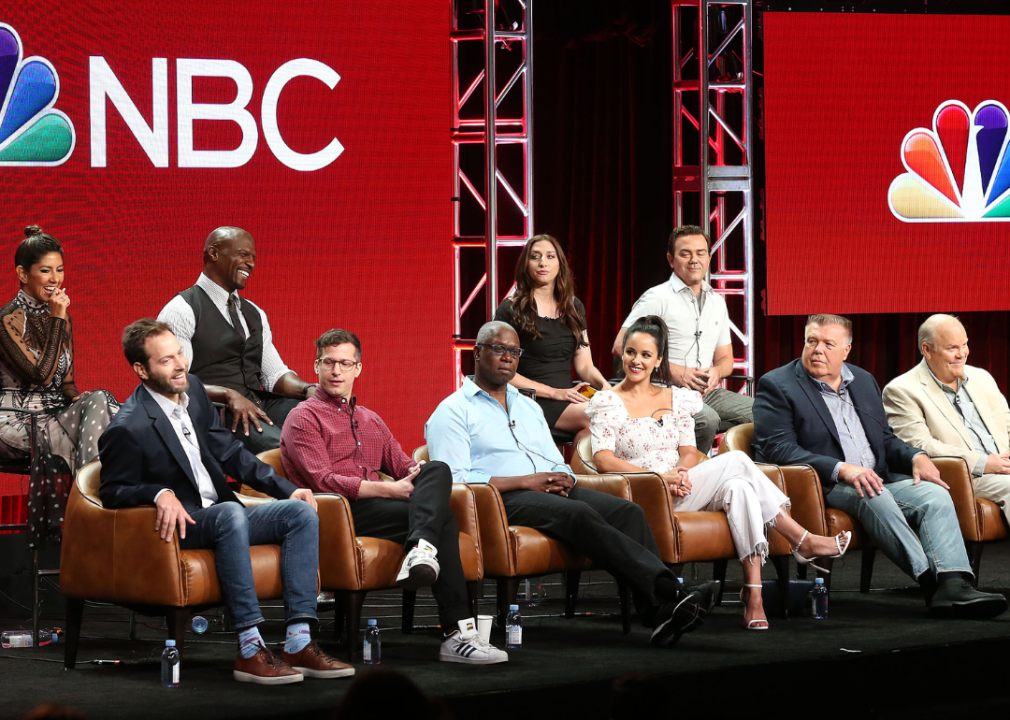 Frederick M. Brown // Getty Images
All eight of the top-billed cast members (Crews, Fumero, and Samberg, along with Stephanie Beatriz, Dirk Blocker, Andre Braugher, Joel McKinnon Miller, and Joe Lo Truglio) stuck around for the show's entire 153 episodes—a feat not often seen with a series lasting nearly a decade. After spending so many years working together, Samberg shared on an episode of "Late Night with Seth Meyers" that emotions were high as the show came to a close. 
Chelsea Peretti was the only core actor to depart the "Brooklyn Nine-Nine'' family early, leaving the show in Season 6. However, she did return for a few later episodes, including the two-part series finale.
The Dick Van Dyke Show: 1961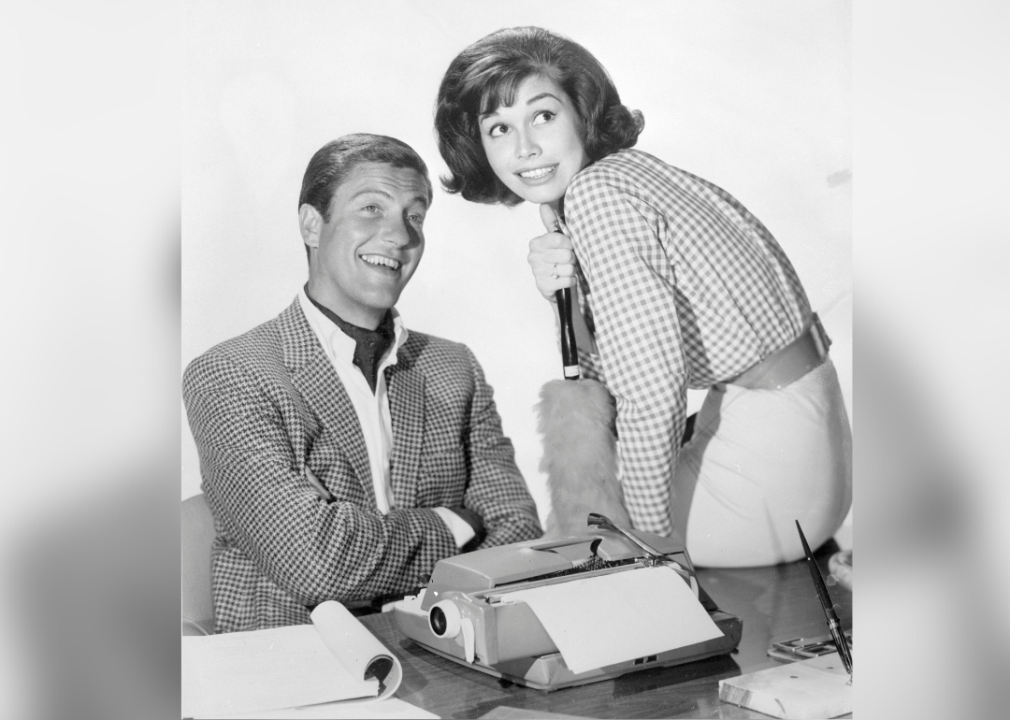 Bettmann // Getty Images
Prior to snagging his own comedy show about the life of a television writer, Dick Van Dyke only had a few minor TV appearances to his name, though he had already appeared as the memorable Bert in 1964's "Mary Poppins."
His co-star, Mary Tyler Moore, booked several TV roles throughout the 1950s and early '60s. However, it was "The Dick Van Dyke Show" that skyrocketed her to fame. Choosing to wear capri pants in lieu of a more traditional skirt made Moore's character stand out right from the start.
The Dick Van Dyke Show: 1966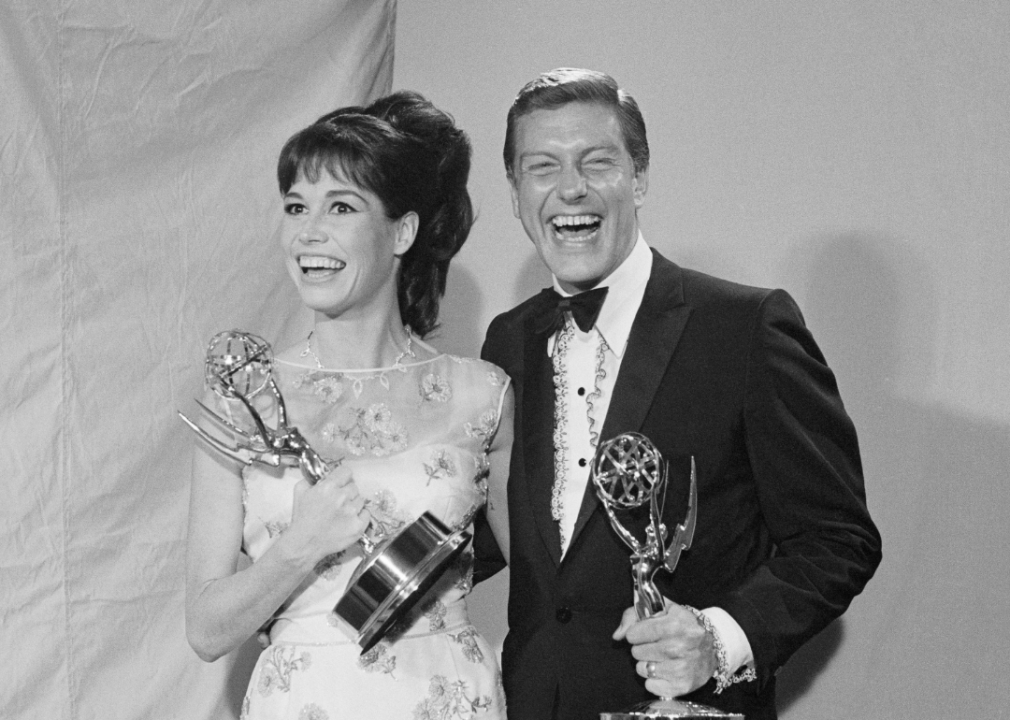 Bettmann // Getty Images
Van Dyke and Moore remained in the roles of Rob and Laura Petrie for 158 episodes, garnering great acclaim both individually and for the series. The last TV show filmed entirely in black and white racked up 15 Primetime Emmys during its five-season run. The show's success also led to the creation of Moore's show in 1970.
Entourage: 2004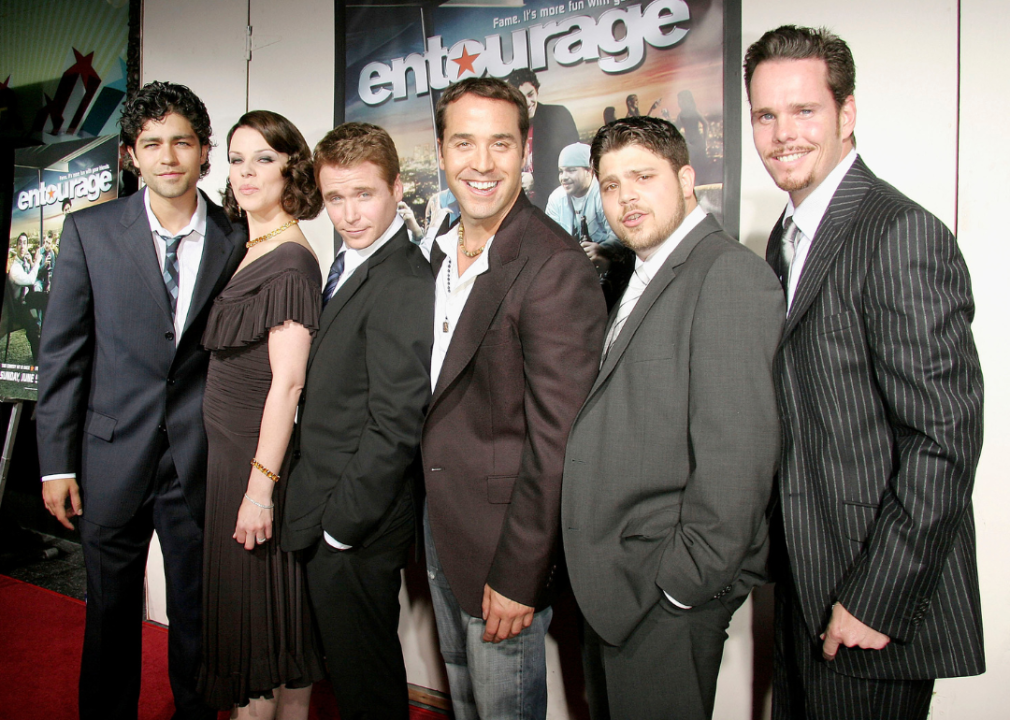 Marsaili McGrath // Getty Images
Before making it big on one of HBO's top series of the mid-to-late aughts, Adrian Grenier was best known for co-starring opposite Melissa Joan Hart in 1999's teen rom-com "Drive Me Crazy." A few years later, he took the role of Vincent Chase on "Entourage," an up-and-coming actor—loosely based on Mark Wahlberg—attempting to navigate his new lifestyle with the help of his loyal crew (Kevin Connolly, Kevin Dillon, and Jerry Ferrara).
Entourage: 2011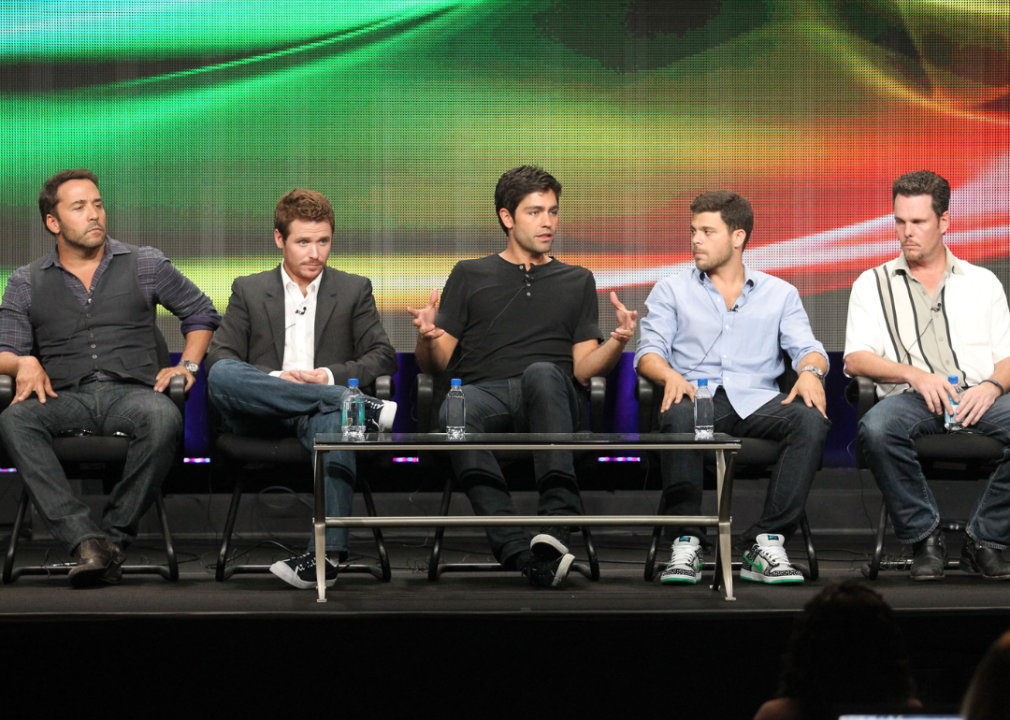 Frederick M. Brown // Getty Images
Connolly, Dillon, Ferarra, and Grenier stuck around for all 96 episodes of the show—and even returned in 2015 for a feature film that made over $46 million at the box office. Actor Jeremy Piven also portrayed schmoozy Hollywood agent Ari Gold for all eight seasons, a role that earned him three Primetime Emmys for Outstanding Supporting Actor in a Comedy Series.
Friends: 1994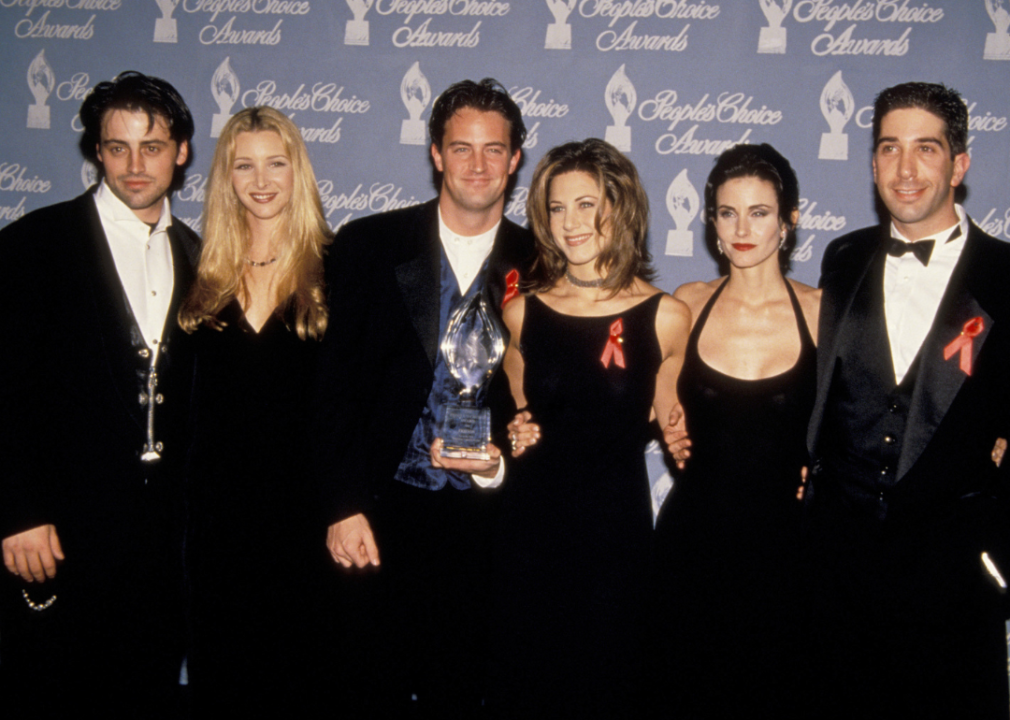 Jim Smeal/Ron Galella Collection via Getty Images
Six relatively unknown young actors (Jennifer Aniston, Courteney Cox, Lisa Kudrow, Matt LeBlanc, Matthew Perry, and David Schwimmer) had no idea what was in store when they signed on to NBC's new sitcom about a group of friends living and working in Manhattan.
Sure, they each had a few memorable appearances under their belt—you may remember Aniston in the 1992 horror flick "Leprechaun" or Cox dancing in Bruce Springsteen's 1984 music video "Dancing in the Dark"—but none of these roles came close to the pop culture phenomenon that "Friends" grew into over the next decade.
Showrunners did develop one of the key roles with a specific actor in mind: The character of Ross was written for Schwimmer, who had previously worked with executive producer Kevin Bright.
Friends: 2004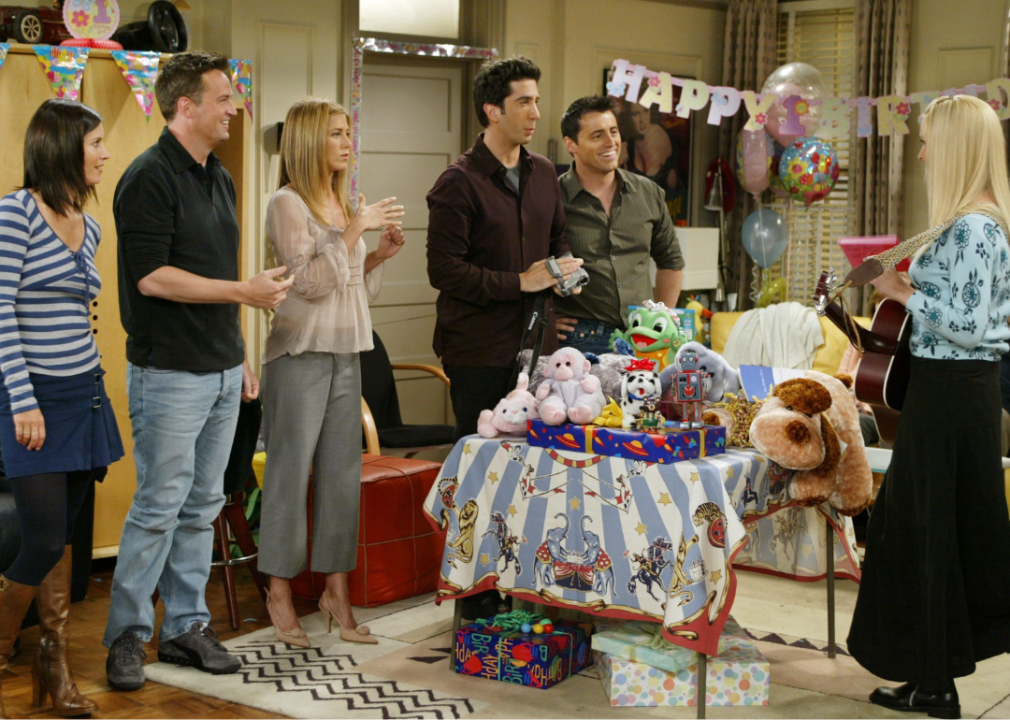 David Hume Kennerly // Getty Images
Many memorable secondary characters came and went across 10 seasons of "Friends"—remember Tom Selleck as Monica's love interest, Dr. Richard Burke, and Paul Rudd as Phoebe's husband, Mike Hannigan—but the six lead actors remained for every single one of the 234 episodes. The show's massive popularity drove salaries up to $1 million per episode by the end of the series, generating a stream of other acting opportunities for cast members.
During the show's run, for instance, Aniston starred in such hit films as "Office Space" (1999) and "The Good Girl" (2002), and Perry headlined "Fools Rush In" (1997) and "The Whole Nine Yards" (2000)—not to mention the success the actors have maintained long after the show ended.
How I Met Your Mother: 2005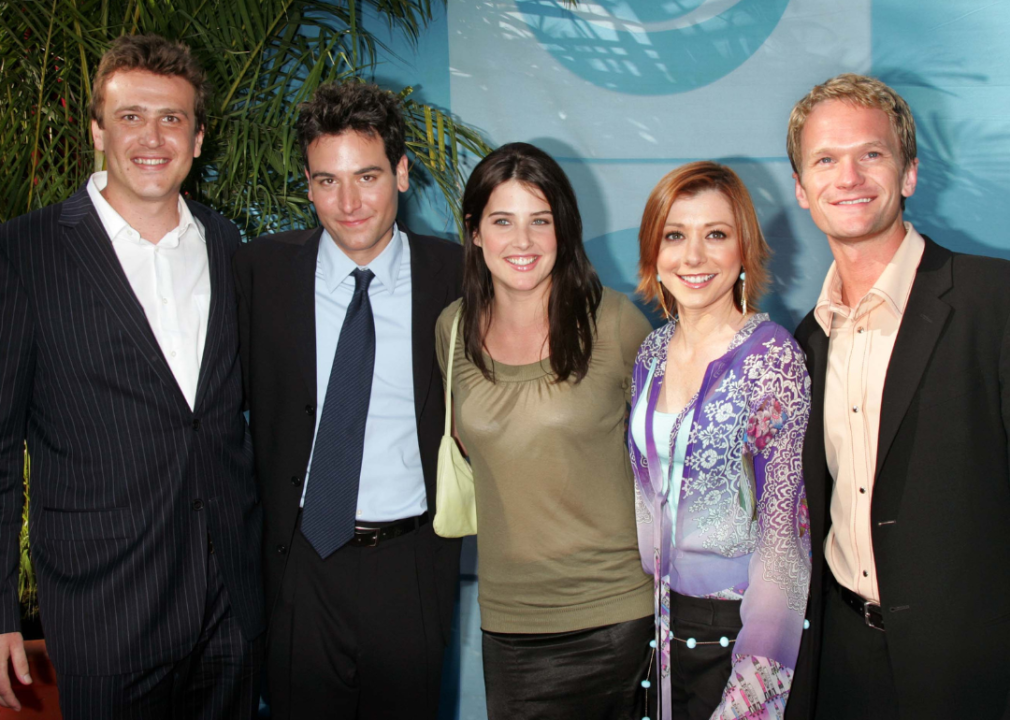 Jim Spellman/WireImage // Getty Images
"How I Met Your Mother" combined experienced actors with newer faces to create the winning cast of this comedy-drama about a father telling his kids the story of how he met their mother.
Lead actor Josh Radnor had only a brief list of one-off television roles before this show. Cobie Smulders had little more under her belt, and Jason Segel was primarily known for his role on the cult classic "Freaks and Geeks." Neil Patrick Harris, however, had been acting since childhood, most memorably as the lead character in the show "Doogie Howser, M.D." And Alyson Hannigan came in fresh off the success of "Buffy the Vampire Slayer" and the "American Pie" movies.
How I Met Your Mother: 2014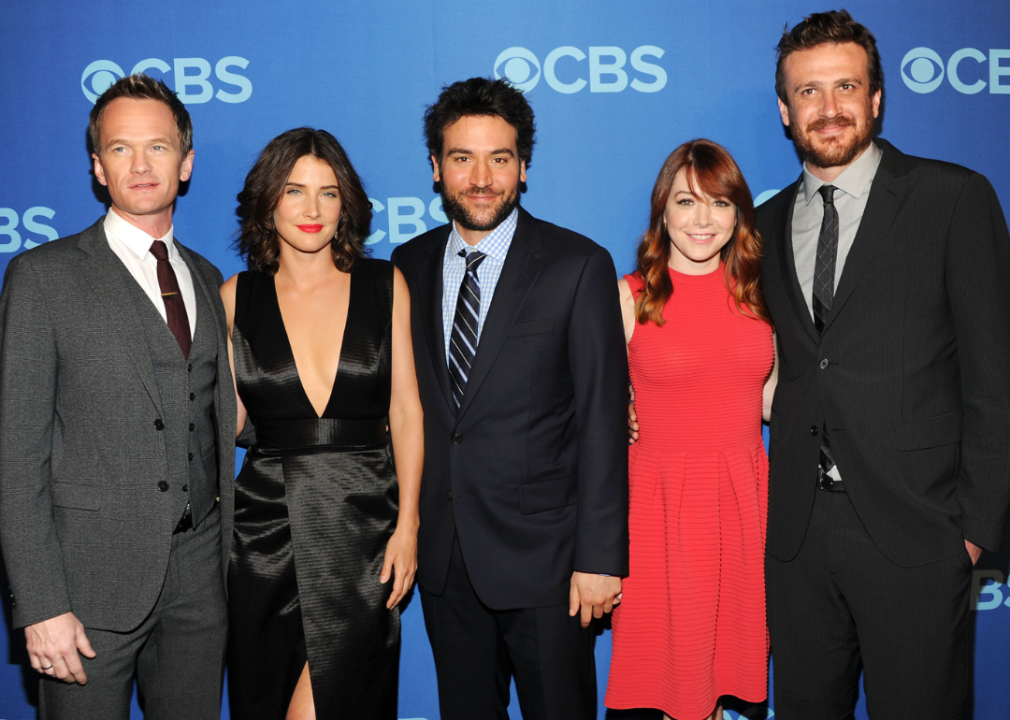 Ben Gabbe // Getty Images
The five primary cast members of "How I Met Your Mother" stayed on screen for the entire nine-season run. Each of their careers blossomed as a result of the show's popularity, with Smulders, for instance, starring in the Nicholas Sparks film "Safe Haven" and taking on the recurring role of Maria Hill in the Marvel universe.
Although Segel found success in films like "Forgetting Sarah Marshall" (2008) and "The Five-Year Engagement" (2012), he later admitted being unhappy during the show's last few seasons due to feeling a lack of control over his career.
I Love Lucy: 1951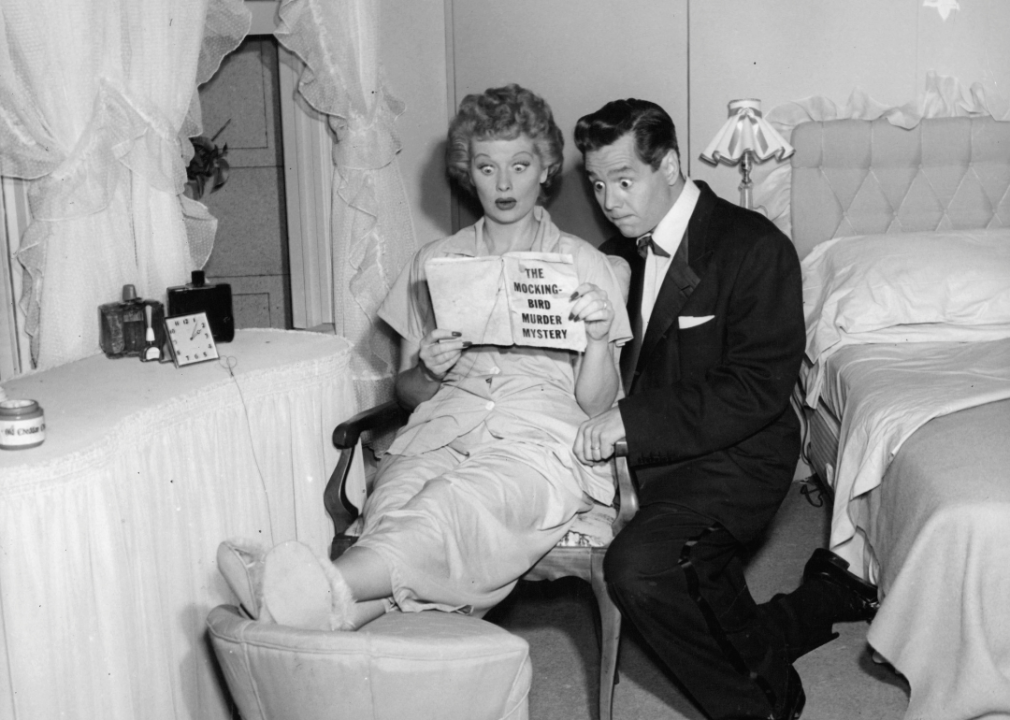 CBS // Getty Images
When CBS wanted to turn comedian Lucille Ball's hit radio show "My Favorite Husband" into a TV series, she agreed, but with one stipulation: Her real-life love, musician Desi Arnaz, must play her on-screen husband. The network wasn't keen on the idea initially, but they eventually agreed, making the fictional Ricky and Lucy Ricardo one of television's first couples from different racial backgrounds.
I Love Lucy: 1957
ullstein bild/ullstein bild via Getty Images
Lucy and Desi led "I Love Lucy" to the top of the Nielsen ratings chart for four seasons, and as their fictional son grew up, the unforgettable little drummer Keith Thibodeaux joined the cast as Little Ricky.
Although the series ended in 1957, "The Luci-Desi Comedy Hour" took its place the same year, featuring all the original core cast members. Actors William Frawley (Fred Mertz) and Vivian Vance (Ethel Mertz) were even offered a spinoff. However, the actors turned it down because they didn't get along.
M*A*S*H: 1972
Bettmann // Getty Images
A spinoff of the 1970 film about the staff of an Army field hospital during the Korean War, "M*A*S*H" debuted on television two years later with only one actor from the original movie: Gary Burghoff in the role of Cpl. Walter "Radar" O'Reilly.
For the first three seasons of this iconic show, veteran TV actors Alan Alda (Capt. Benjamin Franklin "Hawkeye" Pierce) and Wayne Rogers (Capt. "Trapper John" McIntyre) headlined as the most memorable pals. Audiences also tuned in during early seasons to follow the affair between Loretta Swit's Maj. Margaret "Hot Lips" Houlihan and Larry Linville's character Maj. Frank Burns.
M*A*S*H: 1983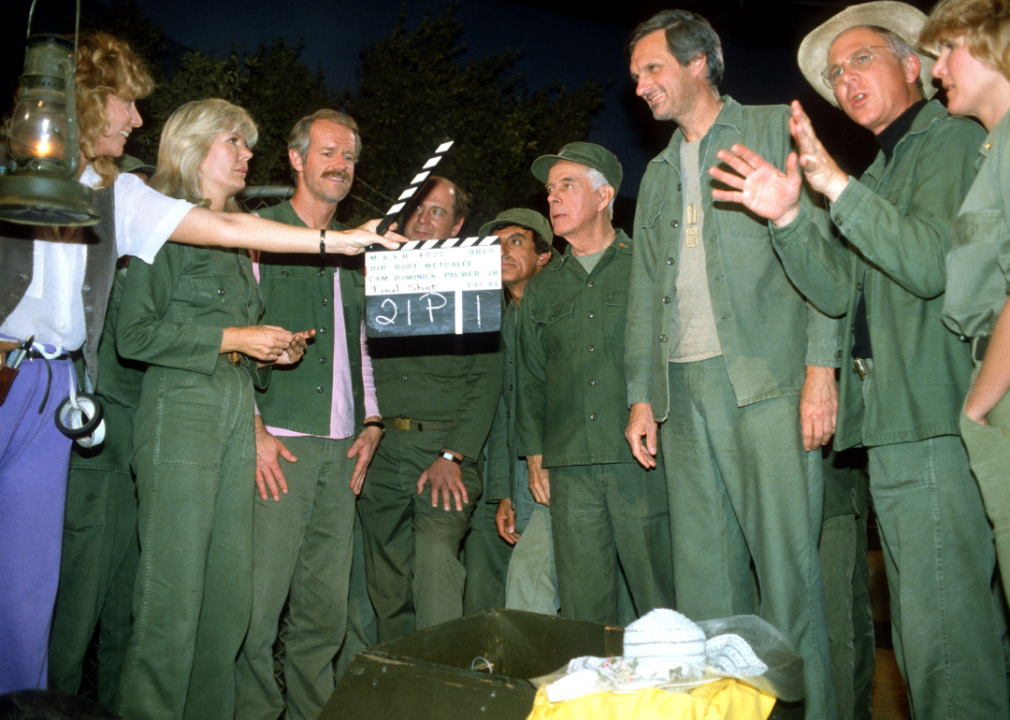 Paul Harris // Getty Images
Although Alda and Swit stayed on board for the show's 11 seasons, starring in 251 episodes each, other original cast members like Rogers and Linville decided to leave after a few seasons and were replaced with new characters.
Showrunners brought Mike Farrell in as Capt. B.J. Hunnicutt, a more sober contrast to Alda's playful "Hawkeye," and Harry Morgan came on board as the unit's commander, Col. Sherman T. Potter. These changes worked well, keeping viewers hooked all the way to the series finale, which drew a record-setting 105 million viewers.
Married… with Children: 1987
Aaron Rapoport/Corbis // Getty Images
Fox's first primetime series, "Married… with Children," was initially pitched with Sam Kinison and Roseanne Barr as the leads, but managers for both actors declined. Instead, Ed O'Neill got the role of patriarch Al Bundy after a Fox exec saw him in a Connecticut production of "Of Mice and Men," and Katey Sagal scored her first major role as Al's wife Peggy. Christina Applegate and David Faustino as Bundy offspring, Kelly and Bud, rounded out the cast.
Married… with Children: 1997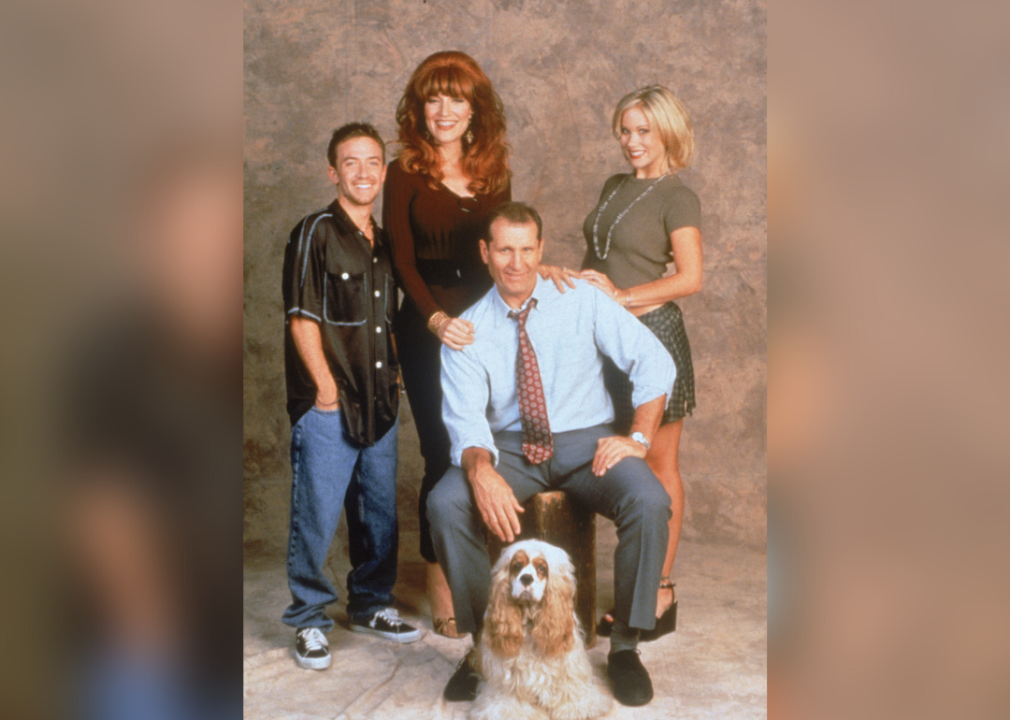 Columbia Tristar/Fotos International // Getty Images
The unique family dynamics and brash sense of humor that became synonymous with "Married… with Children" kept the Bundy family and all four original actors on TV screens for 11 seasons.
By the end of the series, the children were all grown up, and the actors who played them started branching out—Applegate starring in a series about a single mother, "Jesse"—and Faustino snagging guest spots on shows. O'Neill and Sagal also benefited from the show's popularity, with careers that have continued to flourish for decades.
Modern Family: 2009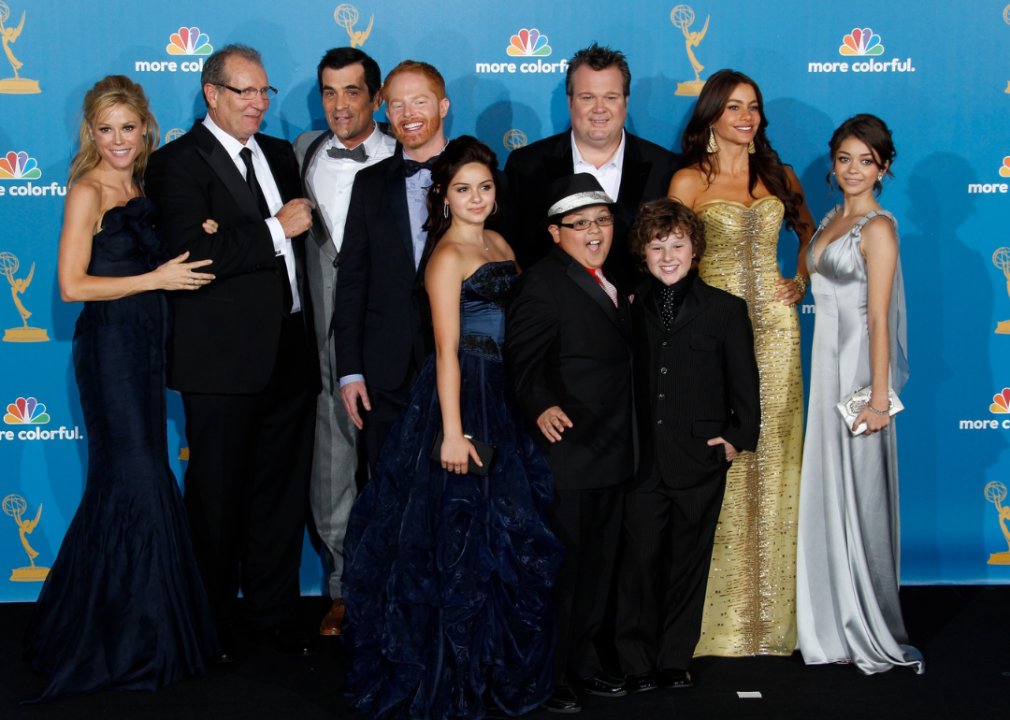 Dan MacMedan/WireImage // Getty Images
With a dozen years of experience playing a cantankerous TV dad on his resume, Ed O'Neill was a shoo-in to play the Pritchett family patriarch on "Modern Family." Other experienced actors bolstered the cast, including Julie Bowen, who had long television runs on "Ed" and "Boston Legal," and Sofía Vergara, who had recurring roles on English and Spanish-language television shows.
The remainder of the core cast—Ty Burrell, Jesse Tyler Ferguson, and Eric Stonestreet—all had some prior acting experience, although they were mostly smaller roles.
Modern Family: 2020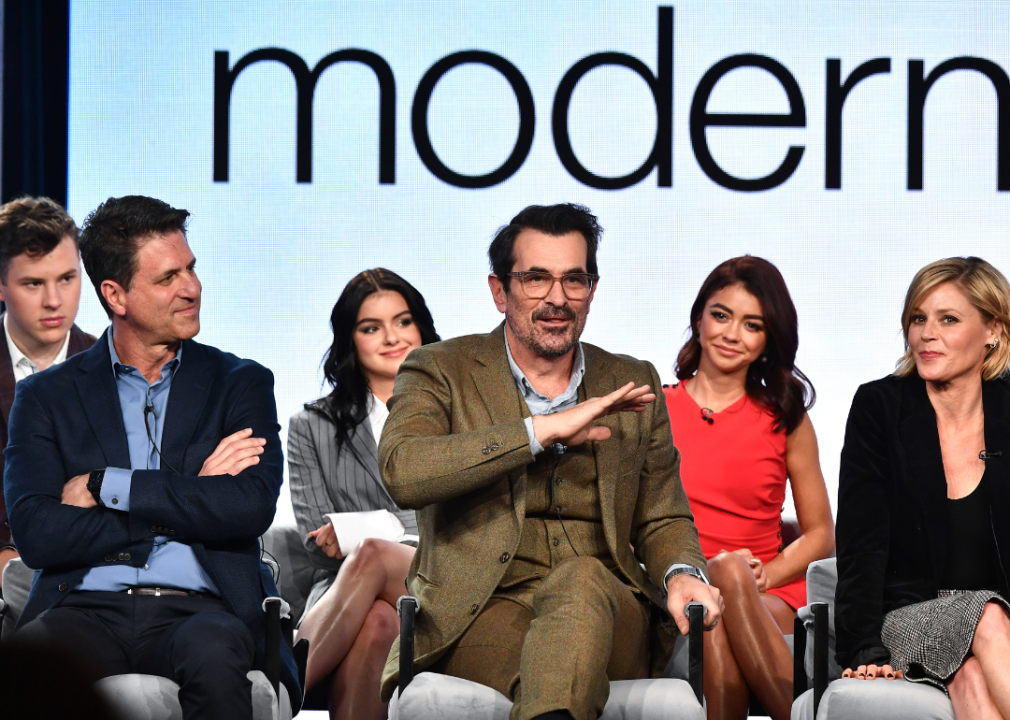 Michael Buckner/Variety/Penske Media via Getty Images
All six original adult cast members appeared in each of the 250 memorable episodes of "Modern Family," each ending the series with an impressive salary of $500,000 per episode. Over the course of 11 seasons, the show's child actors grew up on screen—and their salaries grew with them. The four oldest (Sarah Hyland, Ariel Winter, Rico Rodriguez, and Nolan Gould) ended the series, each making over $100,000 per episode.
The Office: 2005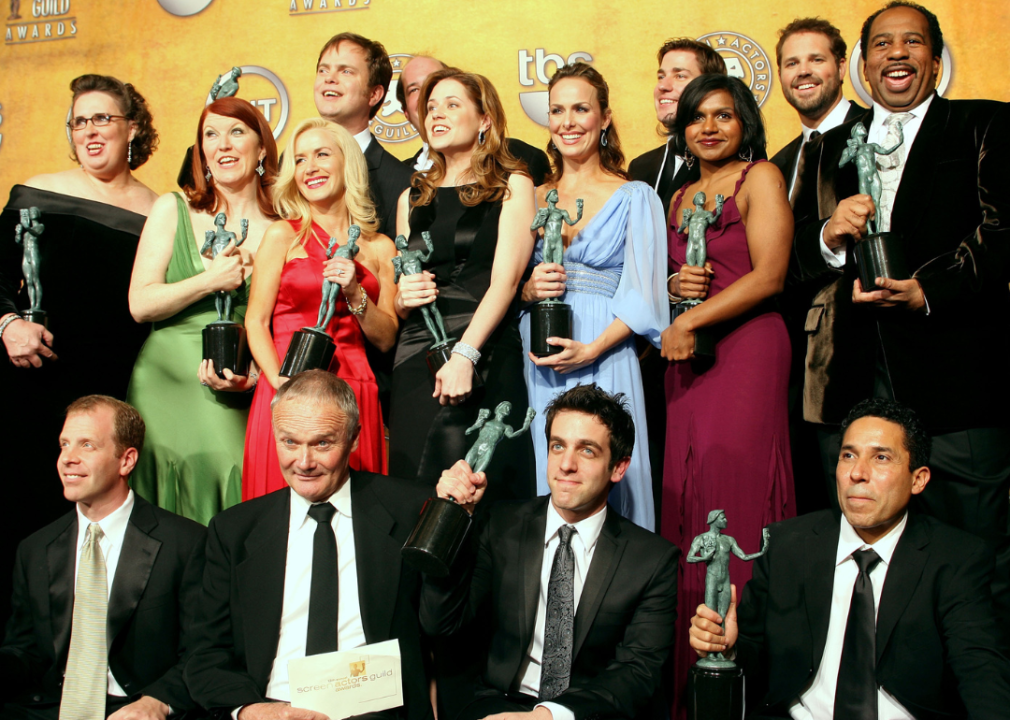 Frederick M. Brown // Getty Images
"The Office" tapped into a well of up-and-coming talent, casting Steve Carell, who was just starting to show his comedic genius in films like "Anchorman: The Legend of Ron Burgundy," and Rainn Wilson, who had a notable 13-episode run on the HBO drama "Six Feet Under."
Then there was Phyllis Smith, who had no acting experience at all. She worked in the show's casting department, where the director discovered her and offered a role created specifically for her. Other actors, like Jenna Fischer and John Krasinski, fell somewhere in the middle, with a list of minor TV and film roles on their resume before taking on the iconic roles of Pam and Jim.
The Office: 2013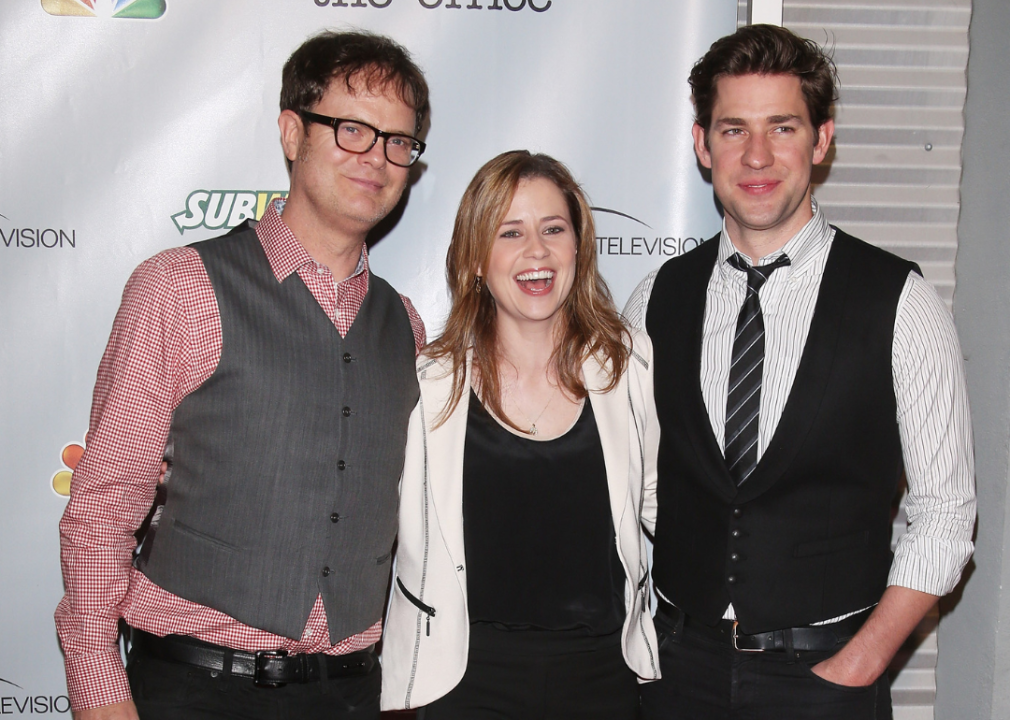 Michael Tran/FilmMagic // Getty Images
For a show with such a large ensemble cast, a surprising number of the original actors appeared in every episode of "The Office"—Leslie David Baker, Brian Baumgartner, Jenna Fischer, Angela Kinsey, John Krasinski, Rainn Wilson—and many others stuck around for the full nine seasons, missing just a handful of episodes here and there.
A few beloved actors bowed out along the way, most notably Steve Carell, who left after Season 7 but returned for the series finale. A few new faces, like Ed Helms and Ellie Kemper, joined the cast after the fact and stuck around until the show ended.
Roseanne: 1988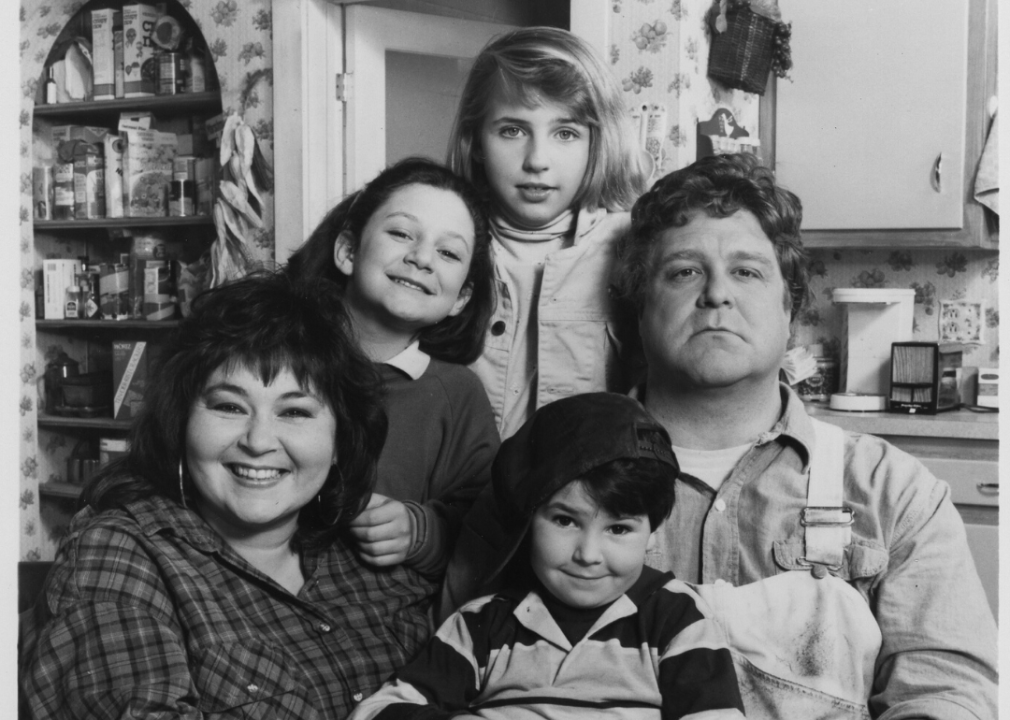 Michael Ochs Archives // Getty Images
Stand-up comedian Roseanne Barr had no prior acting experience, but she impressed TV producers so much with her 1985 "The Tonight Show" performance that they offered to create a sitcom just for her. Showrunners were just as confident about who they wanted to play Roseanne's husband: John Goodman was the only actor called in to audition for Dan, and the pair's chemistry was exactly what "Roseanne" needed to take off.
Roseanne: 2018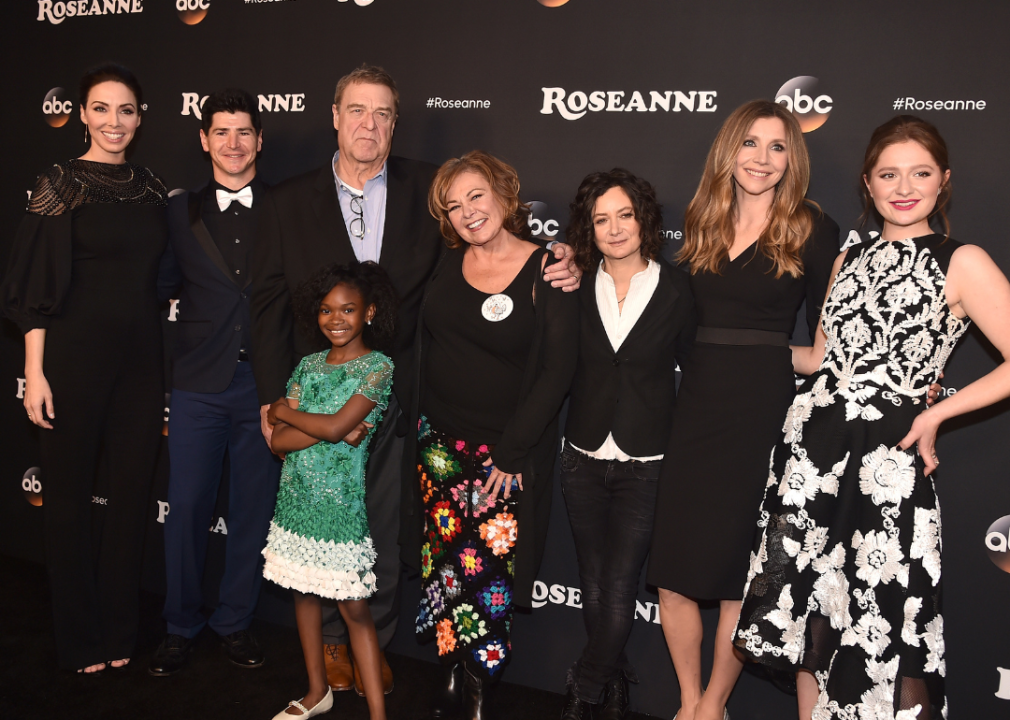 Alberto E. Rodriguez // Getty Images
For the most part, the same group of actors portrayed the Conner family across all 10 seasons of "Roseanne," growing up over the years but providing continuity of character. However, one notable casting change is hard to ignore: Two different actors portrayed eldest daughter Becky, Lecy Goranson and Sarah Chalke. They even alternated back and forth multiple times throughout the series.
Although the show ended in 1997, it was rebooted for the 10th season in 2018, resurrecting Dan—who died in the original series finale—and therefore calling John Goodman back to the screen along with many original cast members. ABC promptly canceled the show after Barr made racist comments on Twitter in May 2018, but a spinoff, "The Conners," picked up where "Roseanne" left off—without Barr, of course. 
Scrubs: 2001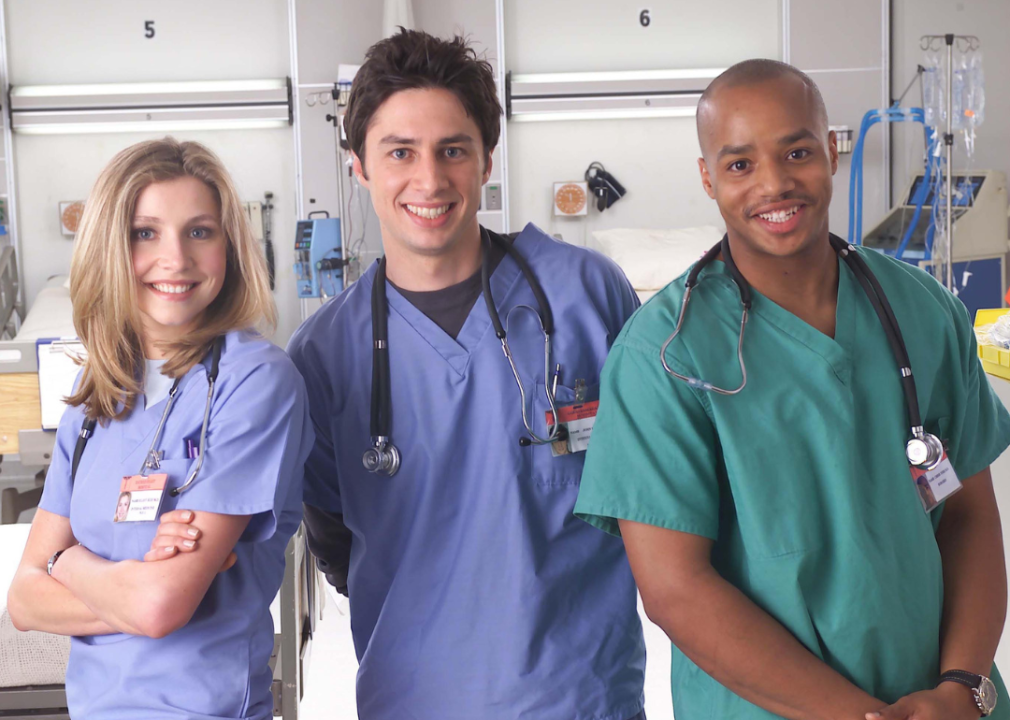 Courtesy of NBC // Getty Images
The cast of "Scrubs" brought a range of experiences to this hilarious and heartfelt series about a group of doctors and nurses working in Sacred Heart Hospital. Zach Braff had only a few minor film and TV credits prior to being cast as J.D., whereas Donald Faison starred as Murray in the teen film and TV spinoff "Clueless."
Sarah Chalke was known for taking over the role of Becky on the long-running sitcom "Roseanne," and John C. McGinley was also in the midst of an active career kicked off by his role in the Vietnam War epic "Platoon."
Scrubs: 2010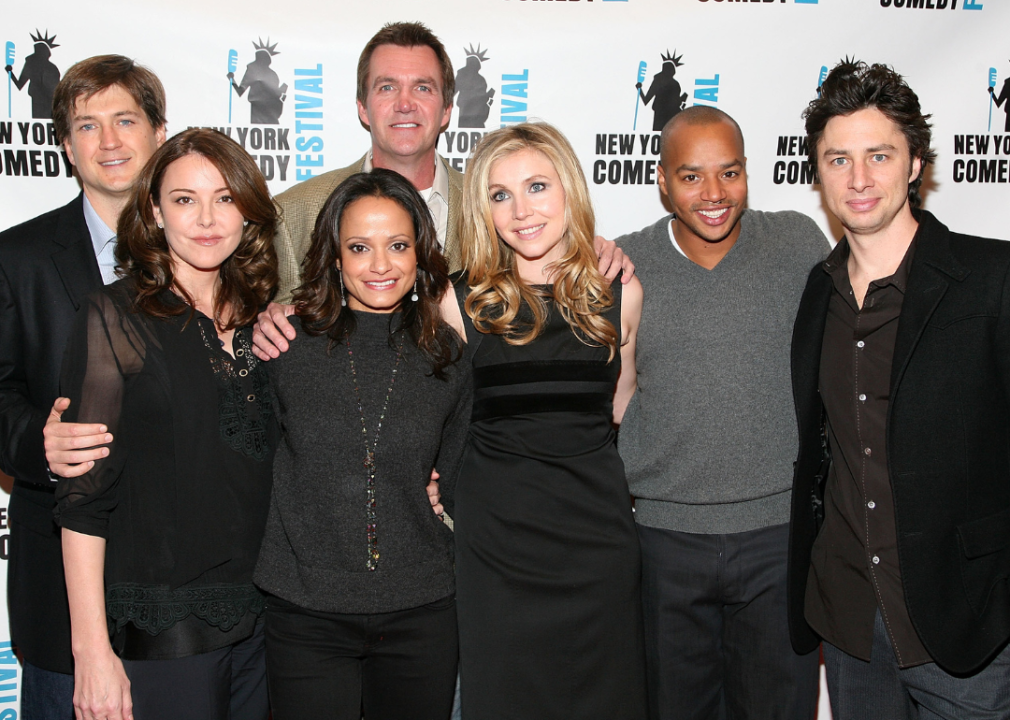 Astrid Stawiarz // Getty Images
The popularity of "Scrubs" gave way to other exciting opportunities for the cast, including the 2004 film "Garden State," which Braff wrote, directed, and starred in. While Faison and McGinley were in each of the show's 182 episodes, Braff and Chalke only appeared in a few episodes during the final season.
Showrunners meant for Season 9 to be a spinoff from the original, bringing on a new cast and shifting the focus to new characters—a decision that disappointed many long-time fans.
Seinfeld: 1989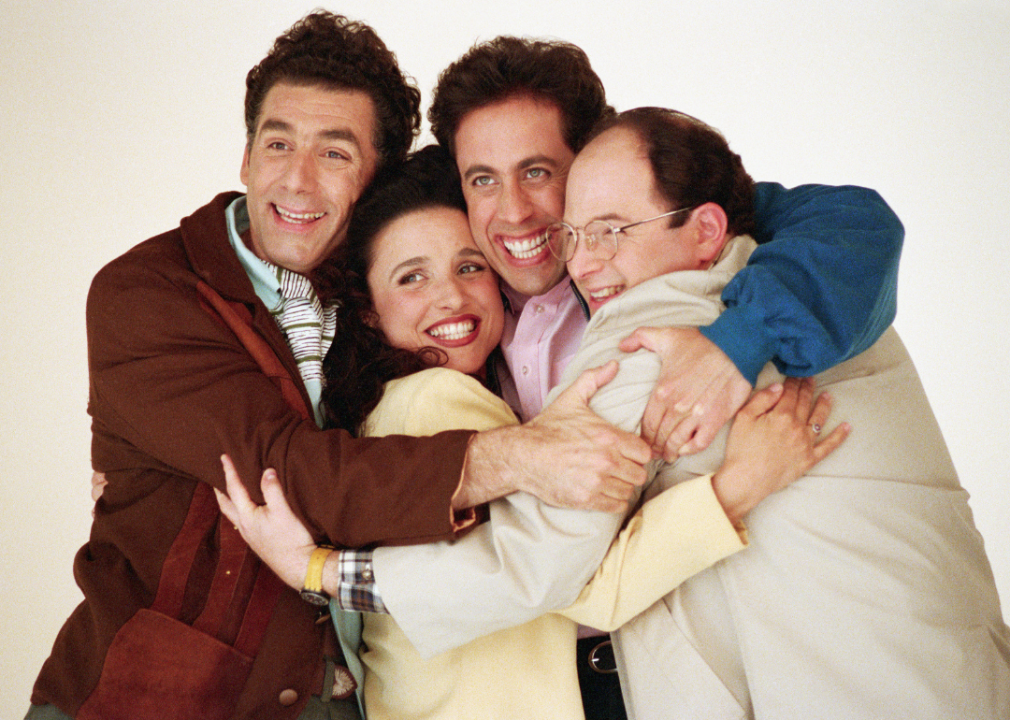 David Turnley/Corbis/VCG via Getty Images
Like many other shows on this list, the actors who landed roles on "Seinfeld" had experience prior to being cast, but they became truly famous for their work on this sitcom.
Critics lauded comedian Jerry Seinfeld's stand-up routines, Julia Louis-Dreyfus was fresh off a 33-episode run on the comedy "Day By Day," and Michael Richards had a long list of roles going back to the early-'80s sketch comedy show "Fridays." Jason Alexander didn't have such an extensive TV resume. Still, when showrunners struggled to cast the role of George Costanza, they requested tapes of theater actors, and Alexander's audition wowed them.
Seinfeld: 1998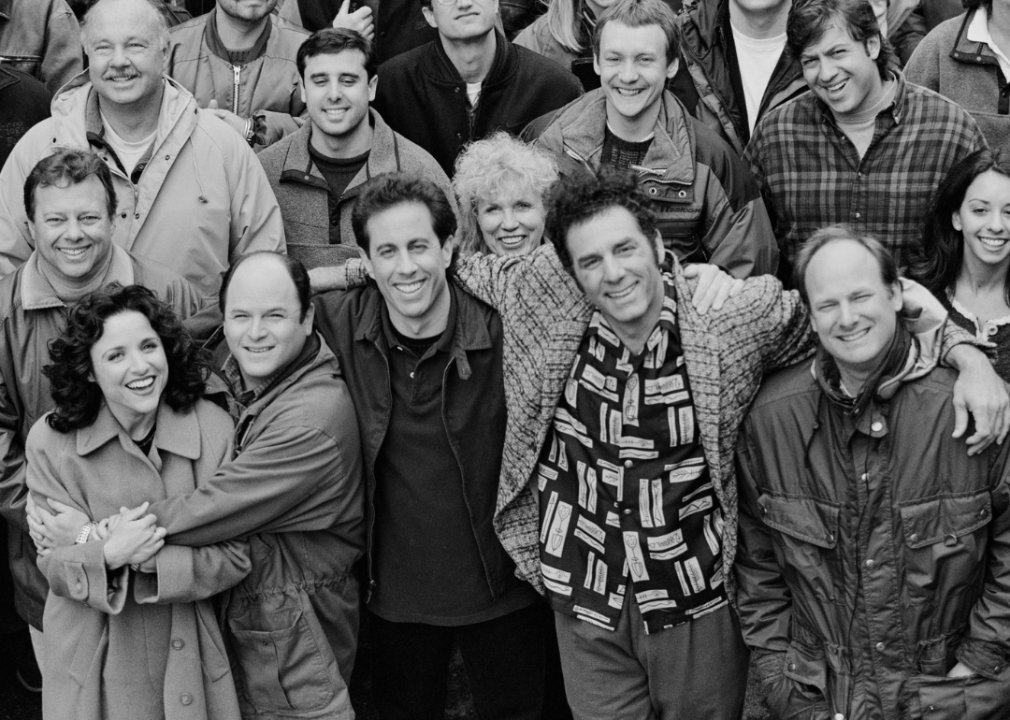 David Hume Kennerly // Getty Images
Throughout nine seasons, the "Seinfeld" cast grew in both their careers and their relationships with one another. The show's popularity translated into financial success—Seinfeld himself, for instance, went from making $20,000 per episode in Season 1 to $1 million per episode in Season 9.
The value of this experience was not just monetary, though; Louis-Dreyfus admitted to People that, after the show's final episode aired, she experienced a genuine and profound grief because of the close bond she had formed with her co-stars.
That '70s Show: 1998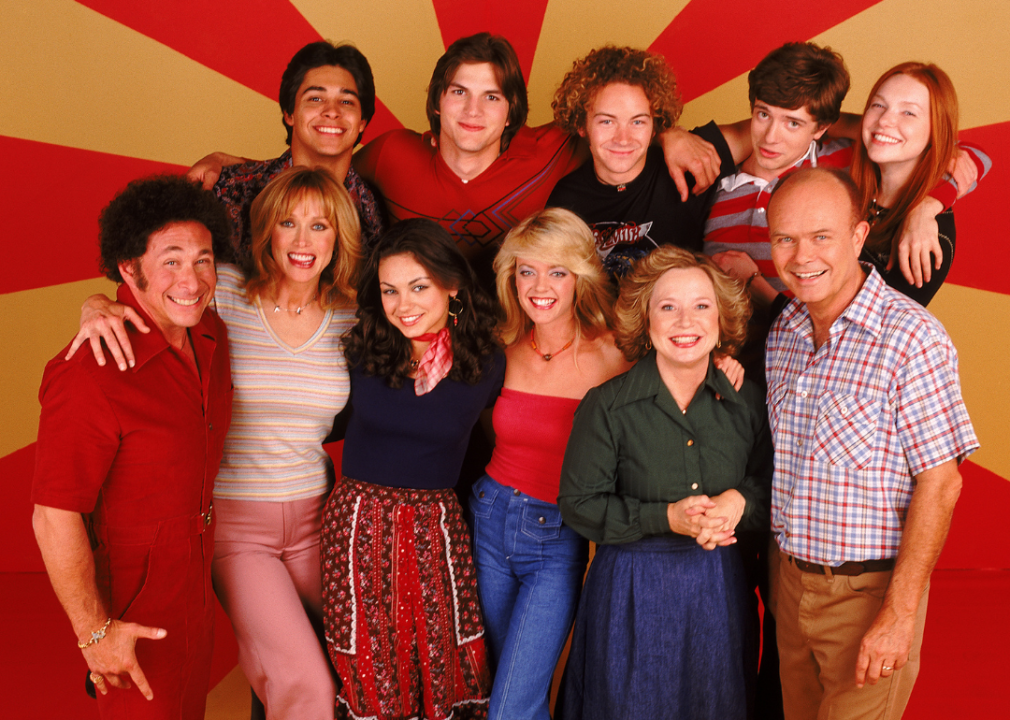 FOX Image Collection via Getty Images
The young ensemble cast members of "That '70s Show"—Topher Grace, Mila Kunis, Ashton Kutcher, Danny Masterson, Laura Prepon, and Wilmer Valderrama—were mostly unknown when they signed on to play a group of Wisconsin teens growing up in the era of peace and love.
Grace dropped out of college to play Eric Forman, the role of Michael Kelso was Kutcher's very first acting gig, and Kunis was just 14 when showrunners cast her as Jackie Burkhart—although she famously claimed to be 18 to snag the role.
That '70s Show: 2006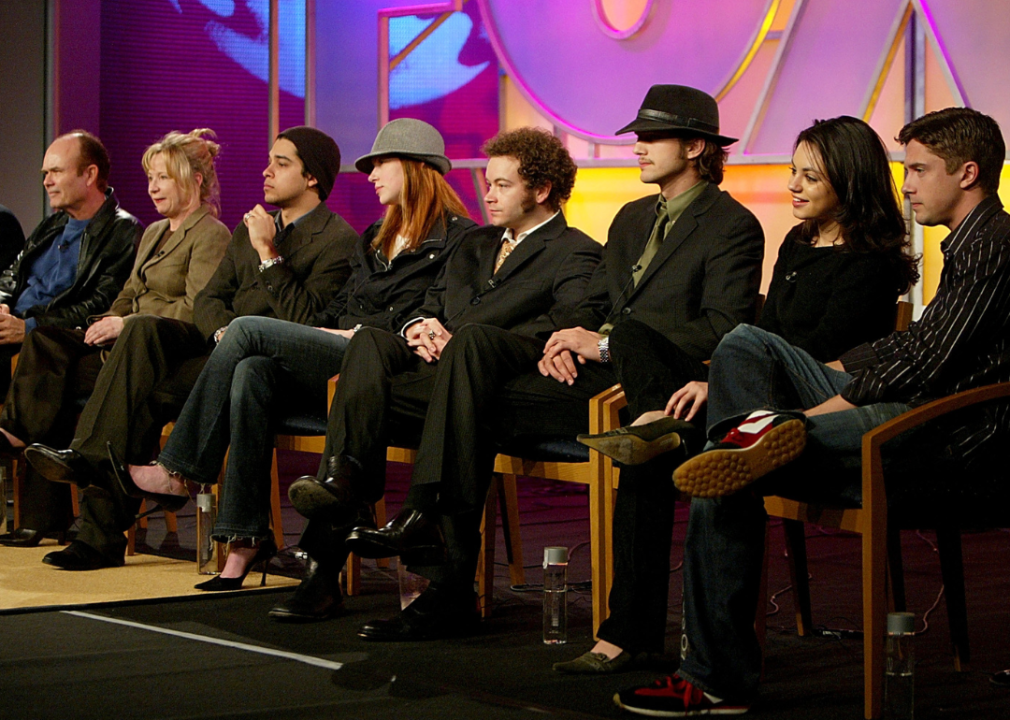 Kevin Winter // Getty Images
Throughout eight seasons and 200 episodes, "That '70s Show" turned this charismatic group of actors into the hottest celebs of the day. As their popularity grew, Kunis began voicing the character of Meg Griffin on "Family Guy" in 1999, and Kutcher found success on the big screen in films like "Dude, Where's My Car" (2000) and "Guess Who" (2005).
While Grace and Kutcher exited the show early in pursuit of other acting opportunities, Grace did return for the series finale. The other lead actors all remained in their roles until the show ended.
Will & Grace: 1998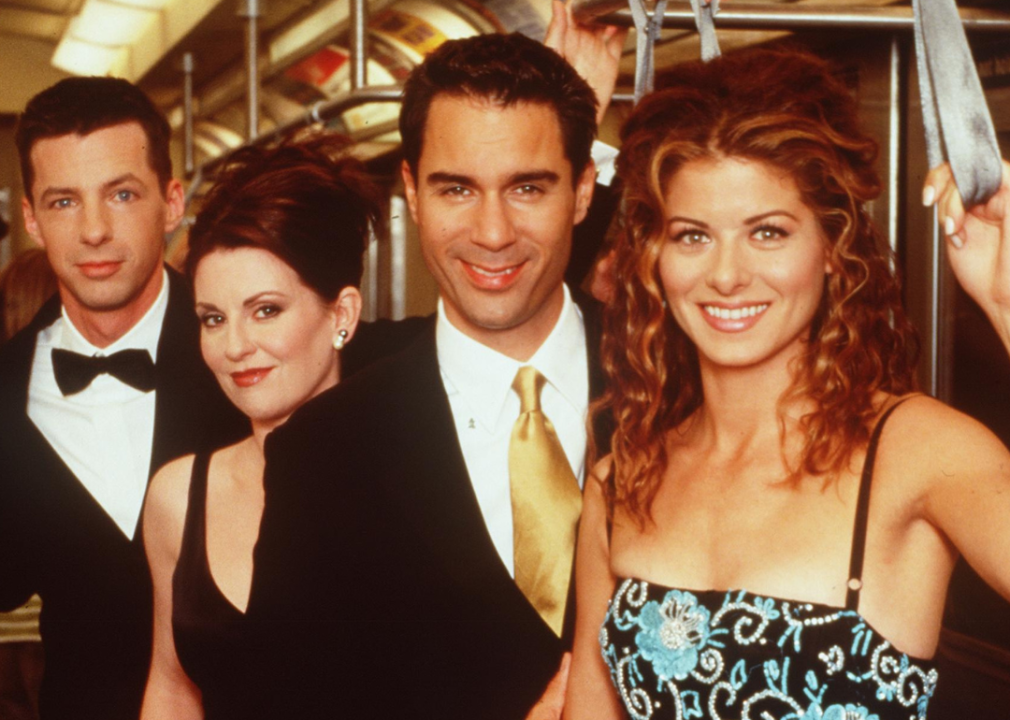 NBC // Getty Images
Prior to being cast as Will Truman, Eric McCormack's longest TV stints were on two separate "Lonesome Dove" series in the mid-'90s. Debra Messing and Sean Hayes each had a short list of acting credits to their names, but Megan Mullally had booked a number of TV roles, both brief and repeated, since the early 1980s. Little did any of these actors know that "Will & Grace" would turn into 11 seasons portraying the most memorable characters of their careers.
Will & Grace: 2018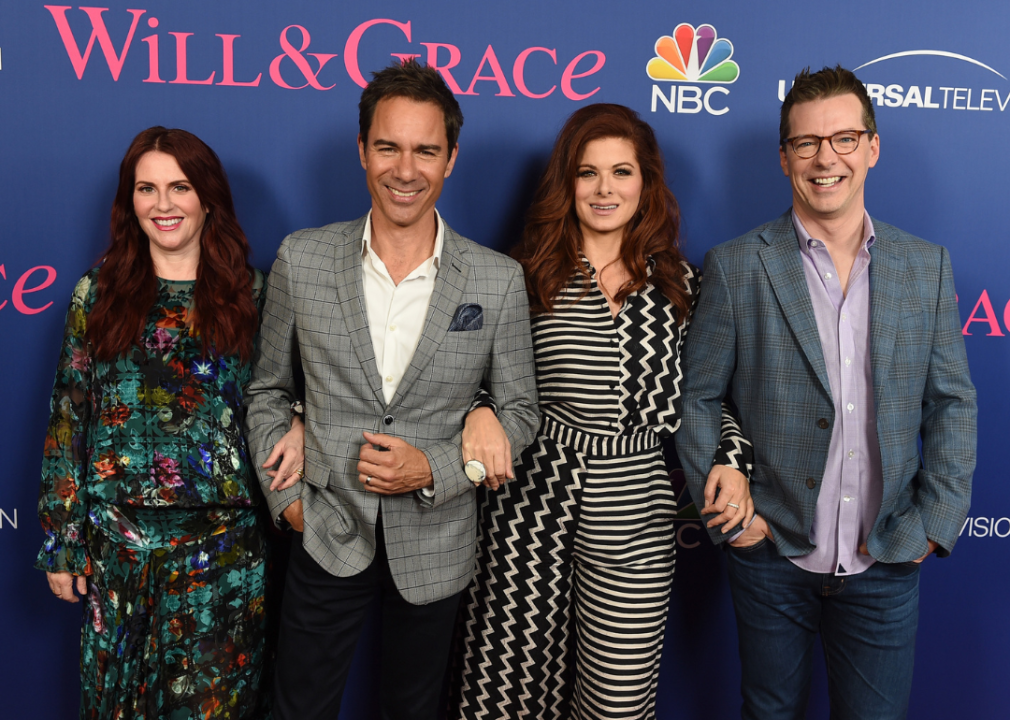 Kevin Winter // Getty Images
Although the show ended in May 2006, the original cast returned for a three-season reboot in September 2017. Both fans and NBC strongly desired this reunion. Hayes, McCormack, Messing, and Mullally were each paid $100,000 per episode during the first two seasons and $350,000 per episode for the third. Including this revival, "Will & Grace" ended with 246 total episodes, and all four lead actors were on screen for each one.
Story editing by Carren Jao. Copy editing by Kristen Wegrzyn.