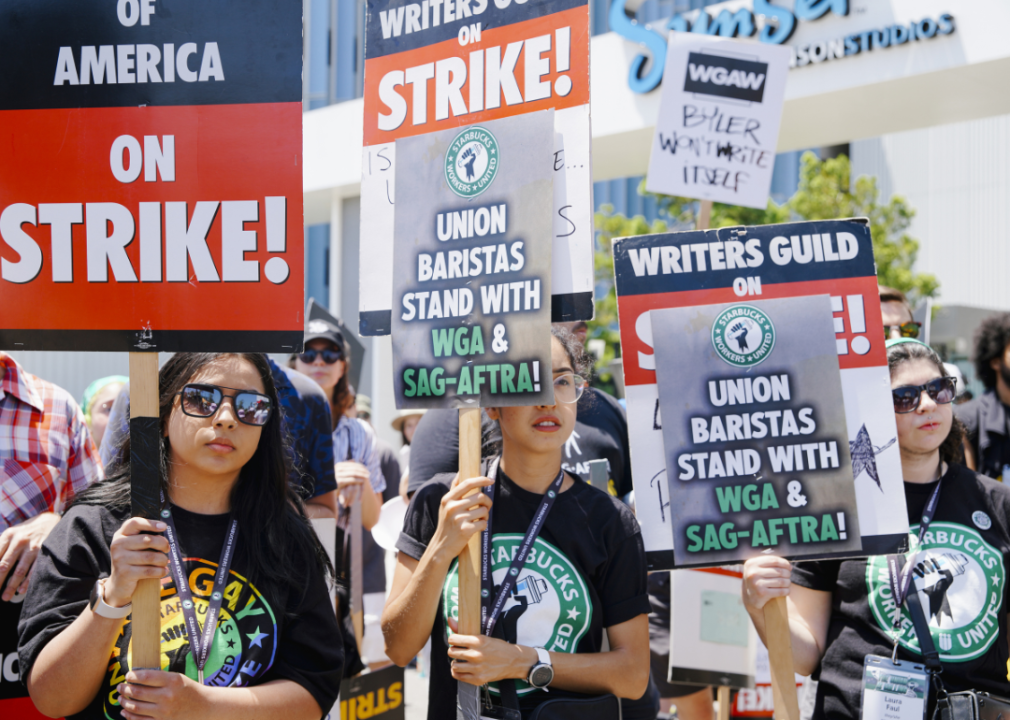 Katie McTiernan/Anadolu Agency via Getty Images
To hear Hollywood talk about the current moment in labor history, American workers stand on a precipice.
"We are all going to be in jeopardy of being replaced by machines and big business, who care more about Wall Street than you and your family," actress and Screen Actors Guild and American Federation of Television and Radio Artists president Fran Drescher told members of the media gathered for a SAG-AFTRA news conference in mid-July 2023.
Against the backdrop of new technology that carries the potential to eliminate jobs and wages that don't keep up with inflation, more Americans than ever find themselves sympathizing with unions. Public approval of unions reached a modern high over the past year with at least 7 in 10 Americans (71%) thinking favorably of unions compared with 68% of Americans in 2021.
The trend has been on the rise since 2010, and the increased enthusiasm for organized labor is beginning to manifest itself in newly formed unions in recent years. The number of elections held in U.S. workplaces to decide whether workers can collectively bargain with their employer rose 51% in 2022 compared to the year before, according to a Stacker analysis of National Labor Relations Board case data. Still, union membership rates nationwide are far from their golden days, and experts say a serious boost may require more than just enthusiasm.
The 160,000 workers represented by the SAG-AFTRA union voted to authorize a strike in July. The historic vote marked only the second time in history that actors and writers have gone on strike simultaneously. The Writers Guild of America, representing 11,500 TV and film writers, authorized a strike two months prior.
The reasons for the strike are disagreements between writers and actors and their big studio and network counterparts who own the distribution channels for their work. The workers warn that studios want to use workers' likeness and past writing to make artificial intelligence-generated entertainment at low cost.
Beyond Hollywood, AI is being put to work reducing costs in other industries. Today's generative AI can automate software processes and perform white-collar jobs typically performed by entry-level workers. A June 2023 Business Wire survey illustrates how the emerging technology has put the interest of workers at odds with their employers. According to software provider Qualtrics, 64% of executives surveyed described AI as "exciting," but only 39% of full-time employees surveyed felt the same way. And about as many employees as executives who are excited about AI expect job loss of some kind.
Union support reaches levels last seen when Ronald Reagan led striking Hollywood actors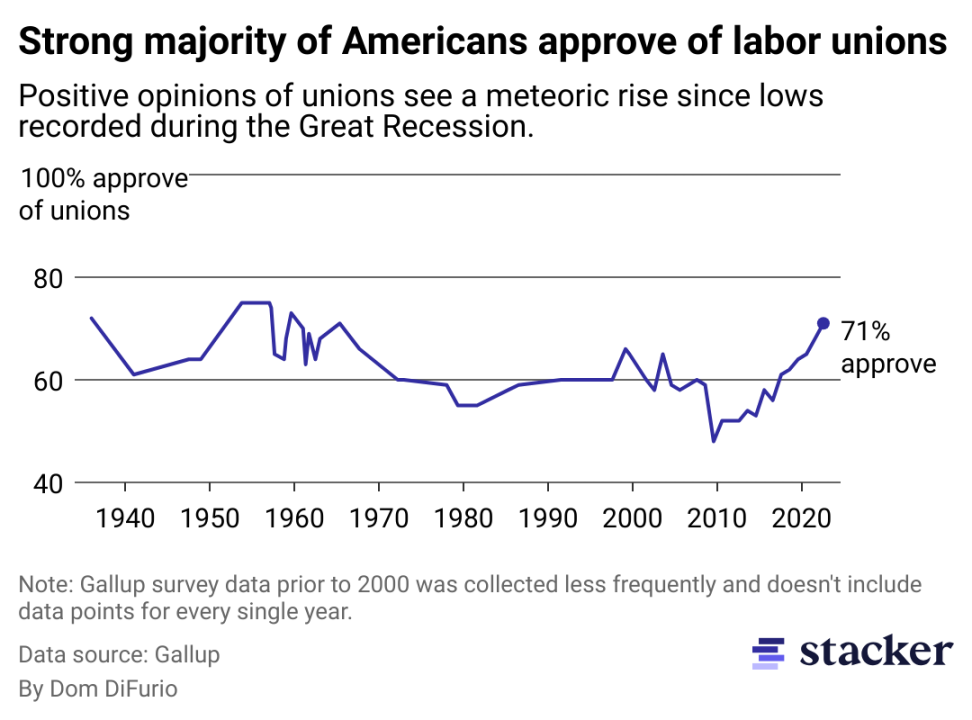 Stacker
The last time working conditions were severe enough to warrant both actors and writers striking at the same time was more than 60 years ago. In 1960, Ronald Reagan had yet to make his run for the White House and was leading the strike as an actor and SAG's president.
Though technology was less in focus in 1960, workers then, much like today, were motivated to strike by a perception of unfair negotiations over pay. Actors and writers won beneficial residual pay for movies they acted in because of that strike. The actors' strike lasted six weeks—while the writers stopped work for 21 weeks—before reaching an agreement with the Alliance of Motion Picture and Television Producers representing the movie studios and networks.
In the following decades, Reagan would be elected president with the support of the business community. During his presidency, he took action to stymie the power of workers unions, most famously when he broke the air traffic controllers' strike. Labor's favor with the public began its precipitous decline.
Union drives grow more effective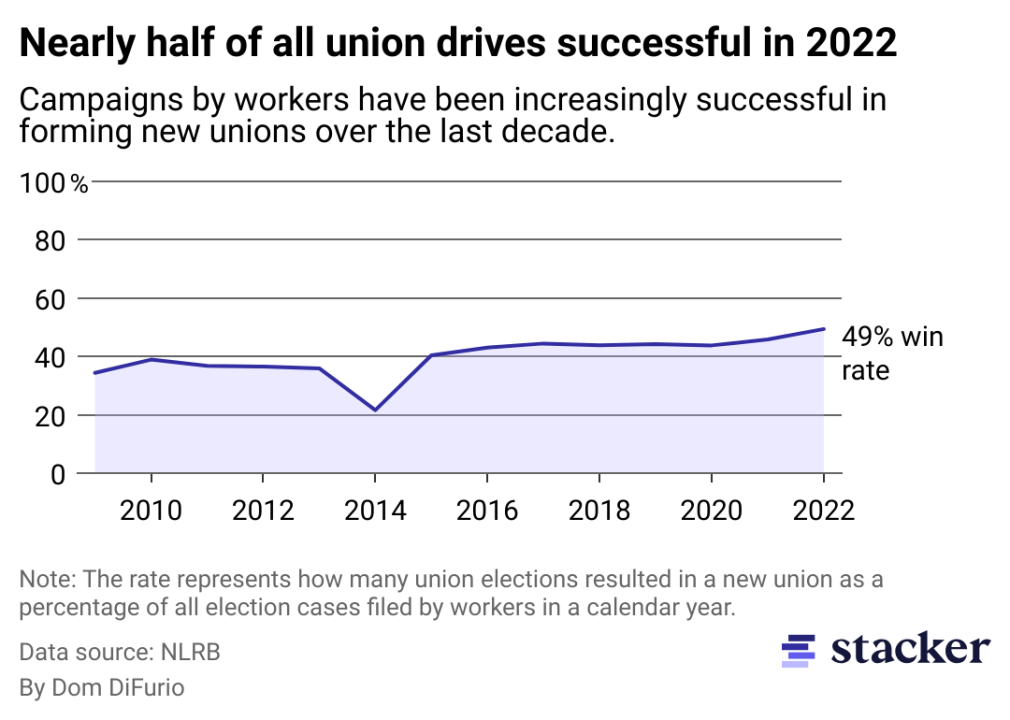 Stacker
The frequency with which workers have been able to win union representation in the workplace has increased since the Great Recession, when perceptions of organized labor had reached rock bottom.
It's important to note that Stacker's analysis groups case data by the calendar year ending in December and will differ slightly from official NLRB numbers, which adhere to a federal budget calendar ending in October.
Clashes between workers and employers rising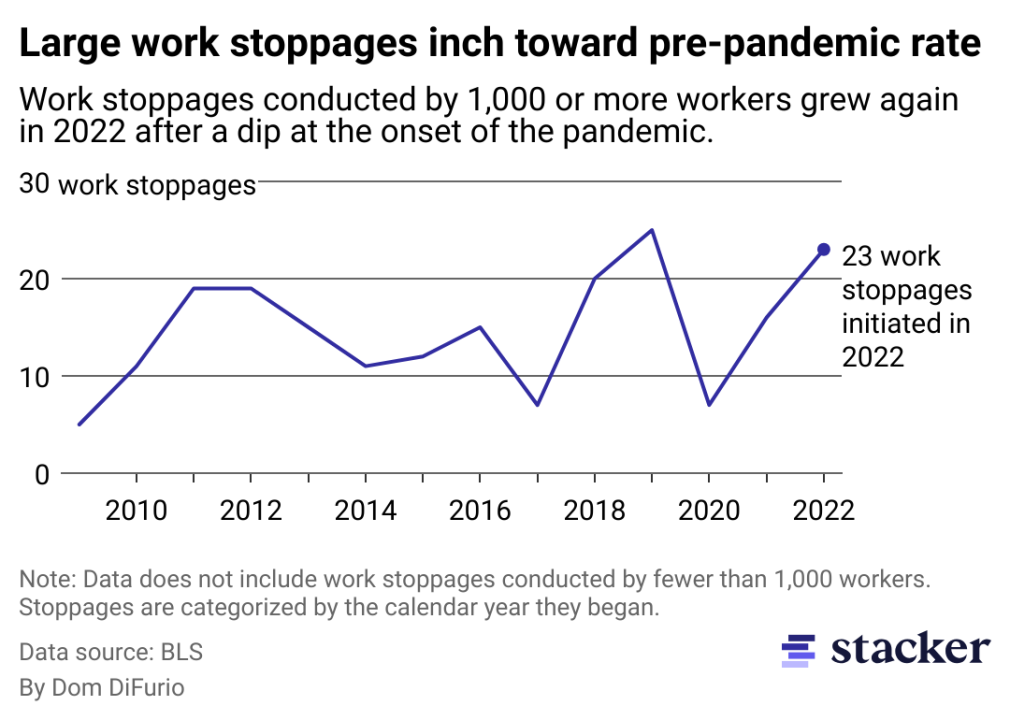 Stacker
Workers mounted nearly 24 large work stoppages last year—on par with the number conducted before the COVID-19 pandemic. A work stoppage, or strike, typically happens after a majority of workers in the union vote to authorize it, but workers' right to strike does not require union representation.
Workers can initiate a strike legally for economic reasons, like seeking fair wages or fewer work hours. Or they can legally strike in response to a perceived "unfair labor practice," which describes when employers run afoul of the National Labor Relations Act.
Several of the most headline-making strikes in recent years have occurred in California, where the cost of living is among the highest in the country, a trend that continues into 2023. It's not just Hollywood actors—janitors and teachers are also flexing their right to strike. West Coast states—including California, Oregon, Washington, and even Alaska—have the highest percentages of unionized workers behind New York, where 1 in 5 workers belong to a union.
Union membership still below prepandemic levels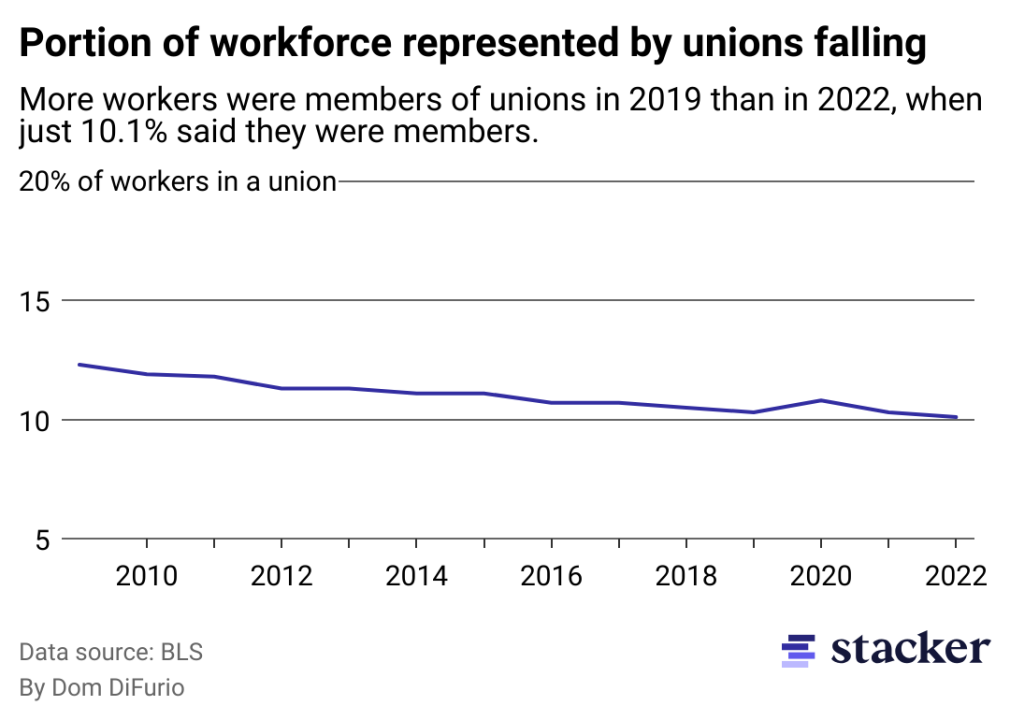 Stacker
Nationwide, however, union membership has been in freefall for decades. In 1983, 1 in 5 workers were union members. Today, that figure is just 10%—the lowest on record, according to the Bureau of Labor Statistics. Even though the raw numbers of union members have increased with time, employers continuously add nonunion jobs that dilute the membership rate.
Union election wins for workers also don't always foretell new labor strength, as the election is often just the first step in the arduous process of establishing a working agreement between employees and the employer.
After winning recognition, new unions are granted the right to formally negotiate with employers who often use stall tactics to keep the union from ever getting its first written working contract. Almost half of all union drives result in new unions, but only about half of those new unions are even successful in winning an initial contract after that.
Academics have argued that without stronger penalties for employers who violate labor law, such as those included in the failed Protecting the Right to Organize Act legislation, it will continue to be burdensome for workers to successfully negotiate working conditions with their employers. The act failed to make its way through Congress and into law in 2020 and 2021, and it faces steep opposition in 2023, including from business interests like the Society for Human Resource Management and Republican politicians in the House of Representatives who argue it would give workers too much power.
For established, well-organized unions like SAG-AFTRA, WGA, and those in other industries like the Teamsters' delivery workers unions, the enthusiasm of this year's so-called "hot labor summer" could provide cover to other workers looking to level the playing field the only way they can control—by walking off the job.
Story editing by Ashleigh Graf. Copy editing by Paris Close.