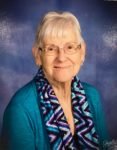 Shirley R. Lieurance, 86, of Burlington, Iowa, formerly of Dallas City, Illinois, passed away at 4:47 p.m. Sunday, December 5, 2021, at the Southeast Iowa Regional Hospice House in West Burlington, Iowa.
Shirley was born October 29, 1935, in Adams County, Illinois, the daughter of Virgil E. and Hazel D. (Booher) Poulter. Shirley married Stephen M. Lieurance January 29, 1955, in Carthage, Illinois. He preceded her in death August 23, 2013. 
Shirley graduated from the Dallas City High School. She and her husband, Stephen, operated many businesses in the Dallas City area, including the Tastee Corner, Steve's Cork and Bottle Liquor Store, Steve's Waterfront Tavern, Antique and Used Furniture Store, and Lieurance Auction Barn. Her favorite job was being a homemaker and raising their four children.
She was a member of the First Christian Church (Disciples of Christ) in Burlington. 
Survivors include four children: Stephanie Denney of Burlington, Stacey (Jim) Howard of Highland, Illinois, Steve Lieurance of Highland, Illinois, and Shannon (David) Beeler of Burlington, Iowa; four grandchildren: Jaimee Cox, Jordan Kirchhoff, Jacob Beeler and Hadlea Beeler; five great-grandchildren: Jonah, Jace, Josie, and Jude Cox, and Jane Kirchhoff; one sister: Bonnie Kershner of West Burlington, Iowa and several nieces and nephews. 
She was preceded in death by her parents; husband: Stephen; ten brothers: Gerald, Donald, Hershel, Francis, Kenneth, Glenn, Russell, Rodney, Dewayne and Richard; four sisters: Dorothy Hoener, Betty Emery, Janet Cox and Kay Thacker; one son-in-law: Don Denney.
A memorial service will be held Saturday, December 11, 2021 at 11:00 a.m. at Banks & Beals Funeral Home in Dallas City with Pastor David Yonker officiating. The family will receive friends one hour prior to the service at the funeral home.
Inurnment will follow in the Harris Cemetery, near Dallas City. 
A memorial fund has been established for Southeast Iowa Regional Hospice House or the First Christian Church (Disciples of Christ) in Burlington. To leave a condolence for the family, please visit Shirley's obituary at banksandbeals.com.