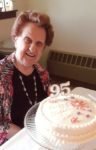 Ila Kathryn Anguish, 95, of Dallas City, Illinois, passed away Wednesday, December 29, 2021 at the Blessing Hospital in Keokuk, Iowa.
Ila was born August 2, 1926 in LaHarpe, Illinois, the daughter of Jamie A. and Mary A. (Zimmerlin) Rhea. On October 3, 1951 she married Donald Eugene Anguish in Dallas City. He preceded her in death August 21, 2014. 
Ila was a graduate of the Dallas City High School. Following high school she worked for a short time at Sheaffer Pen before attending Banking School in Kenosha, Wisconsin. She returned to the area to work at Central State Bank in Fort Madison. She finished her career as Head Teller for the Dallas City Bank. 
Ila was community minded and involved in several local organizations including; Daughter's of the American Revolution, Dallas City American Legion Auxiliary, Christian Women's Fellowship, a 50 year member of Order of the Eastern Star and past President of the Republican Women of Hancock County. She was a faithful member of the Dallas City First Christian Church. 
She enjoyed shopping, especially for new dresses, spending special occasions with family and friends at Hotel Nauvoo and cooking Christmas dinner for all of her family. 
Survivors include three siblings: Jamie Rhea of Niota, Marilyn "Bea" Rice of St. Louis and Kay Pond of Keokuk and several nieces and nephews. 
Ila was preceded in death by her parents; her husband: Donald; twin sons in infancy, and one son: David Lair. 
Friends may call after 3:00 p.m. Monday, January 3, 2022 at Banks & Beals Funeral Home in Dallas City where the family will receive friends from 5:00 until 7:00 p.m. 
The funeral service for Mrs. Anguish will be held at 10:30 a.m. Tuesday, January 4th at the Dallas City First Christian Church with Mark Pettit officiating. Burial will follow in Harris Cemetery, near Dallas City. 
A memorial fund has been established for the Hearts of Hancock Humane Society or Dallas City First Christian Church. To leave a condolence for the family, please visit Ila's obituary at banksandbeals.com.