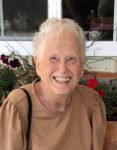 Mary Kathryn (Brockman) Wellman, 79, died peacefully on Friday, November 19, 2021, at her home in rural West Point, IA. She was surrounded by her loving family, and supported by her many friends and medical providers, including Dr. Sarah Ledger and the EveryStep Hospice staff.
Mary was born in Fort Madison on May 4, 1942, the daughter of LeRoy and Deloras (Einspanjer) Brockman. On November 4, 1961, she married James L. Wellman at Sacred Heart Church in Fort Madison, and they recently celebrated their 60th anniversary.
In addition to her husband, James Wellman, Mary is survived by one son; Bill (Cheyrl) Wellman of West Point and 4 daughters; Lisa (Mike) Greenig of Andover, MN, Deborah (John) Dunn of West Des Moines, IA, Lori Miller of Smithfield, IL, and Barb (Mike) Finney of Pella, IA. Mary's 10 grandchildren include Clinton Wellman, Benjamin Wellman, Hilary Knapp, Veronica Hay, Jackson Dunn, Nolan Dunn, Morgan Bair, Madison Mustread, Katie Vollmar and Nick Finney. She is also survived by 2 great-grandchildren, Kaladin and Aerith Knapp, and 2 sisters, Peggy (Charles) Lewis and Connie Baker. She was preceded in death by her parents, her dear grandson, Clinton Wellman, and her brother, William Brockman.
Mary was a member of Saint Mary of the Assumption Catholic Church in West Point. She was employed for a number of years by the West Point Care Center, where she worked as an Activity Coordinator, a Rehabilitation Aide and a Nurse's Aide. It is notable that in 1986 she received the 'Citizen of the Year Award' for West Point. She was the best wife, mother, grandmother, sister and friend a person could hope to have. Mary enjoyed cooking and entertaining. She loved taking care of her flower gardens and her lawn. She loved shopping and playing cards with her kids and grandkids, and with her card clubs. In recent years, she enjoyed Face-Timing with friends and family on her iPad, playing games, listening to music, and looking at family photos and videos.
The family will meet with friends at the Barr-Holtkamp Funeral Home in West Point on Monday, November 22, 2021, between 4:00-6:00 p.m., with a Christian Wake service beginning at 6:00 p.m. A Mass of Christian Burial will be held at 11:00 a.m. on Tuesday, November 23, 2021, at Saint Mary of the Assumption Catholic Church in West Point, with Reverend Dennis Hoffman as celebrant. Burial will follow at Calvary Cemetery in West Point. An online guest book may be found at www.barrmemorialchapel.com. Memorials have been established in her memory to go West Point Fire and Rescue or Calvary Cemetery.