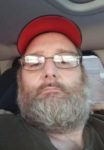 William Paul "Bill" Cochenour I, 51 years, of Fort Madison, Iowa died Wednesday, December 22, 2021 at his home.  He was born February 7, 1970, a son of Eager "Bud" and Sandra (Hitchcock) Cochenour.
Bill attended Fort Madison High School. He worked a welder at Gregory Manufacturing and also as a tow truck driver for Campbell Towing. He was of the Catholic faith. He enjoyed fishing, especially at the 35th Street slough. Bill was a caring person. He was always there for others and tried to make them feel good.
He is survived by his mother, Sandy Bernard of Fort Madison; three children: William Paul "Will" Cochenour II (fiancé Andrea Bell) of Fort Madison; Thomas Cochenour of Minnesota; and Jaclyn Cochenour of Keokuk, Iowa; two brothers, Scott and Marty Cochenour, both of Fort Madison; step brothers and sisters; five grandchildren, one uncle, nieces, nephews, cousins, and friends. He was preceded in death by his father, step-father Curtis Bernand, and great uncle Paul Mansheim.
His body has been cremated. His family will greet friends 3:00 - 5:00 pm Wednesday, December 29, 2021 at the Barr Memorial Chapel, Fort Madison. Barr Memorial Chapel is honored to serve the Cochenour family and an online guest book may be found at www.barrmemorialchapel.com.