BY CHUCK VANDENBERG
PCC EDITOR
DONNELLSON - Central Lee coach Kritter Hayes said the Fort Madison basketball program is something he'd like to emulate.
Hayes' Hawks were humbled by the Bloodhounds Saturday night in an 89-20 non conference matchup at Central Lee High School.
It was all Fort Madison after Central Lee's Brayden Wyrick got two of the Hawks' five total offensive rebounds on the night on the Hawks' first possession to go up 2-0.
After that Fort Madison senior Miles Dear, who finished with 21 points on the night, hit a 3-ball from just right of center to give the Hounds a lead they would never give up.
A stifling full quarter press that had all five of the Hounds lineup in front of the timeline resulted in three consecutive steals from senior Dayton Davis working the front of the press. Davis scored 10 of the Hounds next 12 points off steals in the press.
Davis led all scorers with 29 points on the night.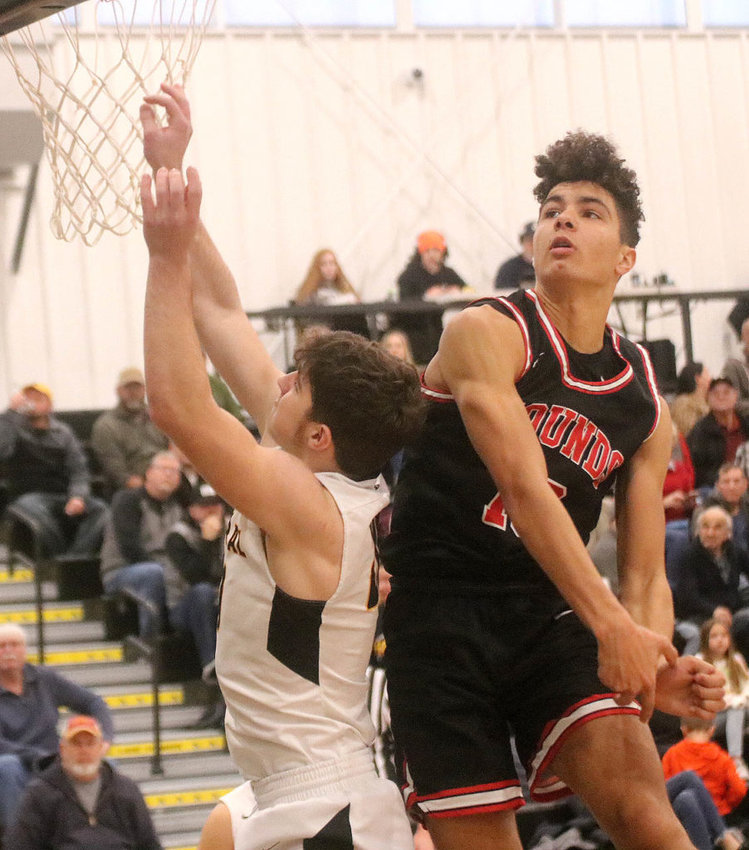 Fort Madison jumped out to a 32-5 first quarter lead and Bloodhounds' head coach Ryan Wilson went right to the bench.
The Hounds are ranked 9th in the latest AP poll in Class 3A. Central Lee is still looking for its first win of the year.
Wilson said the Hawks are very young and learning, but the game allowed him some opportunities that don't always come along.
"I told the guys before the game, the first half we're going to play our basketball. We kinda called it off in the second quarter, but we were still able to do things," Wilson said.
"They're 0-8 and struggling and they're young. It's nice to have those opportunities where everybody gets to play, especially after a grinder of a conference game last night."
The Hounds pushed the lead to 51-8 at the half holding Central Lee to just three second quarter points. The Hawks couldn't put a run together in the second half as Fort Madison subbed liberally getting 11 players in on the scoring.
Leif Boeding also was in double figures for Fort Madison with 10.
Wyrick led Central Lee with six points.
Hayes said the Hawks are getting better at handling pressure, but the Hounds were at a different level with Davis causing chaos at the front end.
"He's just a great basketball player," Hayes said. "I told our guys before the game that if I were to emulate a program, they would be something we could aspire to be.
"They know how to play basketball and our guys are starting to figure it out. But we didn't back down at all. It is what it is at this point and they're giving their all."
Wilson said the Hounds won't always have that kind of success pressing other teams, but when it works it's a handful for opponents.
"(Davis) does what he does in that press. Not every night will he be that successful in the press, but he sparked that 11-2 run to get us going,"
Fort Madison takes on Burlington in a huge Southeast Conference matchup this Friday in Burlington. The Grayhounds are 6-5 overall but have faced some larger 4A schools and are coming off a 48-45 win over West Burlington Saturday.
In the jayvee contest, Fort Madison won 63-19. Boeding had 15 in the win, and Hunter Cresswell put in 14 for the Bloodhounds.
Central Lee will be looking to get its first win of the year on Tuesday when they travel to Van Buren (1-8). They host West Burlington on Friday night.