Intra-squad matches Saturday morning at 9:30; Open to the public with food pantry donation
BY CHUCK VANDENBERG
PCC EDITOR
FORT MADISON - Fort Madison High School's head wrestling coach Ryan Smith is typically pretty short on words about his Bloodhound wrestlers.
Preferring to let the Hounds make their own name on the mat, Smith says the Hounds should be the front runners in the Southeast Conference, but it's the bigger weekend tournaments where Fort Madison will see what they're made of.
However, there will be a good number of Hounds taking the mat this year.
"This is the most returning we've had in a while," he said. "We've got double digit returning letter winners and that doesn't include (Austin) Ensminger who'll miss the season with a shoulder injury."
Fort Madison will be looking to Henry Wiseman, Gavin Wiseman, Teague Smith, Ike Thacher, Jakob McGowan, and Daniel Sokolik for experience this year.
A couple of freshman, including Gavyn Siemens at 106 and Caleb Bolander at 138, could start to make a name for themselves, as well. The team lineup will be set initially with the teams' intra-squad matches that will take place Saturday morning at 9:30 a.m. at the Mick Pickford Wrestling Room.
The matches are open to the public and a canned good or jar of peanut butter is encouraged for entry. The donations will be delivered to the Fort Madison Food Pantry.
After Siemens, Tateum Schelich and senior Ayshan Mammadova will battle at 113. Freshman Logan Pennock is the front runner at 120, while junior Emmett Kruse and Ace Meierotto will mix it up at 126. Kruse has put on about three inches after wrestling at 113 last year.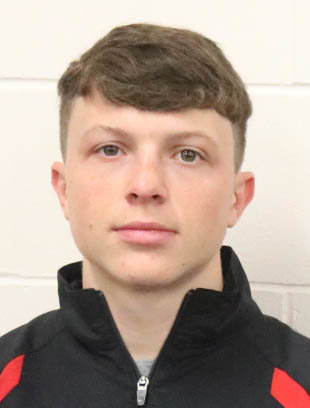 Henry Wiseman has the inside track at 132 with transfer Nolan Riddle pushing him after enrolling at Central Lee from Keokuk last year.
"Henry's a lot heavier. He was 106 last year and the lowest he can go is 126, but he's probably looking at going 132," Smith said.
Bolander wrestles hard as a freshman, Smith said, at 138. He'll have senior Macaden Rhoer in the hunt with several other underclassmen in the wings.
Aiden Pennock is another returning letter winner that is leading the run at 145. Austin Miller will wrestler at 152 and senior Gavin Wiseman, ranked 8th in preseason Class 3A polls at 152, will start the year at 160, but could move back into the 152 spot. Wiseman qualified for state in February, but said he was a bit too aggressive in early matches.
"I'd definitely like to place this year, at least. Last year I was really aggressive, so I gotta learn to slow down a little bit sometimes," he said.
Wiseman, said he didn't get a lot of mat time in during the offseason, but did put in time in the weight room and conditioning.
"I didn't wrestle much, but I was lifting everyday and all that. Just getting stronger so I can lean out a bit," Wiseman said.
Teague Smith will anchor the 170 weight classes, up from 152 last year. Smith said he was up to 178-180 lbs during football season, but will take a light cut to wrestle at 170.
Smith wrestled at the U.S. Marine Corp Nationals in Fargo, ND in August after qualifying in May. He went 2 and 2 against some of the best wrestlers in the nation in his weight class during that event and feels the offseason work has positioned him to make a run at state. The sophomore also led the Hounds with 57.5 tackles on the football field.
"I put on some weight during football but got back to 170 and I'm just feeling real healthy where I'm at. I'm ready for anything that comes at me," he said. "I feel like I've worked hard enough to deserve to be on the podium at state."
Jakob McGowan is back on the mat after taking his junior year off to heal up from some nagging injuries. He has the inside track going into the intra-squad matches at 182, where sophomore Hayden Segoviano is in the wings.
Another sophomore, Ike Thacher, who put in a lot of mat time with Teague Smith, helping him prep for the nationals, will likely grab the 195 lb. spot. Thacher came into his own on the football field this fall and has played both sports since elementary school.
"Over the summer I wrestled with Teague as his practice partner. We did go to Big Game in Iowa City and went to a few of those sessions on Sundays, but other that it's been football," Thacher said.
"I have big expectations for this year. I think everybody's going to put in the work and hopefully we can get some state qualifiers."
Junior Daniel Sokolik is also a returning letterman and will hold down the 220 lb. spot.
A couple brand new kids will push the heavyweight including freshman Cory Arnett and junior Matthew Smith, but both are relative newcomers.
Ryan Smith said the Hounds should fare well in conference wrestling, but it will be the larger tournaments where the real hay is made.
"We should be the heavy conference favorite. We've won the last three years and are looking to make it four in a row," he said.
"But when we get to the bigger tournaments like Urbandale, that's where we'll see what we're really made of. We'll have a few in our lineup that are ready for that, but a lot aren't ready because they haven't done the extra stuff. They're good wrestlers, but they're not at that next level because they haven't done anything to get ready.
"I'm a little disappointed still from last year. I wasn't happy with our participation."
The Bloodhounds lost state place-winner Owen Kruse, 1st team all-conference Levi Lowney, 2nd-team All-conference Mason Schau, and Brock Califf to graduation.
The roster for the 2021-22 Bloodhounds is listed below.
Roster:
106 Gavyn Siemens (9)
113 Tateum Schelich (9), Ayshan Mammadova (12)
120 Logan Pennock (9)
126 Emmett Kruse (11), Ace Meierotto (12)
132 Henry Wiseman (10), Nolan Riddle (10), Calvin Johnson (9)
138 Caleb Bolander (9), Macaden Rhoer (12), Gavin Callahan (9), Chandler Fullenkamp (9), Eva Bohringer (12)
145 Aidan Pennock (11), Chaz Fullenkamp (11)
152 Austin Miller (12), Triston Marshall (9)
160 Gavin Wiseman (12), Brandt Booten (11), Erik Millard (11), Marcus Guzman (9)
170 Teague Smith (10), Christian Vincent (11), Aaron Warner (9)
182 Jakob McGowan (12), Hayden Segoviano (10)
195 Ike Thacher (10), Chase Allen (9)
220 Daniel Sokolik (11), Cory Arnett (9)
285 Matthew Smith (11)