FM snaps BHS' 11-game win streak in game one, but falters in nightcap
BY JOHN BOHNENKAMP
PCC SPORTS
FORT MADISON - The fourth inning of Monday's first game of a home doubleheader against Burlington was just a perfect example of what Fort Madison coach Ron Walker calls "Bloodhound baseball."
But the opportunistic plays the Bloodhounds had in their 5-4 win over the Grayhounds couldn't be duplicated in the second game, a 13-2 Burlington win in five innings.
The Bloodhounds (9-5 overall, 6-4 Southeast Conference) missed a chance to gain ground on the conference-leading Grayhounds (13-4, 8-1), although they did snap Burlington's 11-game winning streak in the first game.
Fort Madison found a way to get runs in that first game against Burlington pitcher Jacob Zahner.
It started in the bottom of the first inning after the Bloodhounds fell behind 1-0. Landes Williams had a seven-pitch at-bat that led to a single, leading off what would turn into a three-run inning.
"I think we took a lot of good at-bats in that first inning against a good arm, and that gave us belief and so forth," Walker said. "So that was huge."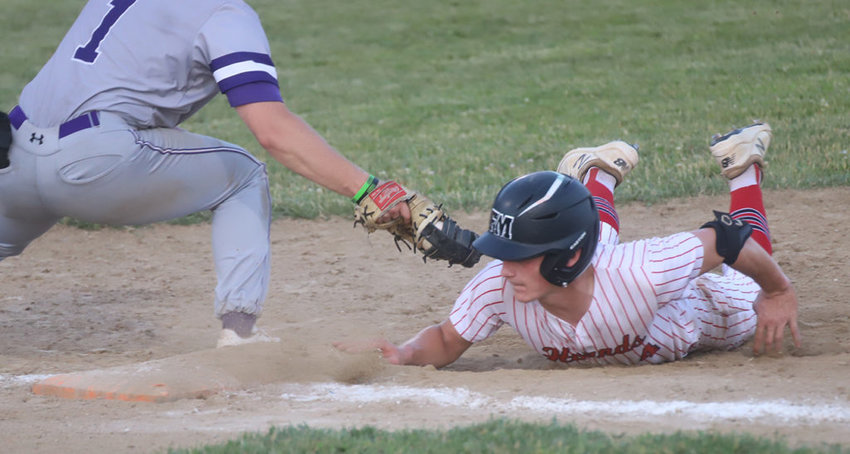 Burlington tied the game in the second, and it stayed that way until the pivotal fourth.
Matt Hopper was hit by a pitch to start the inning, then Caden Barnes singled. Both runners advanced on Brennan Ulik's sacrifice bunt. Then Williams laid down a safety squeeze bunt that brought in Hopper with the go-ahead run, and courtesy runner Henry Wiseman scored on a wild pitch for a 5-3 lead.
"All of the sudden we get two runs," Walker said. "We did the little things there and competed. We competed well."
Williams then finished the game in relief, getting out of a first-and-third jam in the sixth after Burlington had cut the lead to 5-4, then pitched a scoreless seventh.
Kane Williams (2-0) was the winning pitcher, throwing 5 1/3 innings.
"He's been on the shelf for 2 1/2 weeks," Walker said. "We were hoping to get two innings out of him. He really came out and competed. Pitched to contact, and the outfield did a good job of going and getting the ball."
Fort Madison couldn't be as opportunistic in the second game. The Bloodhounds got two runs in the bottom of the first after falling behind 3-0, but ended up stranding 10 baserunners.
"You can't do that," Walker said. "Good baseball teams can't do that. And you especially can't do it against a good baseball team and expect to win."
Burlington batted around in the third and fifth innings, scoring five runs in each. The Grayhounds had just eight hits, but took advantage of six hit batters, eight walks, and an error.
"Between leaving 10 runners on base, and 14 combined walks and hit-by-pitches, you're not going to win too many games doing that stuff," Walker said. "You've got to make them hit their way on, so you can't give them free bases.