FM school district could find enough funds to pay for $33 million upgrades at FMMS, FMHS
BY CHUCK VANDENBERG
PCC EDITOR
FORT MADISON - Fort Madison school officials were presented with several options Monday night around the proposed expansions to move all students into the district's middle school and high school.
The move, which was originally set to cost just over $27 million according to early design estimates, is now projected at $33 million, with increased costs of labor, and a poor supply chain for needed construction materials.
District Business Manager Sandy Elmore said the district could use all of its available SAVE, or Secure an Advanced Vision for Education, funds through the end of a recently approved extension to the state program and some voted Physical Plant and Equipment Levy funds to fully fund the project at the heftier price tag.
Or the district could resort to plans of cutting a pod from the Fort Madison Middle School expansion that was originally planned for 1st grade students and then move 6th grade students into available classroom spaces throughout the building, as one option to cut costs.
The other option was to cut a new gymnasium and locker room expansion at the high school, which was meant to accommodate the addition of the 7th and 8th grade students to the building.
Either one or the other would be bid as alternative projects to see if the costs of bidding as a separate project would result in enough savings to get the project done at close to the original $27 million estimate.
Taking the 1st grade pod off the Fort Madison Middle School design plans is estimated to save $4.7 million, while removing the gym and locker rooms at the high school would save approximately $5.2 million. The two projects could still be bid out at a later date.
The district plans to make the decision on Dec. 6. The board wanted to wait until the 6th when new board members Paul Wilkerson and Mio Santiago would be sworn in and the new board structure would be in place.
The board is planning a short meeting prior to the reorganizational meeting to sign off on retiring $10 million in remaining bonds on the Fort Madison Middle School construction.
'We were able to move some of the goals, but not all of them. But we were able to determine that it is possible to finance a $33 million project if that's what the board wants to do," Elmore said.
She said there would be two years that the SAVE funds and the PPEL money would go to the construction and nothing else. But she said the district could borrow against the district's voted PPEL if needed. District voters approved a bump in the PPEL rate two years ago. That move created about $10 million in revenue over 10 years, eight of which still remain.
No additional voter-approved general obligation bonds would be needed to fund the full $33 million for the current design of the upgrades.
Fort Madison teacher Dawn Johnson told the board they should "Go big or go home, and make it happen."
She said lopping off part of the design is like building a home and removing a room.
"You're talking about removing a room from your house, not the frilly, pretty stuff. Could you live without a kitchen or a living room? That's essentially what their plan is telling you, and you cannot," she said.
"I am asking you to please consider everything you can to make it happen, because our students deserve it."
Teacher Cory Byrne said this isn't a time for the district to be conservative, which they have been for years with success.
"A word to describe us as a district and you as a board would be conservative, and fiscally responsible. Those are things I've encountered as a negotiator. You are fiscally responsible and Sandy wins awards for that," Byrne said.
"I appreciate that, but this is not the time to be conservative. Both of those options are heartbreakers. If you had to do it, okay, but they really are."
He said families are looking to finally get a change in the district to facilities and the district is way behind in 21st century learning.
"Please stop saving our tax dollars. Spend them on what they are to be used for. We are fiscally responsible and now is the time to spend. This is the rainy day."
Board member Brad Menke said the district can't just keep going back to the bank and asking for more money as the price continues to skyrocket.
He said the district could look at continuing to outsource preschool while holding onto the 1st grade pod.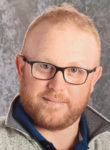 "I know our goal was to get preschool, but when we're talking about cutting things, we've got to start thinking multiple different ways as well," Menke said.
Board President Dianne Hope said six years ago when the district started talking about improving buildings, the goal was to improve elementary and pre K.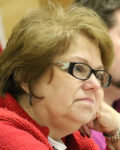 "One thing we are concerned about is open enrollment. If we continue to have pre K outsourced, if you will, that's an opportunity that once a student is somewhere else besides in our building, we lose that opportunity to keep those students in our district," she said.
Board member Lois DiPrima said it's a very difficult compromise if they want the kind of school the district wants.
"It's going to be kinda hard to compromise, guys," she said. "If we want something that's going to meet the needs of our students going forward, we're gonna have to bend."
The district is hoping to hold both the bond meeting and the instructional meeting on Dec. 6. Elmore said she would have to check with the school's attorneys to make sure that could be done, although she believed it could.
The board would then install the new board and officers and then vote on whether to move forward with the project as is and increase financing to pay for the current design or consider one of the alternative construction options to reduce the cost of the project.