Freshman Iowa legislator sets eyes on Iowa's 1st District Congressional seat
BY CHUCK VANDENBERG
PCC EDITOR
FORT MADISON - Christina Bohannan had barely got into her chair as an Iowa State Representative, when she decided Congress might be a better fit.
Bohannan visited SubArena on Saturday morning with former Congressman Dave Loebsack and District 99 candidate Dennis Cahoon in tow to campaign for her run for U.S. Representative for Iowa's 1st District against Mariannette Miller-Meeks.
Bohannon, a Florida native and 22-year law professor at University of Iowa, knocked off Vicki Lensing in Iowa's 85th District in 2020. Lensing had served 10 terms in three different Iowa districts since 2001.
She said the way for Democrats to get the seat back is to get back to the Loebsack way of leading by putting people in front of politics.
"It's so important that we get back to someone who puts people before political party. This district deserves that."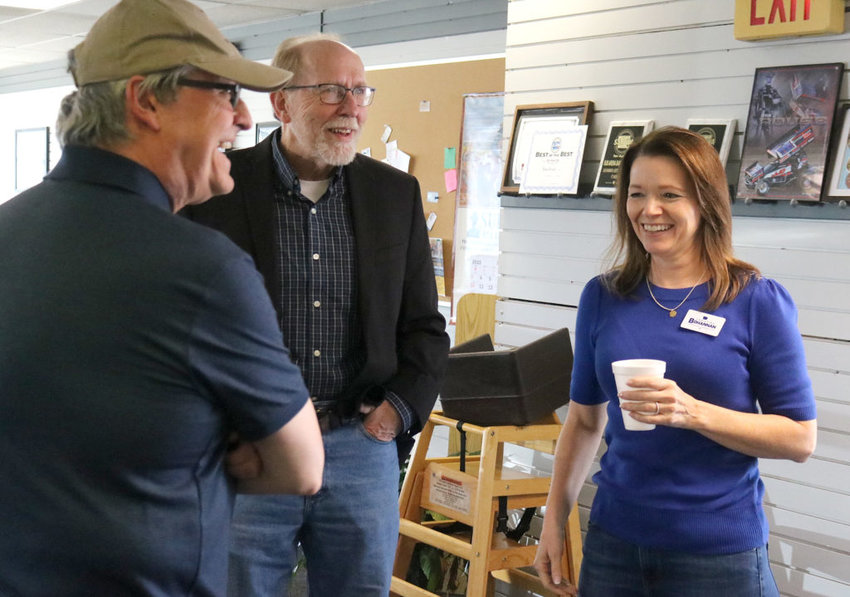 The district has traditionally been the state's 2nd Congressional District, but due to redistricting, it's now the state's 1st district.
She said bipartisanship is apparent in the Iowa legislature, but it's the partisan work that separates the effort.
"I've stood up to some really bad bills, but I've also worked hard to find common ground and worked on things like elder abuse and human trafficking and found that commonality across the aisle," she said.
"But we know there's a time when you have to stand up to some things, especially when the Republicans in the legislature are really going pretty far off to the right with some of their bills."
Bohannan has a degree in engineering from the University of Florida and a law degree from Fredric G. Levin College of Law. She moved to Iowa in 2000 to begin teaching at the University of Iowa.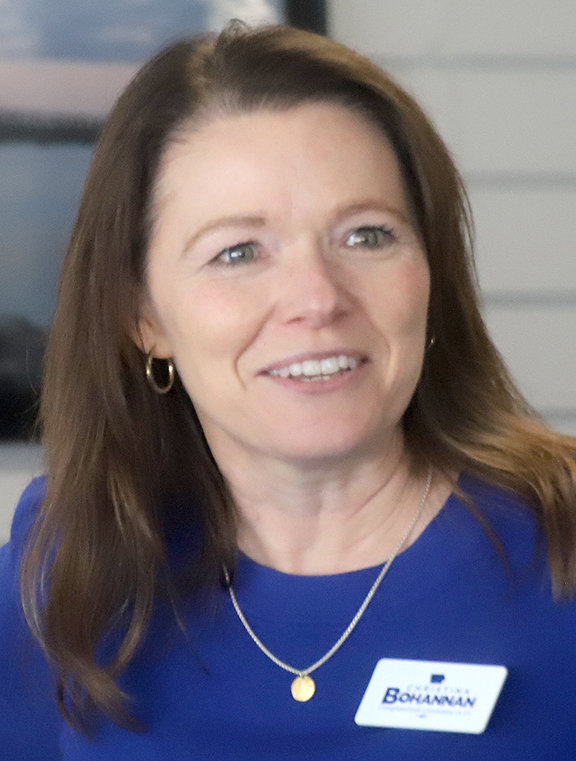 She immediately went after the Republican approach to Iowans and how the GOP focuses on re-election rather than leading the state.
"In getting around the 1st district, I see that people work hard everywhere all over Iowa. Our workers are not the lazy workers that Governor Kim Reynolds is describing. Iowa workers are not kicked back in some hammock somewhere taking it easy through the pandemic. That's not what we've seen in Iowa," she said.
"Our Iowa workers are heroes. They are the ones that brought us through the pandemic, not Gov. Reynolds and not the CEOs."
She said Iowa needs first and foremost to get back to leading the nation in educating our students.
"We have to get over this fixation with vouchers and that means investing in PreK, K-12, community college, universities, apprenticeships, skills training . . . all of it. We have to invest in public education. And we have to stop vilifying our public school teachers," she said.
"It's crazy talk. And you know who doesn't vilify teachers? China."
She said in China, teachers are revered and the U.S. cannot fall behind in our educational system and competing with China.
Health care was another hot topic for Bohannan. She said even with the high percentage of income going to health care, people still struggle with access in smaller towns across the state.
"If people can't get the care they need in a small town, they will not live there. If they don't have schools, because about 140 of our rural schools have shut down over the last several years, they will not live there."
Workforce is being challenged with transportation issues, child care, broadband, affordable housing and she said the state has to get more aggressive in addressing those issues.
She said unions will help make sure that Iowans will get their fair shot and won't just get by.
"That's what unions are about. There's nothing more Iowan and nothing more American than that," she said.
Bohannan spoke about inflation, as well. Last week at a visit to Steffensmeier Welding & Manufacturing in Pilot Grove, U.S. Sen. Joni Ernst laid the blame of inflation at the feet of President Joe Biden and his administration. But Bohannan channeled blame to corporate greed.
"There are corporations, especially food companies and others, who said 'We had to increase our prices because of supply chain problems', right? They are now reporting record profits coming out of the pandemic. How does that work?" she asked.
"If you had to increase prices because your costs were high, how are you now ending up with record profits?"
She said investigators need to examine the possibility of price gouging and blaming the pandemic for putting high prices on people who can't afford food.
"These are some of the things that I want to look at. These are the things that I feel like are the way we get to giving people a fair shot. Not just getting by, but getting ahead."
She said the country has current representation who would rather tell lies than face facts and find solutions.
"We have representatives who are listening more to party bosses and special interests than they are to the people they represent," she said. "Nowhere is that more true than right here in the 1st District."
She said the biggest threat to democracy is that people are "checking out" of politics because of the emotion of the political climate, but said Iowans need to pay close attention to what Mariannette Miller-Meeks has been doing and saying.
Bohannan alleged that Miller-Meeks falsely claimed the Biden Administration denied veterans' benefits to veterans that weren't vaccinated, and pointed to Miller-Meeks' opposition to the Infrastructure Bill that Iowa desperately needs.
"The fact is our opponents are not always telling the truth. My opponent has spread misinformation about many issues in the short time she's been in office," Bohannan said. "It's difficult to combat that, but we have to get out there and do our best to talk to people and explain what's really going on."
She credits her rapid ascent to not being part of the political establishment.
"I'm very concerned about two things. First, our democracy, that it continues and is strong. And I'm worried about the divisiveness we see. The lying and name calling is turning people off of politics and our government and that worries me a lot," she said.
"I teach there are two sides to every argument and I teach the debate makes us stronger, but the extremity in divisiveness is really bad for our government."
She said Lee County is like many other counties in the district who are concerned with "kitchen table issues" and aren't necessarily ideological in their approach to politics.
"They just want people who are going to listen to them and who are working for them."
Watch Bohannan's address to Lee County residents below.