BY CHUCK VANDENBERG
PCC EDITOR
DONNELLSON - It looked early on as though the Central Lee boys basketball team might start the Kritter Hayes tenure with a win out of the gate.
The Hawks held a lead throughout the first half until about 5:30 left in the second quarter when Van Buren's Jackson Manning converted a 3-point play after getting fouled by Brayden Wyrick to tie things up at 16.
The Warriors would tie things up a couple more times in the first half before pulling away for a 49-42 win in both teams' season openers.
Central Lee opened the game with some stingy defense coupled with a cool-shooting Warriors' team. A 9-5 first quarter advantage was stretched to 12-7 in the opening moments of the second period. Van Buren junior Jackson Manning converted to cut the lead to three, but Central's Bryce Finney would fill it up from beyond the arc to make it 15-9.
Van Buren would then go on a 7-1 run to tie things up at 16 on Manning's 3-point play. Sophomore Corbin Pohren would convert a 3-pointer with 2:05 left in the half to give the Hawks a short-lived 19-16 lead. Izaak Loeffler would answer with a 3-ball at the other end to tie things up.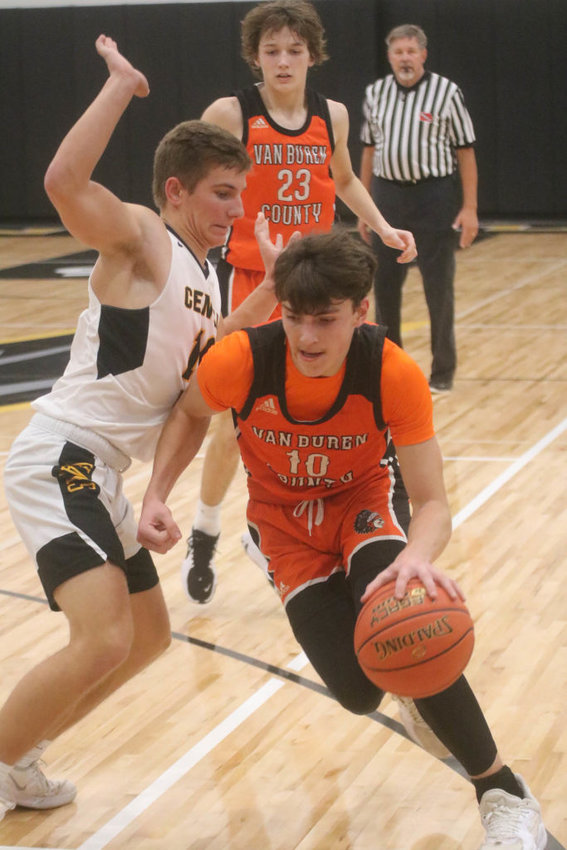 Sophomore Cory Jones would then score inside for Central Lee, but Manning would counter with just :13 left in the half to tie things up going into the locker room at 21.
Senior Owen Loeffler would open the scoring for the Warriors out of the break with a 3-pointer from the left baseline to give Van Buren a lead they would never give up.
A Wyrick bucket off a nice inside pass from Pohren brought Central Lee to within two points out of a Hawks' timeout, but Van Buren, behind Jackson's game-high 22 points, would slowly pull away for a 36-32 third quarter lead.
Wyrick had been having some success in the third quarter getting some mismatches under the basket, at one point scoring six unanswered points on moves under the hoop.
But the Warriors were then able to get Wyrick out of the paint and neutralize the freshman.
"They pushed him out a little bit and people are going to do that," Hayes said. "He's never really had to work in the post before. He's always been able to take the ball against smaller guys as a middle schooler. His game is going to develop and we saw some of that tonight."
Van Buren pushed the lead to 10 at 44-34 on a couple Manning free throws. A bucket by Wyrick cut the lead to six at 46-40, but a couple turnovers down the stretch sealed the deal for Van Buren. Central Lee also missed three of their last four shots from the field with less than a minute left.
Wyrick led the Hawks with 13 points, followed by Alex Sandoval with 11.
"I'm not satisfied with what we did and I asked the guys if they were gonna sleep alright tonight, but they said they would tomorrow because we practice again and we're going to keep competing," Hayes said.
"Our defense and our ability to rebound out of the zone was fantastic in the first half. We got a little tired and our younger guys realized tonight they need to be ready and our older guys challenged them. They need them because they need a break."
The Hawks are 0-1 on the year and travel to West Burlington in a girls/boys doubleheader on Friday in Southeast Iowa Superconference South action.