Lady Hawks have outscored last four teams 48-3
BY CHUCK VANDENBERG
PCC EDITOR
DONNELLSON - The Central Lee girls' softball team is showing a little muscle of late.
The Lady Hawks took out Holy Trinity Catholic 13-1 in four innings Tuesday night in Donnellson to move to 11-4 on the year and 6-1 in the SEI Superconference South just a half game behind West Burlington, currently ranked No. 4 in Class 3A.
But the Hawks have been flexing some offense and solid defense in the past four games.
Central Lee has outscored their opponents 48-3 over the past four games and, in that time span, have seen Kenna Sandoval, fresh out of eighth grade, hit .615 with seven RBIs.
Sandoval is playing 1st base for the first time this year and Head Coach Tiffany Woodruff said Sandoval is filling her role on the team.
"She has a great role. She's always played third base through travel ball and I just liked her at first base because she has the build for it," Woodruff said. "This is her first year there and she's comfortable and the kids are confident in her scoops and all that."
Senior Meghan Hopp has also been on fire, hitting .500 with four RBIs. Hopp got the win Tuesday night going four innings and holding the Crusaders to six hits and one earned run while fanning three and walking one.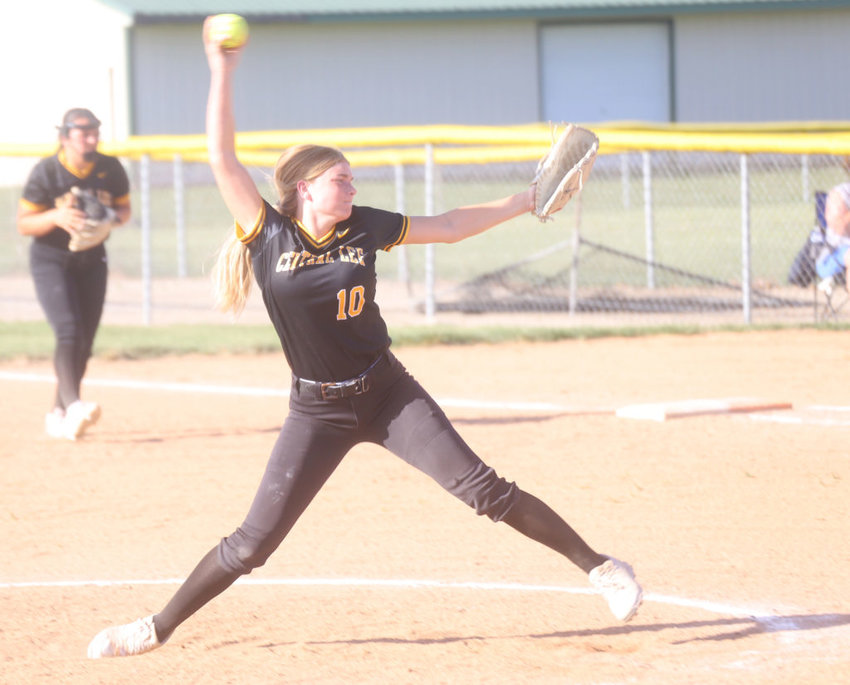 Mary Hellige suffered the loss for Holy Trinity.
HTC coach Loren Menke said the Crusaders have to play better defense against teams that put the ball in play. The Crusaders only had one error, but several hard-hit balls got past defenders in the infield and the outfield.
"Central Lee has a heck of a hitting team. But if they hit at us, we gotta make the plays and we haven't been making the plays very well. Last night we didn't make plays very well, either," Menke said.
The Crusaders lost a rare doubleheader to Cardinal Monday night, 11-1 and 16-0.
The Hawks opened the scoring early with four runs each in the bottom of the first and second innings.
Alix Congdon led off with a triple right field past Kylie Fortune and was driven in by Hopp's ground out to short. Sandoval then singled and was brought in when Shanna Buford laced one about 250 feet onto the gravel driveway behind the fence in left center for a 3-0 lead.
Marie Young singled in the next at bat and came around to score on Bella Steffensmeier's double to left. The Crusaders would get the next two hitters to retire the side.
Kayla Box would single for HTC with one out but would get stranded at 2nd after a ground out and a strikeout. Congdon and Hopp would get things going with one out in the bottom half with back-to-back singles. Sandoval would double right down over the third base bag into left scoring two, and then Buford would bring her around with an RBI single. After a pop out, Steffensmeier would score Buford with another double down the line in left for an 8-0 lead.
Kelli Meierotto and Rachel Menke would each single to start the top of the third. But Meierotto would get caught at second on a quick throw in from Abby Simmons in left off Menke's single. Kylie Fortune would then double to center on a ball that hit the top of the fence but stayed in play. A snap throw from Bailey Schwartz in center got Menke trying to get to third for the third out.
Central would add a run in the bottom of the third when Jaci Hawk, who led off the inning with a triple, came in to score on Congdon's ground out to second for a 9-1 lead.
HTC would get on the board in the top of the 4th, when Jenna DiPrima doubled with two outs to deep center scoring Brooke Mueller. Laura Mehmert would single to put runners at first and third, but a ground out ended the threat.
Central Lee posted four more runs in the bottom of the 4th to invoke the 12-run rule after four innings and end the game.
Woodruff said the extra offense has been good for the Lady Hawks and they'll need to sustain it if they are going to get past West Burlington at the top of the conference and in district action.
"Honestly, if we can get our confidence back up, the kids are going to hit. It's going to keep helping them as we move toward West Burlington. If we can get them more at bats, more confidence, and more comfortable at the plate, it's going to be a heck of a ballgame," Woodruff said.
Menke said the goal for the Crusaders is to be better than last year when they went 6-16. This year, HTC stands at 5-7 overall and 3-4 in the SEI Superconference south.
For Central Lee, Steffensmeier was 3-for-3 on the night with 3 RBIs. Congdon, Hopp, Sandoval, Buford, and Jayln Hawk all had two-hit nights.
Box, DiPrima, Mueller, Fortune, Mehmert, and Meierotto all had hits for Holy Trinity.
Central Lee's game Wednesday with Columbus has been cancelled and they will take on New London (0-13) and Hillcrest Academy (2-7) on Thursday and Friday at home. They host West Burlington at home on Thursday, June 23.
Holy Trinity will take on Danville Thursday in South Park and will wrap up the week with a doubleheader vs. Mt. Pleasant, also at South Park.