BY CHUCK VANDENBERG
PCC EDITOR
DONNELLSON - The Central Lee Lady Hawks started the year trying to learn to win without graduated senior Mya Merschman.
Those wins are coming faster than even Head Coach Jay Baldwin thought would happen.
Central Lee is now 2-0 after opening the year with a decisive win over Cardinal of Eldon and then the girls dumped Van Buren 64-24 on Tuesday.
The Hawks have also had three girls in double figures in both games this year, a balance Baldwin said could have happened last year.
"They could have done that last year, but with Mya, ya know, it was unfortunate for them last year, but they're quickly getting there. They're really starting to gain confidence."
Central Lee jumped out to a quick 13-4 lead to set the tone for the night. The run was sparked by a suppressive full court press that gave the Warriors fits trying to get the ball up the floor.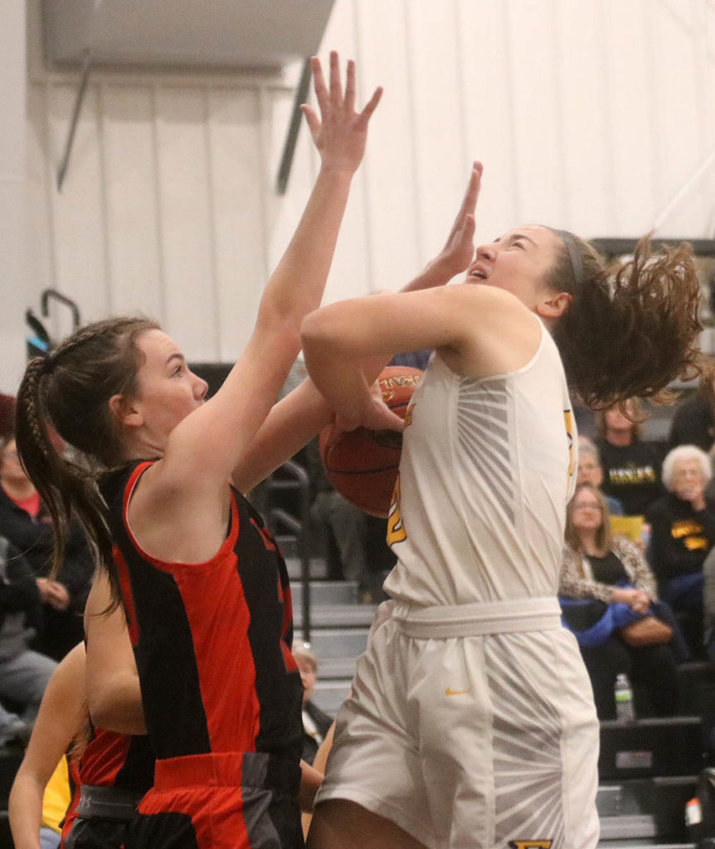 Junior Mya Lampe opened the scoring with a 3-ball from the left key and then hit on another in the first quarter to open a 7-2 lead. Then seniors Makayla Morrison and Alivia Myhre went to work inside to give the Hawks the 9-point first quarter lead.
Morrison and Myhre would tie for game-high scoring honors with 18 each.
But it was the Hawks' defense and pressure on Van Buren's inbounds that set the pace for the day. Central Lee held the Warriors to just four points in the second quarter on buckets by Zoe Best and Shea Scott.
In the midst of stifling pressure, Central Lee would rattle off 19 points, mostly in transition off Van Buren turnovers, to open a 32-11 halftime lead with Myhre firing in eight in the quarter, all off layups on fast breaks.
The second half would be more of the same as Morrison and senior Macy Watkins, who finished with 12, kept constant pressure on the Van Buren ball handlers opening up breakaways and a lot of layups.
Baldwin pulled the press off at close to the end of the third quarter with the Hawks up 48-21 and the game well in hand.
"We're not tall so we really have to put some pressure on. Rotations have to be right and we have to stick to our style," Baldwin said.
"But I think we're going to be quicker than most teams as were basically playing five guards so I'll take 45 points or so in transition."
Lampe finished with six points, while Maura Watkins had four and Karlie Pohren, Abby Simmons, and Kodi Moeller each had two points.
The Hawks are off until Friday when they travel to West Burlington for a girls/boys varsity double header with the Falcons.