Administrative Assistant Viehl named as Interim Director after Unsworth's departure Friday.
BY CHUCK VANDENBERG
PCC EDITOR
LEE COUNTY - With Lee County Conservation District Director Nathan Unsworth just two days from leaving his post, the LCCB board reviewed plans and budgets in his last meeting.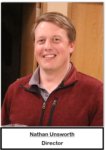 Unsworth's last day is Friday as he will be leaving to take an assistant director's post with Scott County Conservation.
The board approved the hiring of Caroline Viehl as the interim director to fill in until a new director can be found and hired.
"We will have a period of time without any director, we thought it would be better to have someone to facilitate things over the next few weeks before we have a new director. We hope that will be coming.
"We came to the conclusion that Caroline would be our choice to be interim director and she has agreed that she would be willing to serve as interim director during this time," said board president Liza Alton.
The motion was approved 5-0.
Viehl has been with the conservation board for about four months as an assistant to Unsworth.
The board also discussed plans to demolish some structures at the Denning Conservation Area in northwest Lee County between Houghton and St. Paul just west of Hwy. 218.
The district will be taking down some of the older structures on the property, but leaving up some historical structures to be part of the conservation area.
Staff wants to be able to go in and take some of the boards and other materials from some of the structures before they are demolished including some old wood peg boards and supports that can be used in other areas of the county.
The board approved a bid from CCS Contracting Services to remove of some of the buildings at a cost of $22,800.
New Playground equipment at Wilson Lake was also part of the discussions Wednesday night. The board is looking at an $82,000 project to put the new playground at the lake. That price could go up slightly if the conservation board adds a few more swings.
Unsworth said the park will be located on the northeast side of the lake near the large shelter house and parking lot.
The new playground will be funded out of the Conservation Board trust fund which gets revenues from park usage throughout the county.
Unsworth said some additional work may need to be done in preparing for the new equipment, but it should be completed by May.
Park Ranger Clint Oldfield said the new addition will make Wilson Lake a destination playground that will attract people to the park, not just an amenity for those that are already at the park.