LEE COUNTY - A Lee County Supervisor believes the closing of the Blessing Hospital in Keokuk could cost the county a million dollars.
Supervisor Garry Seyb said the closure of the hospital and its Emergency Room services will create immediate pressure on the county ambulance operations.
"Right now looking at this and what I threw together real quick, I think this is about a million dollar problem and that's in this (fiscal year)," Seyb said.
"I would think by the time the snow flies we need to have a significant plan in place."
Blessing officials have indicated that they would be willing to have conversations about contributing financially to the EMS system to help with increased pressures, but a meeting set for Thursday last week to discuss those options was canceled.
No rescheduled date has been received.
Blessing has indicated the Keokuk facility will be closed Oct. 1 leaving the city of about 10,000 people without a 24-hour emergency services center.
Lee County Board Chairman Matt Pflug said he and Seyb met with Keokuk officials several weeks ago about the role the Keokuk Fire Department can play in ambulance services, but said that has not changed with the Blessing development.
Seyb said there are significant hurdles to the Keokuk Fire Department to be able to do transfers. He said the minimum time for a transport to the nearest emergency room is 90 minutes.
"That's as quick as it's gonna get," said Lee County EMS director of operations Jason Dinwiddie.
Seyb said this is not a Keokuk problem.
"This is very much a Lee County issue. If that ambulance gets pulled, we're going to have backfill that area," he said.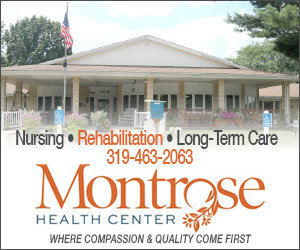 "It's important that everybody in the county understand that this was necessitated by the hospital closing. Right now the only real place to go is Fort Madison."
Dinwiddie said the county will also have to consider overloading Southeast Iowa Regional Medical Center in Fort Madison. He said if that becomes an issue, patients will have to be taken to Burlington.
"I don't think anybody is ready for this," Dinwiddie said.
"We're gonna have to monitor really closely that we don't overload Fort Madison. If they go on diversion, now we're going to Burlington and we're in a real world of trouble."
Dinwiddie said the county won't necessarily need to purchase another ambulance for Keokuk operations, but will have to stage a second ambulance in Keokuk which will require hiring about six additional staff for a 24-hour rotation.
County officials are looking at other properties to house the extra ambulance, because the current facility holds one ambulance, which was sufficient before the hospital's closure.
The county could bond for up to $750,000 without going to voters.
"We're in a crisis here. We gotta come up with some money," Pflug said.
"This is not something we'll just deal with in three to six months, this is coming at us fast and furious," Pflug said.
Seyb and Pflug both suggested looking at using the county's ARPA funds to help with the problem.
The county will be able to bill for the services but reimbursements won't equal the cost of the increased transportation costs and Ground Emergency Medical Transport assistance won't be coming in until 2024.
Pflug said he's hearing there is movement on legislation to allow smaller footprint Rural Emergency Hospitals to be stood up in smaller towns in the state. The Iowa legislature tabled discussion on that legislation during the last session.