LEE COUNTY - Lee County Supervisors will be considering a move to add up to nine additional staff to the Lee County EMS staff on Monday.
The move is in response to the pending closure of Blessing Keokuk Hospital on Oct. 1. With the closure of the hospital there will be no 24-hour emergency hospital services in Keokuk. The city will have medical clinics in operation, but they aren't open continuously.
Supervisors will also consider adding another command vehicle to the fleet of Lee County EMS and amending the EMS Handbook, all to help address the increased need in Keokuk.
Officials with the county and its ambulance service have been scrambling on how to deal with the closure of the hospital. Blessing administrators have said the hospital is losing money every month and the building is in need of more then $20 million in repairs.
Kathy Hull, chief of rural hospitals in Blessing's system, said the hospital was open to conversations with the county on providing some financial assistance to its EMS services in the wake of the closure announcement.
Lee County Supervisor Garry Seyb said the closure will add about $1 million to the county's cost line in the ambulance service in the current fiscal year.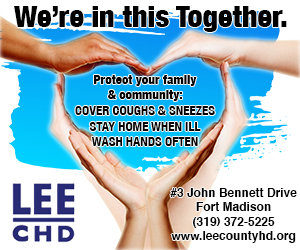 Lee County EMS Director Dennis Cosby said the department will have to stand up a second ambulance 24/7 in Keokuk. County officials are also looking for property in Keokuk to house both ambulances. The current facility is only equipped for one ambulance.
County officials are hoping legislation will move through the Iowa legislature this year to allow someone to stand up a Rural Emergency Hospital, which would provide for additional medicaid reimbursement formulas that could make the operations more viable.
However, no one has come forward with plans to build such a facility and Blessing officials said it could be more than a year before any legislation is passed.
Lee County Supervisor Chairman Matt Pflug has called the situation a crisis for the county. Pflug and Seyb have both suggested using America Rescue Plan Act funds to address the issue, but those funds have been allocated to the Lee County Health Department and would have to be replaced with future revenue streams.
The board meets regularly on Monday at 10 a.m. at the North Lee County Administration building in the board room.