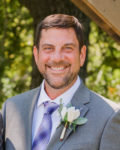 Brad Charles Strong, 56, of Burlington, passed away on Wednesday, December 8, 2021, at Southeast Iowa Regional Medical Center in West Burlington, Iowa.
Brad was born on September 4, 1965, in Fort Madison, Iowa, the son of Donald and JoAnn (Newell) Strong. He graduated from Fort Madison High School in 1983, obtaining his bachelor's degree from Iowa State University in 1987 and his master's degree from Western Illinois University in 1989.
Brad was employed at the Young House in Burlington, Iowa, as a mental health counselor. In his free time, he enjoyed reading, fishing, golfing, and spending time in the great outdoors. Brad could often be found playing Poker at the Keokuk Yacht Club and loved his children deeply. His family will always remember him as a caring and loving man with a great sense of humor.
Brad is survived by his son Seth (Kirstin) Strong and his daughter Hannah (Danny) Zeets, both of Cedar Falls, Iowa; his brother Scott (Mary) Strong of Chicago, Illinois; two sisters: Susan Strong of Jacksonville, Florida, and Nancy (Eric) Melin of Scottsdale, Arizona; and several nieces, nephews, and cousins.
Brad is preceded in death by his parents.
Visitation will be held on Thursday, December 16, 2021, from 1 to 6 pm, with family meeting friends from 3 to 6 pm at DeJong-Greaves-Printy Funeral Home in Keokuk, Iowa.
Tributes and condolences may be left at www.dejongsfuneralhome.com. Friends are invited to join the family at the Keokuk Yacht Club at 7 pm on Thursday following the visitation. A private family funeral will be held on Friday.
Memorials may be directed to the National Alliance on Mental Illness.
DeJong-Greaves-Printy Funeral Home of Keokuk is in charge of arrangements.