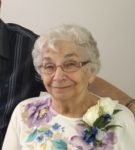 Eileen Kathryn Fader, 92, of Keokuk, passed away Friday, December 17, 2021 at River Hills Village.  Eileen was born November 28, 1929 in Keokuk, the daughter of Edward Louis and Kathryn Augusta (Ricker) Chambers.
She was united in marriage to Jack Julius Fader on June 20, 1948.  He preceded her in death in 2017.  She was the mother of seven children including Richard Alan (Darla) Fader of Anamosa, Kathryn Eileen (Don) Gorham, Julia Anne (Scott) Hays of Keokuk, Carolyn Sue Oren of Ankeny and John Edward (Becky) Fader of Carthage, IL.
Preceding her in death were son, Gary Michael Fader and daughter Jean Elizabeth Fader, and brothers Norris, Gene, and Donald Chambers.
Other survivors include daughter-in-law Gloria Fader of Auburn IL, sisters Anita Terpening of La Mesa CA and Sarah Heston of Ft. Madison, 17 grandchildren, 25 great grandchildren, 3 great great grandchildren and numerous nieces and nephews.
Eileen graduated from Keokuk High School class of 1947.  She lived most of her life in Keokuk.  She was a mother devoted to her family.  She was active in the PTA and volunteered as a Cub Scout Den Mother. 
She was a faithful member of St. John's Episcopal Church where she taught Sunday School, was a member of the Altar Guild and the Episcopal Church Women. Her fondest memories were singing in the church choir and playing the piano.
She was married to Jack, the love of her life for 68 years as a caring wife, mother and grandmother.  Eileen was known for her infectious smile, warm heart and caring nature.
Services will be held at 10:00 AM Tuesday at St. John's Episcopal Church, Keokuk officiated by Father Larry Snyder.  Visitation will follow the service in the Parish Hall with lunch provided.  A private interment will be held at a later date.  Memorials may be made to the Keokuk Public Library Foundation Library Park or St. John's Episcopal Church.
DeJong – Greaves – Printy Celebration of Life Center is in charge of arrangements.