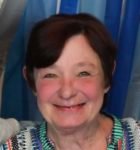 Janet Lee Allen, 68, of Keokuk, passed away on Sunday, December 12, 2021, in Keokuk, Iowa.
Janet was born on August 21, 1953, in Keokuk, Iowa, the daughter of George and Wilma (Shobe) Johnson. In 1971, she was united in marriage to Simmie Jones in Keokuk, they were later divorced. In 1992, she was united in marriage to James Dean Allen in Keokuk. They were later divorced.
Jan was employed as an office manager first at Simmie Jones AMC/Jeep/Eagle Dealership, then at Martin Machine Company for over twenty years. She later went to work at Walmart, retiring in 2020. Janet was a social butterfly, and never knew a stranger. She always did her best to make people happy. Janet loved anything that was going on in town. She attended every community event and loved to socialize. Janet especially loved driving through the City of Christmas with her four grandsons and the Fourth of July celebrations at Rand Park. She loved the history of the city of Keokuk and it's people. Janet enjoyed spending her free time out on her patio with her flowers. She also bowled in leagues for thirty years. Jan was a huge Elvis fan, and baked a cake on his birthday every year.
Janet is survived by her son Zach (Wendi) Jones of Keokuk; four grandchildren: Kristopher (Hailee) Hopkins of Marion, Iowa, Matthew (Rachel) Hopkins of St. Thomas, Missouri, and Andrew Jones and Gabriel Jones, both of Keokuk; four great-grandchildren: Harrison and Lane Hopkins of Marion, Iowa, and Shawn and Amelia Hopkins of St. Thomas, Missouri; two sisters: Pam (Don) McGhghy of Texas and Barb (Joe) Oakley of Orlando, Florida; and two brothers: Bill (Freda) Johnson of Hamilton and Don (JoAnn) Johnson of Keokuk. Other survivors include many nieces, nephews, cousins and lifelong friends whom she loved deeply.
Janet is preceded in death by her parents and her sister Betty (Bill) Carroll.
A graveside service will be held at 11:30 am on Thursday, December 16, 2021, at Frazee Cemetery in Clark County, Missouri. Visitation will be held from 9 to 11 am on Thursday at DeJong-Greaves-Printy Funeral Home in Keokuk. A procession to the cemetery will leave the funeral home following the visitation.
Memorials may be directed to the City of Christmas or the Keokuk Public Library.
Tributes and condolences may be left at www.dejongsfuneralhome.com. DeJong-Greaves-Printy Funeral Home of Keokuk is in charge of arrangements.