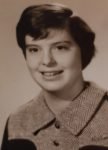 Patricia "The Button Lady" Ann Spiker, 67, of Argyle, Iowa, passed away on Tuesday, December 21, 2021, at Mississippi Valley Healthcare Center in Keokuk, Iowa.
Patricia was born on April 28, 1954, in Keokuk, Iowa, the daughter of Charles and Katherine (Johnson) Spiker. She graduated from Keokuk High School in 1972.
Patricia was employed as a cook for over 28 years at the County Home in Keokuk. She enjoyed sewing, handcrafting and needlework. Patricia lived a simple life and loved going on walks outdoors. Patricia thoroughly loved her nieces, nephews and cousins and her time spent with them. She also loved to travel.
Patricia is survived by three sisters: Lola Frazee of Wayland, Missouri, Sylvia (Ed) West of Keokuk, Iowa and Evonne Young of Argyle, Iowa; two brothers: John Spiker of Argyle, Iowa and Alfred (Juliene) Spiker of Montrose, Iowa; one aunt: Margaret Henson of St. Charles, Louisiana and many nieces, nephews and cousins.
Patricia is preceded in death by her parents and two brothers-in-law, David Frazee and Donald Young.
Memorial services will be held at 2:00 pm on Monday, December 27, 2021, at DeJong-Greaves-Printy Funeral Home in Keokuk with burial to follow at Sunset Memorial Park. Visitation will be held directly preceding the service from 12:00 pm to 2:00 pm.
Memorials may be directed to St. Jude Children's Research Hospital.
Tributes and condolences may be left at www.dejongsfuneralhome.com.
DeJong-Greaves-Printy Funeral Home of Keokuk is in charge of arrangements.