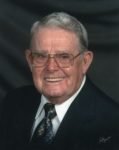 Former resident, William (Bill) Carl Bevering, 95, Imperial, MO died Monday, November 22, 2021, at John Cochran VA Hospital, St Louis, MO.
He was born December 20, 1925, in Keokuk, Iowa, to Carl and Margaret Brown Bevering. Bill married June Cecil on July 23, 1949. She preceded him in death on November 22, 2008. They were happily married for 59 years and were blessed with three children, James, Cynthia, and Linda.
He was a member of the Roman Catholic Church and his faith was a very important part of his life. He belonged to Immaculate Conception Catholic Church in Arnold, MO.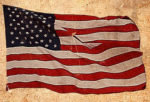 Bill proudly served his country in the Army Air Corp during WW II. He was honorably discharged in 1946.  He became a member of the American Legion Post #41, Keokuk and remained a member for 75 years.
After service, he returned home and learned the carpentry trade. He was a member of the United Brotherhood of Carpenters and Joiners of America for over 55 years. He was presently a member of Local 1260, Iowa City, Iowa. He built numerous Keokuk homes and worked on many construction projects throughout the tri-state area. He was later employed by J. A. Jones, in the Metric Constructors Energy Division. He was instrumental in the construction of energy plants throughout Florida and the Carolinas.
He retired to Spring Hill, Florida, in 1986, where he and June enjoyed the Florida beaches, golfing, and spending time with family. During his retirement one of his favorite activities was attending his grandchildren's sporting events. He loved to travel and visited throughout most of the United States. He moved to the St Louis area in 2015 to be near his family.
He enjoyed many sports. He was a lifetime fan of the St Louis Cardinals and attended many seasons of spring training in St Petersburg with his grandchildren. Also a Nascar fan, he and Jim attended Daytona racing events. He followed the Iowa Hawkeyes, San Francisco 49ers, and the Kansas City Chiefs. He was an avid reader and loved playing cards. Some of his most cherished memories were around the dining room table playing cards with family and friends.
He is survived by a son, James (Teresa) Bevering, of Plainfield, IL, daughters, Cynthia (Thomas) Riney, Imperial, MO, and Linda (David) Gilbert, Pinellas Park, FL. Ten grandchildren, William (Jennifer) Riney, Indian Land, SC, Molly (Michael) Shepard, Arnold, MO, Tyler (Trisha) Bevering, Memphis, TN, Adam (Jennifer) Riney, Arnold, MO, Carlos (Sara) Otero, New Port Richey, FL, Todd (Kati) Bevering, Joliet, IL, Christina Otero, Stephanie Sousek, Gabriel Sousek, St Petersburg, FL , Jessica Bevering, Plainfield, IL, and ten great grandchildren, one sister, Rosemary (Findley) Glen, Yorktown, VA , one brother, Robert Bevering, Hixon, TN, and many nieces and nephews.
He was preceded in death by his wife, his parents, four sisters, Mary Lou, Margaret Jean, Elizabeth Meyers, and Geraldine Kutz, one brother, Carl Bevering Jr, and one grandson, Brian Todd Riney.
Funeral services will be held at 10 am on Monday, November 29, 2021, at All Saints Catholic Church. Burial with military rites rendered by the American Legion Post #41 and the United States Army will follow at Keokuk National Cemetery. Visitation will be held on Sunday from 2 to 6 pm, with family meeting friends from 4 to 6 pm at DeJong-Greaves-Printy Funeral Home in Keokuk. A Christian Vigil Service will be held at the funeral home on Sunday at 6 pm directly following the visitation.
Memorials may be made to American Legion Post #41 Keokuk, Iowa or Brenden's Friday Backpacks 3259 Burning Tree Lane Festus, MO 63028.
Tributes and condolences may be left at www.dejongsfuneralhome.com.
DeJong-Greaves-Printy Funeral Home of Keokuk, Iowa, is in charge of arrangements.