Central Lee finishes sixth behind 3rd place efforts from Hand, Buford
BY CHUCK VANDENBERG
PCC EDITOR
FORT MADISON - Senior Katie Dennis led Fort Madison at the 45th Timm Lamb Pen City Relays Tuesday night with a 2:43.57 3rd-place finish in the 800 meter run, while fellow senior Raquel Schneider took home 3rd place in the 400-meter dash at 1:08.70.
Dennis and Schneider were honored at the meet as the Bloodhounds' two senior runners. The Hounds took 9th place overall and 5th in the A Division with 68 points. Mt. Pleasant won the overall event with 165 points followed by Danville at 143 points. Fairfield, Mediapolis, and Cardinal of Eldon rounded out the top five.
Central Lee garnered 23 points on the night highlighted by two 3rd-place finishes. Audrey Hand finished 3rd in the B division of the 3000 meter run with a time of 14:11.00, while Shanna Buford took 3rd in the B Division of the shotput with a toss of 28-10.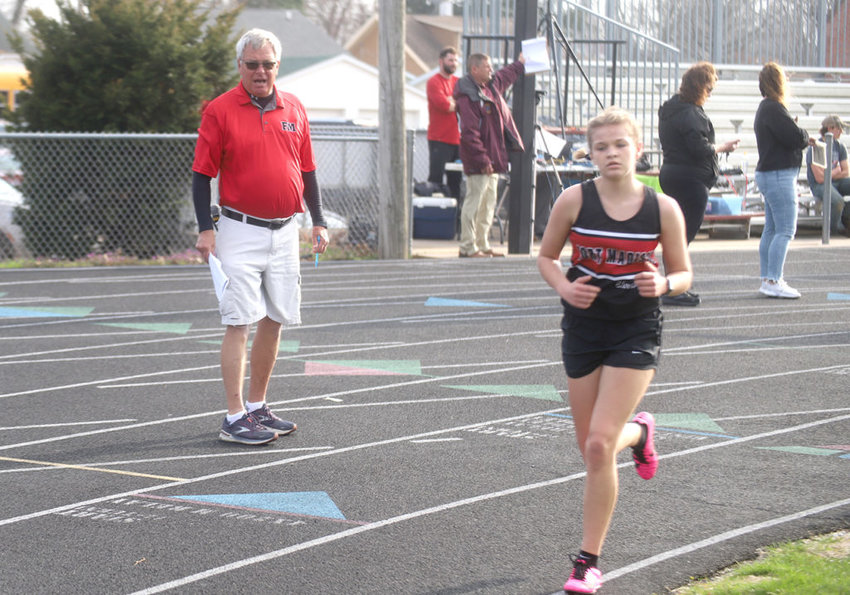 The Fort Madison 4x100 Shuttle Hurdle relay team's 4th-place finish was also a highlight for the Lady Hounds.
Schneider took the first leg giving Fort Madison several meters on the field. Sophomore Chloe Sokolik ran the second and sophomore Aija Jenkins took the baton from there. Freshman Haley Kemper was caught from behind by Danville's Allison Dowd on the final three hurdles to give the Lady Hounds a runner-up in the 2nd heat at 1:14.10 just .16 off the pace.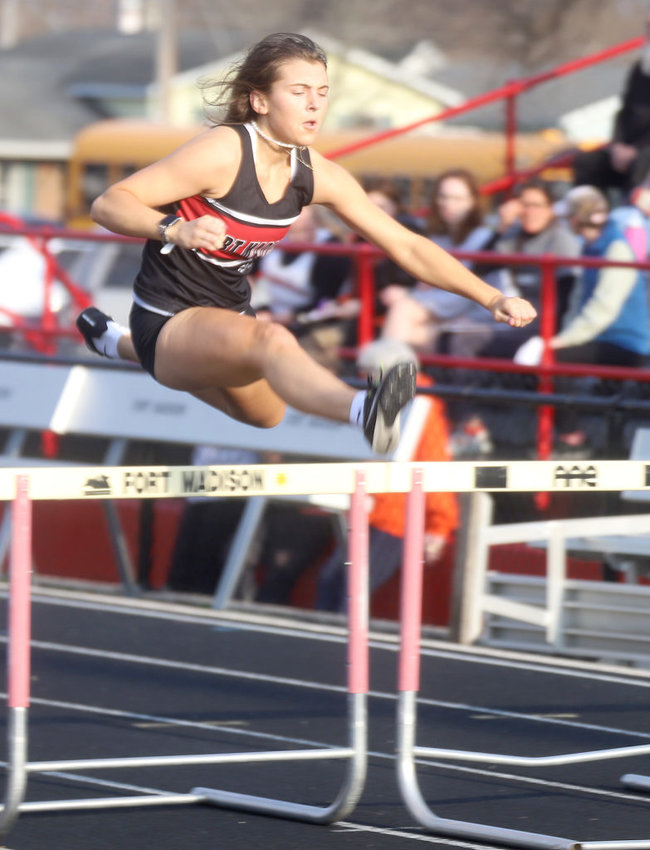 Fairfield and Mt. Pleasant had the two fastest times at 1:07.06 and 1:11.29, respectively.
Freshman Brylie Lorence captured 4th place in the discus with a spin of 90-10. West Burlington's Maisey Belger won the event with a throw of 119-01. Sophomore Lexi Whaley took 4th in the shot with a heave of 33-6, while tied for 4th in the high jump, clearing the bar at 14-8. West Burlington's Katy Stephens cleared 5-2 to win it.
Schneider grabbed another top-five finish for Fort Madison in the 400-meter hurdles with a 1:14.57. Fairfield's Kelsey Pacha won the event at 1:06.50, which set the meet record besting a 1:06.59 by Taylor Jacobson in 2013.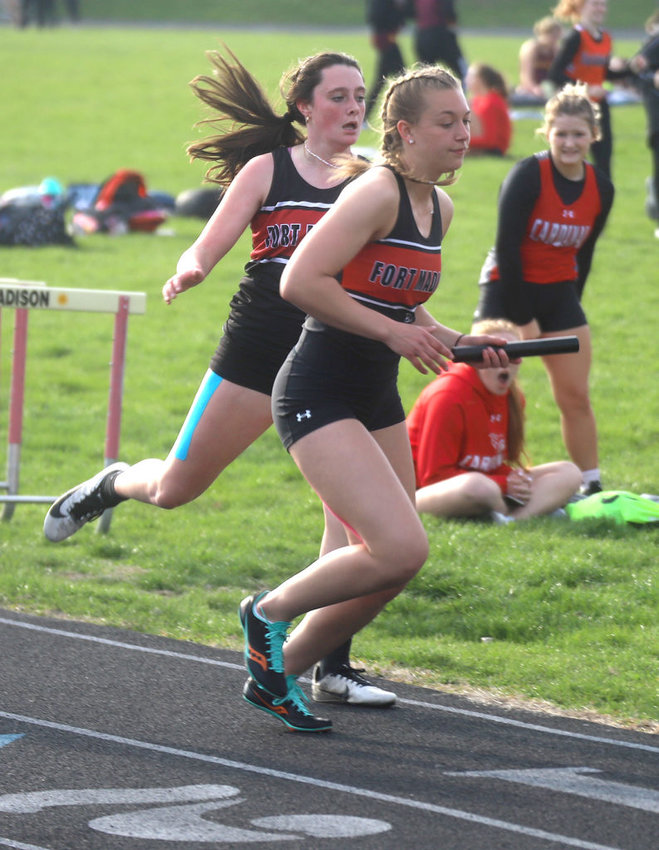 Allison Lamb took sixth place in the 3000 meter run with a 13:16.59. Mt. Pleasant's Abby Blint edged Washington's Quincy Griffis to take first place at 11:45.82 just 2.6 seconds ahead of Griffis.
Fort Madison junior Emily Steffensmeier won her heat in the 100. Her 14.60 in the second heat was good enough for 11th overall. West Burlington's McKenna Marlow won the race at 13 flat. Fort Madison freshman Lillian Gelsthorpe ran in the final heat with Marlow marking a 13.98 to take eighth place in the event.
The Bloodhounds' 4x800 team of Alexa Walz, Katie Dennis, Paetyn Wiegand, and Jordyn Burch also finished sixth with a time of 12:12.00.