FORT MADISON – The chatter about two county courthouses once again took up time with Lee County Supervisors on Monday.
During the public comment period of Monday's meeting, a discussion took place regarding the requirement of Lee County, the only county in the state to have the mandate, to maintain two district court services in both county seats.
After being named a state in 1846, the Iowa legislature passed a Special Law of 1848 in which Lee County was required to hold district court services in both Keokuk and Fort Madison.
The law also, initially, required Keokuk to pay for the facilities and services. However, another act passed in 1956, removed that specific requirement because Keokuk was officially recognized by the legislature as one of two county seats in the county.
That designation moved the financial responsibility of the court services back to the county treasury.
However, an amendment had been added to a bill in the Iowa legislature during this year's session to remove the mandate that Lee County maintain two district court services.
The amendment was mysteriously dropped from any bills moving through the session.
An email to State Rep. Martin Graber (R-Fort Madison) regarding the amendment has gone unreturned.
State Sen. Dan Dawson (R-Council Bluffs) offered the amendment to the Iowa Senate's Property Tax bill in February. He said the move, specific to Lee County, would help ease budget pressures with property tax caps on the horizon.
"It was clear from this conversation the Lee County court system was causing issues. After listening to their concerns and taking some time to do some research, it was clear a clarification and state change would provide Lee County and local government officials the tools necessary to help with their budget and potentially reduce expenditures and ease the burden on property taxpayers in Lee County," Dawson wrote.
The language never got to the floor of either the Senate or the House for an up or down vote.
But Lee County Chairman Garry Seyb said he's still advocating for that language to be attached to any bill in the next session. Seyb said it's a state mandate without accompanying funding.
"Why are citizens in Lee County forced to pay for two courthouses when no other county in the state, the other 98, are not forced do to that?" Seyb asked.
"You can have more than one courthouse if you choose, but we don't have the choice. We are mandated to have two.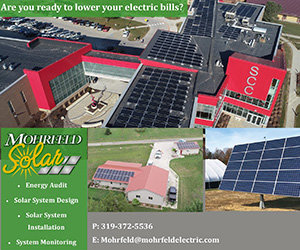 "If they were going to give us the ability to streamline our courts and streamline our costs, and we have a courthouse that's capable, without building another one, of housing the court, then I don't see that as anything but a win for the taxpayers," Seyb said.
He said both Lee County courthouses are substantially in good shape.
"If we had to close one, now would be the time. Likely, the Fort Madison courthouse could be repurposed, and not be another dormant building in the middle of town."
County Attorney Ross Braden said Keokuk is the only courthouse that could handle his staff and the case load for the county. He maintains an office in a building across from the North Lee County courthouse as well as an office in the South Lee County Courthouse.
"I would like to consider the possibility of maintaining a remote location here in the county office building so we're here to serve and assist here on the north side of the county," he said.
Seyb was adamant about pointing out that nothing can be done without legislation specific to Lee County that's more than 150 years old.
He also said it's important that people realize that the county is not looking at consolidating county services such as treasurer and recorder services.
"This would not eliminate any public county services other than district court services. That's important for people to understand. You can still go the local treasurer's office or pay your taxes."
Tom Schulz said his contention would be that Keokuk would be the best place for the courthouse, but only those services would be moved to Keokuk.
"A person in Fort Madison had to go to court, we're not talking about a driver's license, we're not talking about taxes, we're not talking about any other county services – going to court, would have to drive as far to go to court as you do to go to Wal-Mart or Target."
"This is one of the areas where we could see some cost savings. Currently this board is not afforded the ability to address that unfunded mandate because the state legislature this year decided that was not going to be part of that bill," Seyb said.
"I think it's an unfunded mandate that serves no purpose currently. There is not a need currently for two courthouses. That's where I'm at and that's as transparent as I can possibly be."
Schulz said if the county is forced to tighten their budget, residents could see some of those other services consolidated, as well.
"If our budget has to tighten and we still have to spend money for that courthouse. You may find the things you actually do use going away. You may not be able to get a driver's license where you want to get your driver's license or pay your taxes where you want to pay your taxes," Schulz said.
"We'll have to cut something, and if we can't cut that, we may be cutting something you experience more closely."