BY PCC STAFF
FORT MADISON - The Fort Madison Community School District celebrated Earth Day today through various hands-on activities for students at the Fort Madison Middle School and Fort Madison High
School.
Seventh and eighth grade students rotated classrooms for extended learning opportunities with representatives from Lee County Conservation, Climax, and the Fort Madison Area Chamber of Commerce.
"Today the seventh and eighth graders had the opportunity to deepen their learning about the Earth through community partners. We're thankful that our community is dedicated to continuous learning," said Co-Principal of FMMS, Tracy King.
FMMS teachers prepared for Earth Day by reaching out to community partners. Lee County
Conservations' Parks Management Ranger, Clint Oldfield chatted with them about trees and
Director, Heather Huebner and Naturalist Lia Risser made paper out of recycled paper. Emily
Benjamin, the Community Development Specialist from Climax, and Savanna Collier, the
Chamber Coordinator, spoke to FMMS students about tree sprouts.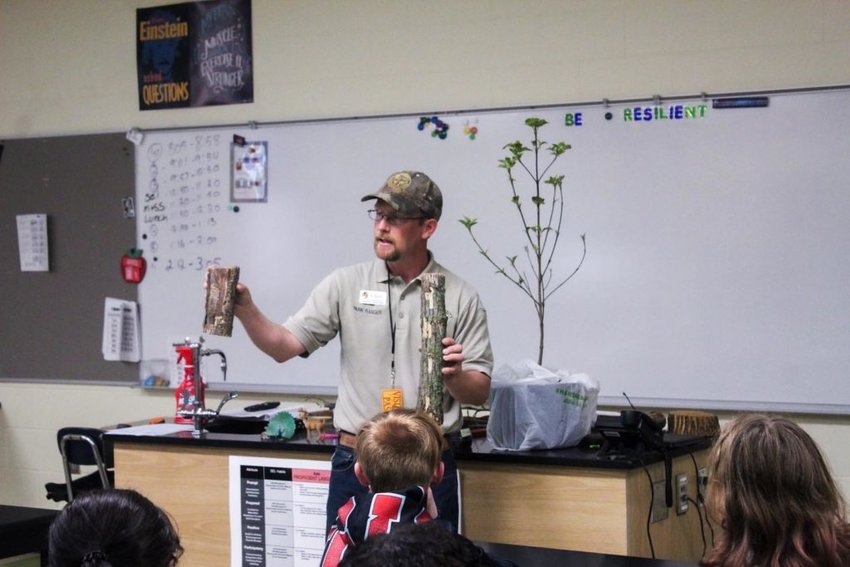 "It was so much fun to work among our youth today and provide them a hands-on experience
that educated them about trees, paper making and the importance of recycling," said Heather
Huebner, Director of Lee County Conservation.
FMMS students were able to take home tree sprouts to plant, donated generously by Climax.
"The future of the Earth is in our classrooms. We want to celebrate with students and show them how important they are in making changes to support our community and our Earth. We are thankful to have such a supportive community and hope the students enjoy the tree sprouts going home with them today," said Megan Maag, teacher at FMMS.
Some science students at the Fort Madison High School were able to experience class
outside at Wilson Lake. Adonica Brunnen and Carla Sanders took their classes
for a field trip to explore nature, observe habitats, and complete a scavenger hunt. Clay Steele,
from Lee County Conservation, led the students through nature guides that helped them on
their challenges.
The Earth Day activities continued with the FMHS Green Team as they are participated in a
communitywide cleanup on Saturday.
"As we persistently pursue continuous learning for all FMCSD students, today is yet another example of our students actively engaging in purposeful and authentic learning," said Superintendent, Dr. Erin Slater.