FORT MADISON - Fort Madison's newly installed Activities Director is out of the gate with a gallop.
Jeff Lamb, who joined the district in June replacing outgoing AD Ben Fry, put a proposal in front of a limited Fort Madison Community School District Board of Directors Monday nignt.
The board barely had a quorum with directors Josh Wykert and Mio Santiago absent, board member Carol Ross on via telephone, and Brad Menke arriving just after the board meeting began.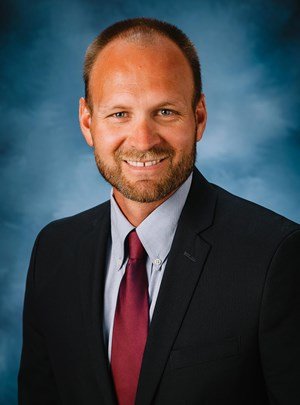 Lamb's proposal will give all Fort Madison High School students with current year school-issued IDs free entry to all activities and events with the exception of post-season athletics and fundraising events such as Dessert Theater or the Show Choir Invitational.
Superintendent Dr. Erin Slater said the move helps create equity with the students by negating who can afford student activity tickets.
"To bring the high school together in a more collaborative and engaging way, this could be an opportunity to remove some barriers that maybe some students have in being able to go and support their fellow peers," Slater said.
Menke said he's been asking for something along these lines for several years.
"I asked – it's probably been a couple of years – I asked for this exact thing and kind of hit some roadblocks, but I'm glad it's kind of going forward," Menke said. "I think it's been needed for a while now."
Lamb said he thought the idea would bring more students and families out to support Bloodhound activities.
"Whether that be for the show choir event or a varsity baseball game, they're going to be able to get into that," he said. "If we'd have a dinner theater, then absolutely not. That's a fundraising opportunity and then they would have to buy a ticket."
Slater said the district will make sure the students are aware of the new opportunity by highlighting it at the school and promoting it internally.
"We'll make sure that we're communicating with them so that they're aware just to try to get them to engage more," she said.
Board President Dianne Hope said the move will impact the student activity fund, but an anonymous donor has already stepped up to make a donation to replace some of the funds lost and the district would welcome other donations.
"My understanding is we have received an anonymous donor," Hope said. "And we will take donations from anyone else that wants to do this."
In an unrelated issue, the board heard from Keely Kangas on the district's Beyond the Bell program. Kangas reported that the non-traditional school programming has had positive impacts on student performance at different levels and is garnering favorable support from parents in the district.
The district also:
• approved the 2022-23 handbooks for the district elementary, middle, and high schools as well as the Beyond the Bell program.
• heard an update from the Carl A. Nelson Company and DLR Group about the construction progress at the Middle and High schools. Chris Smith, representing Carl A. Nelson, said some savings are already being realized and work is progressing according to timelines.
• approved a renewed contract with Southeast Iowa Regional Medical Center for athletic training services for the 2022-23 school year.