I"m not a rich man, sometimes its a challenge just to remain a happy man.
As we get older the philosophies of life - the aches and pains - death, all on occasions smack you right in the mouth, and then run and hide only to peek around the corner at you regularly through obituaries, stories, and tragedy.
I don't ever want to be a rich man, I think it carries a heavy price and takes an even heavier toll.
We set up Pen City Current to be a mechanism where local people with news to share and business to peddle could do so at a very marketable rate and reach 1,000s of people. We're not pristine in that effort, sometimes things run awry, as is the case of just about any operation, group, or family.
But I try to contribute to the success of programs when and where we can and when we can afford it. It's part of being a good corporate citizen. Others can and do more, but when I think of the percentage of my income to those of other more established companies, I think we do okay.
Because...
We love progress. We contribute to school programs, PAW efforts, theater groups, and other entities to see progress. We don't begrudge those that make progress happen.
That's why it's so disheartening, and sometimes just a bit maddening, to see the traffic that follows our news on social media.
We had stories this week on the new vacant property ordinance that's going into effect, and the Block Building downtown. Everybody screaming that someone's out to make a buck.
Yeah... they are. Cool by me. Where are you?
People complain they didn't know about properties that were sold by the city to developers, yet the city is required to publish anything that has to do with real estate sales or acquisitions. The point is this, if you want to know.... know. Do your homework.
It's amazing to me how much rumor is out there about everthing. Oh my God, the things I could write if I could just publish rumor. I would be a rich man. But how is it that the rumor mill dies when there's a property move coming?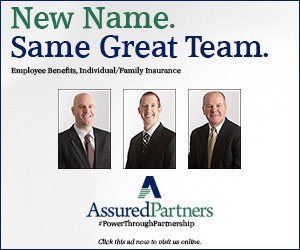 The people that are being dragged unfairly through the mud on social media are the ones who are writing the checks. The checks to fix up dilpidated property, to build a marina, to tear down abandoned, blighted buildings and either clear the lot for future development or even begin future development.
If they make money on that, it's simply an investment and it's a risk and they manage the risk and hopefully take a profit. That's pretty freakin' simple. And it gets more and more frustrating to hear from those that missed the boat or simply don't have the means to do those critical infrastructure needs.
I'm talking about the Mohrfelds and the Barkers and the many others out there without the bigger public exposure that do just that. They are cleaning up your town for you. They should get something for the work.
Some lady called me Monday while the Jordan's Way program was going on at the shelter. One that raised close to $125,000. She said the Kris Rotunda, the founder of animal advocacy group, takes a percentage of the funds.
So.... what! Find a hobby.
Jordan's Way has opened the PAW shelter to close to $200,000 in operating and new construction funds in two year. That money doesn't come if he doesn't come and he's got expenses and, wait for it.... invested in that program to help others. He should get paid.
There are other groups and families in this town that give and give and give and then get drawn and quartered in social media and the rumor mill. We have to recognize who the players are... and let them play. If you want in the damn game, get in the damn game.
Don't be the angry parent on the sideline yelling that your kid isn't in there because he doesn't have the tools to play. Get in the game or get out of the way.
And on games, Friday night was more emotional for me than I ever would have imagined. My nephew Hayden, whom I just adore, scored the first touchdown on swing pass from about seven yards out. I was thrilled and ticked off at the same time. Talk about weird emotions.
He came up and we embraced after the game and I wept for a minute. It's probably the last time I'll get to see him play, but there aren't many that were happier than me that Doherty's boys got it done 17-6 - But That's Beside Point.
Chuck Vandenberg is editor and co-owner of Pen City Current and can be reached at charles.v@pencitycurrent.com.