DONNELLSON – Luke Hellige went over 500 points in just his sophomore season as the Crusaders rolled over Central Lee Tuesday night on the Hawks' Senior Night.
Hellige had a game-high 19 points as the Crusaders won their third game in a row and are now 8-12 on the year with the SEI Superconference Shootout set for this weekend.
Holy Trinity will take on Wapello at Hillcrest Saturday in a matchup of No. 6 seeds. Central Lee (1-13, 3-16) will take on Columbus at 6 p.m. in Lone Tree.
On Tuesday the Crusaders score first on a free throw by Conner Gehling and never looked back. Cory Jones got Central Lee going with a 3-ball at 6-3, but then the Crusaders went on a 11-2 run with Gehling scoring seven of the points, two on bucket off a nifty bounce past through the lane by Hellige.
Gehling opened the second quarter scoring with a bucket to make it 19-5 and then Central Lee got a 3-pointer from Brayden Wyrick and answered with another bucket by Dante Merschman to cut the lead to 11 at 21-10.
The Hawks shooting would then go cold as they converted just two of the next nine field goal attempts leading to a 30-16 halftime deficit.
Holy Trinity would get hot in the third period shooting six of 11 from the field and 2-2 from the free throw line. Central Lee would cut into it a bit with three straight to open the third, including a 3-pointer from Jones, His three would cut the lead to nine at 32-23, but then the Hawks would go 2 of 8 from the field, while the Crusaders went 5-of-9 to push the lead to 44-27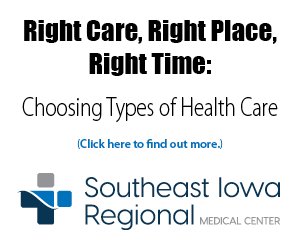 The Crusaders would outscore the Hawks 13-7 down the stretch. Nick Fullenkamp opened the scoring on a putback in the lane and then Hellige would scores six unanswered to put the Crusaders up by 23 with 3:27 left.
Ryan Wilbert would add a late 3-pointer for the Hawks, but it was the only points the Hawks would score in the final 6:31 as HTC ran away with the win.
"That's three in a row. The boys are playing really well," Head Coach John Hellige said. "I thought we were really, really sharp defensively. The refs let it be a little physical, so our sets weren't perfect, but our sets are right where I want them to be. We're hitting our stride here for sure."
Hellige said the Crusaders are figuring out how to play as the season winds down.
"We had some really sharp passes, good motion on offense, good cutting and working off screens."
He said his son Luke has come a long way and put on some pounds this year.
"He's more athletic and gets to the hoop. He's shots are falling - and he's just having a great year as a sophomore for sure," Hellige said.