Kane Williams' RBI single breaks 3-3 tie with one out in bottom of the 9th
BY CHUCK VANDENBERG
PCC EDITOR
FORT MADISON - Fort Madison's boys got some sense of revenge Thursday night when Kane Williams ripped a walk-off RBI single down the third base line to give the Hounds a sweep over visiting Mt. Pleasant.
The Panthers took a walk-off, 9th-inning win from the Bloodhounds on May 31, and it was a ball off Kane Williams' glove at second on that night that allowed the winning run to come in.
But fate smiled a little on Williams when he lined a one-out 2-2 pitch right over the top of the third base and down the line scoring Caden Barnes for a tie-breaking 4-3 win in the night cap.
"I was trying to get my hands inside the baseball and put it in play because they were playing up and I knew if I hit it in any hole, it would be a base hit," Williams said.
Head Coach Ron Walker said he's said over a 1,000 times that baseball is a mental grind.
"After the first game I said let's not forget about when we went to Mt. Pleasant, won the first game 4-1, and then came back flat. Before we knew it, we took a 2-1 loss and they walked us off," he said.
But Walker said baseball can also be about going with your gut. He did just that in the seventh when he brought junior Brennan Ulik in as a pinch-hitter with two outs and the Hounds down by one with a man on.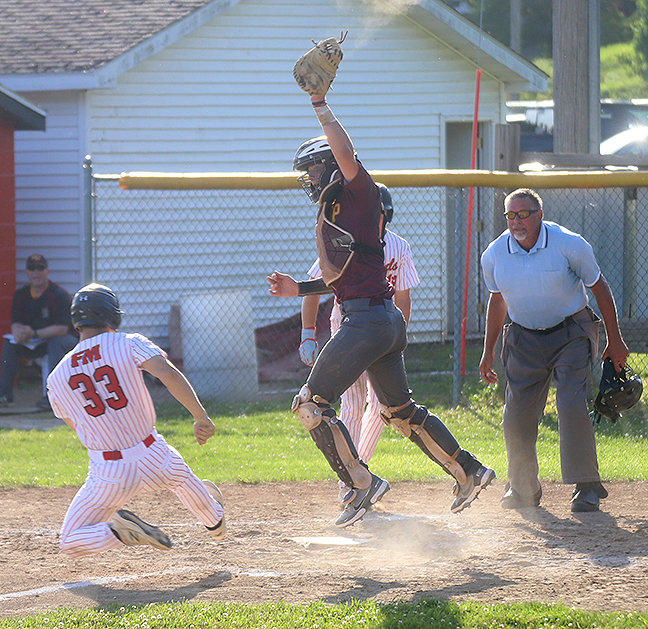 "It was kind of a gut feeling and it worked out," Walker said. "More often that not, it doesn't. He came in Sunday and had some good swings in St. Louis and we talked about confidence. We told him we'd call his number and he should be ready to go. He got in there and lo and behold..."
"I was a bit nervous and it was the last at bat. I just wanted to put the ball in play and get us to extra innings," Ulik said.
Ulik calmly stroked a 1-1 pitch to left field between short and third scoring Jordan Simpson from third to tie the game. The Panthers' Jake Ensminger got a strikeout to end the inning and force extra play.
Matt Hopper would give up just a single in the top of the 8th with two outs, but would get a ground out to short to end the half.
Fort Madison would load the bases with one out in the bottom of the eighth, but a grounder to first forced Reiburn Turnbull at home and Hopper would fan to leave the bases loaded. The senior regrouped on the mound and got out of the top half of the ninth 3-up, 3-down.
Barnes would walk on four pitches in the bottom half of the night. Walker typically would pinch run for the catcher, but the cupboard was bare and Barnes stayed on base. Ulik would move Barnes over with a grounder back to first.
Landes Williams would draw a walk at the top of the lineup and a wild pitch in the at-bat allowed Barnes to move to third. Williams would swipe second on Payton Hagan's third pitch to Kane Williams to keep the Hounds out of a double play situation.
Kane Williams would take the next two pitches for strikes before ending the game with the bounder down the line.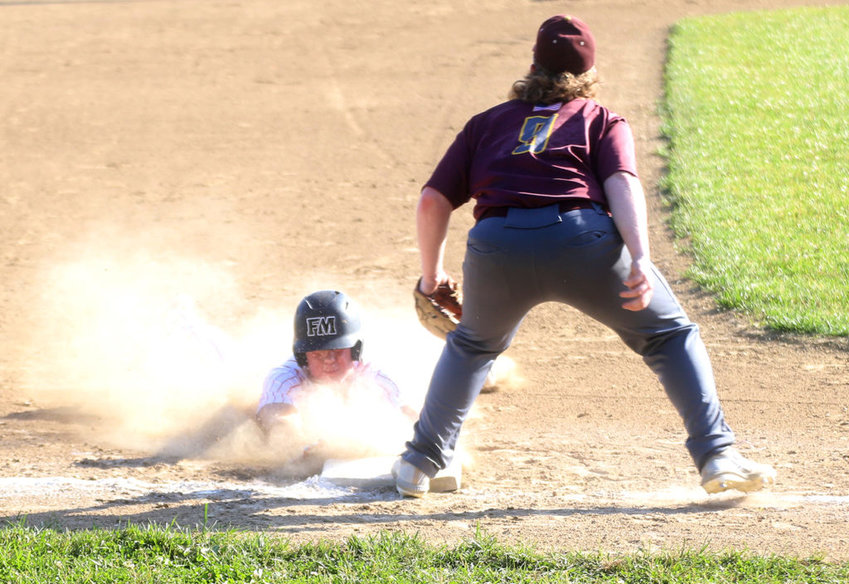 Freshman Luke Hellige started on the mound for Fort Madison in the second game and went five innings allowing just one run on three hits, while striking out three. Hopper would come on in the sixth to get the win.
Turnbull was 2-for-4 in the night cap and Tate Settles was 2 for 2, both times beating out infield singles. Ulik, Landes Williams, Kane Williams, and Tate Johnson all had hits.
Ulik said the dramatic come-from-behind win should give the Hounds a boost going forward.
"It's good for us. It will give us a big confidence boost and help us win more in the future," he said.
"We kept fighting and competing and taking our bats and things went our way this time, but we gotta start being more consistent and playing good baseball," Walker said.
In the opener, the Hounds opened up a 3-0 lead through four innings. Simpson doubled a line drive to center in the bottom of the 4th, scoring Settles and Johnson for the 3-0 lead.
Mt. Pleasant would tie things up in the top of the 5th when Landes Williams surrendered a double to open the inning to Ensminger. A walk and stolen base put runners at the corners with no outs.
Carter Amos would then single to center scoring Ensminger and then Lincoln Henrickson would double to center scoring another run to tie things up at 3. Williams would regroup and get the next three hitters to retire the side.
Fort Madison would respond with a run in the bottom half when Turnbull hit an RBI single to right scoring Landes Williams who reached on a base on balls.
The Hounds would get an insurance run in the sixth when Simpson laid down a bunt with speedster Tate Johnson flying down the third base line to score on the squeeze. Hopper would come on in the seventh and gave up a single and a double, but got Mt. Pleasant's Colton Hutson to pop out to the mound to end the game 5-3.
Simpson was 1-for-3 with 3 RBIs to lead the Hounds. Kane Williams, Turnbull, and Johnson had the other hits for Fort Madison (11-5, 8-4). The Hounds maintain a hold on second place in the Southeast Conference behind Burlington (13-4, 8-1). Fort Madison is off until Monday when they host Fairfield in another conference doubleheader.