Johnson anchors 4x100, 4x200 to wins and captures open 100 meters
BY CHUCK VANDENBERG
PCC EDITOR
MT. PLEASANT - Fort Madison senior Tate Johnson doesn't like running with someone in front of him.
But in the three times it happened Thursday night at the district state qualifier in Mt. Pleasant, Johnson bolted and brought home titles for the Fort Madison Bloodhounds.
Johnson will join at least seven other Bloodhounds at the IHSAA State Track meet beginning Thursday at Drake.
Sophomores Lexi Whaley and Aija Jenkins kick-started things with 2nd-place finishes in the shot put and high jump. Whaley threw a 33-11.5 in the shot and Jenkins ratcheted up her best leap of the year clearing 5-2.
Then senior Mikey DiPrima found an extra spring in the gears and cleared 6-1 for the first time all year to take the top spot in the high jump outlasting Washington's Kasen Bailey and Ethan Patterson, who couldn't clear the 6-1 bar.
DiPrima also jumped 20-0.25 in the long jump and that will be on the bubble for the top 24 leaps in the state when official qualifiers for the state meet are released tomorrow at around noon.
Last year DiPrima qualified in the long jump, but not the high jump. He said clearing the bar at 6-1 for the first time was like his long jump last year.
"It's just finding it when I need it," DiPrima said. "I cleared the 6-foot bar on the first try and I was hoping the Washington kids wouldn't make it so I didn't have to do more. But they gave me the fight I wanted."
Then Johnson became the fourth Bloodhound to qualify in an individual meet when he caught and passed a speedy Jack Riley from West Burlington in a slight headwind out of the southwest to take the 100-meter dash at 11.38, just a tick ahead of Riley at 11.41.
"I had a pretty bad start - so once again, I just had to chase a guy down. I hate seeing someone in front of me," Johnson said.
But Johnson would come from behind two more times in the 4x200 and 4x100 anchoring both district champion foursomes.
Johnson ran with Julian Dear, Tate Settles, and Hayden Segoviano in that order, in both the 200 and 100 relay events. In the 200, the Hounds were running six in their heat when Settles handed to Segoviano to start the third leg. Segoviano made up some ground handing the baton to Johnson with two runners in front.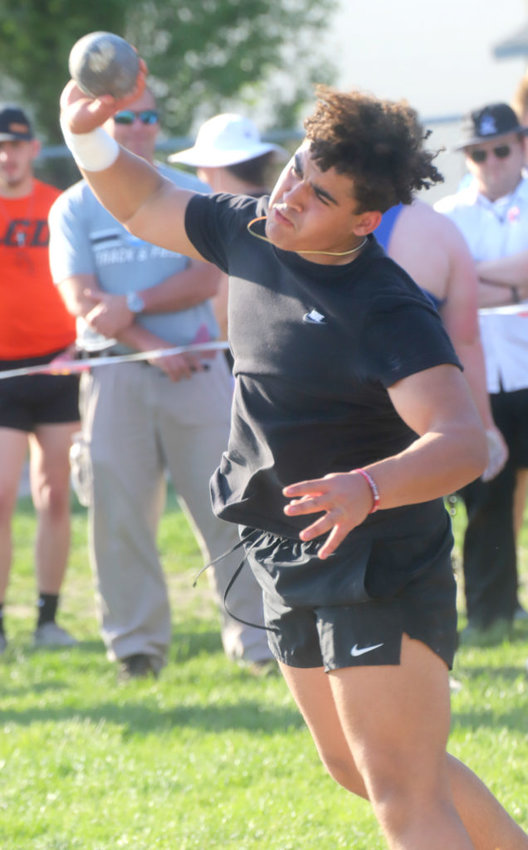 Johnson took the baton and, with the Panthers' home announcer calling the horserace between West Burlington's Riley and Davenport Assumption's Angelo Jackson running 1 and 2, Johnson pulled up in the first 100 and blew past both runners almost quicker than the announcer could change up the call, giving the Hounds the win by close to a full second at 1:31.90.
Johnson, who's only run in the 4x200 three times this year said it's different because typically he doesn't see runners in front of him.
"Normally there's someone ahead of me in the 4x200 so my mentality is I'm not going to let that guy beat me. I tried to get to them as early as possible and then hold on," he said.
"He ran a low 21 split - Oh my gosh. He's just fast ... there's just no other way to describe it," said Head Coach Mike Schneider.
"I thought we might get one of the automatics, and I'm like 2nd place - okay that's awesome, but then Tate just kept closing on him."
In the 4x100, only one second separated the top five teams with Fort Madison winning over West Burlington by .05 seconds as Johnson once again caught Riley from behind.
Fort Madison came into the meet seeded 4th in the 4x100 but Schneider said it was anybody's race to win.
"You can't worry about seedings, it's just whoever runs the best race tonight... the cleanest race... and I thought we did that."
Johnson said the Hounds hadn't beaten West Burlington all year and they will see them again at state.
"We haven't beaten those guys all year (West Burlington) but we wanted to do that in districts and I guess we'll see them again at state," Johnson said.
Dear said he had no doubt the Hounds were going to surprise everyone and win it outright.
"I knew going into it that we were going to win - 100%. It's always great to have Tate as your anchor for everything, but I knew we were going to win."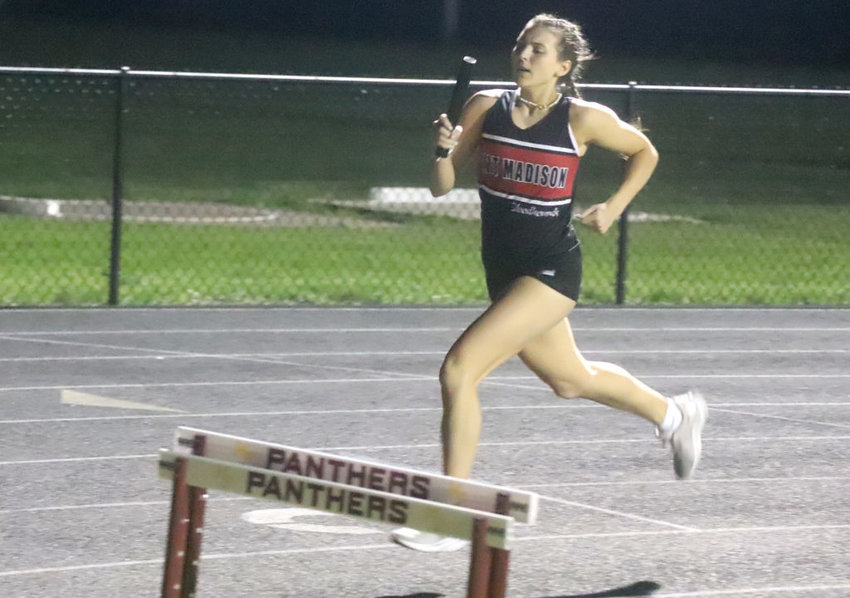 Fort Madison got another state qualifier in the 400 hurdles when Raquel Schneider gave Fairfield's Kelsey Pacha, who had the fastest time in the district coming into the event by about four seconds, all she wanted. And if not for a stutter at the final hurdle, could have knocked off the top seed.
Schneider finished with a 1:08.79, her fastest time of the year, and was in a dead heat with Pacha at the final hurdle.
"It was great weather and I was really excited and really nervous," Schneider said. "When I came around the fourth turn, I saw the other girl and thought I could catch her. Then we were tied on the last hurdle, but I stuttered right before the last hurdle and she beat me by a step."
Schneider has gone to state every year since her freshman year with the exception of her sophomore year when the event was canceled due to the pandemic.
Lady Hounds' head coach Brian Mendez said he saw the Schneider of old running Thursday night.
"She was running those times every meet a couple years ago. She's never run poorly, but she hadn't been running as well as she used to. That was the old Raquel right there and she looked fantastic. I thought she had (Pascha) at the end."
Whaley said she was somewhat surprised that she finished second considering she didn't set a season's best with her throws, but she said that's why routines are important.
"I try to stay in the same routine and go through the same motions every day. I'm hoping to find a couple more at state. Coaches just leave me alone and let me do what I do. I like to be by myself before I throw," she said.
Jenkins, who qualified last year in the high jump, said she will still have nerves, but not as bad as her freshman year. She said the experience is what she values.
"Last year I was very nervous. But it's just the experience. If I jump bad, it's alright because I got to go," Jenkins said.
She said she's been battling some ankle issues all year, but Fort Madison Athletic Enhancement Director Derek Doherty has been giving her special drills to work on that have helped her later in the season.
DiPrima has also competed at the state meet as a junior and said placing will require a few more inches of clearance.
"I gotta relax more and loosen myself up. Think of it as six feet every time and not worry about it so much."
The girls are still waiting on the Distance Medley and the shuttle hurdle relay to see if their time will be good enough to qualify.
Schneider said the boys' shuttle hurdle and Andrew Schaefer's 52.41 both could sneak in, as well as DiPrima's 20-0.25 in the long jump.
Official qualifier lists will come out Friday at around noon.