Instincts.
The innate, quick, natural reaction to a stimulus. Training and repetition helps develop those reactions.
It's the repetition that's beginning to bother me. Every day we see more threats of violence. Saturday morning 11 people were shot in Macomb at a party just off the Western Illinois University campus.
On Tuesday, more than 30 schools were hit with a coordinated "swatting" attack including three schools in Lee County.
Repetition.
For about six minutes in real time Fort Madison school officials and law enforcement thought there was a gunman in a restroom who had already shot multiple students.
A 30-minute conversation with Co-Principal Patrick Lamb drew an eerie picture of a man whose instincts to protect students kicked in. He's also the father of one of the students.
Keep in mind that Fort Madison didn't know the call was a hoax and decided even when they did, to make sure every room in the high school was secured and cleared before removing a lockdown.
Lamb said, according to a review of camera footage, every student was in a classroom within 20 seconds of him calling for the lockdown.
Twenty seconds.
Police were on scene in 74 seconds.
Seventy-four seconds.
They came in with shields and guns drawn and immediately took over clearing classrooms - starting with restrooms and locker rooms.
But what's even more harrowing were the teachers and staff whose instincts were to protect students above themselves. Several administrators went room to room without bullet-proof vests… without guns… without police escorts. They went room to room with handheld radios not knowing what they would find, but knowing they had to go.
At one point, police stopped administrators from further going into rooms unarmed saying they were the ones with gear and guns and they should be the first in.
When word was received the calls could be a hoax, everyone slowed down and took a breath. But police and school officials still moved swiftly to move through each room and make sure every student was safe before releasing the lockdown.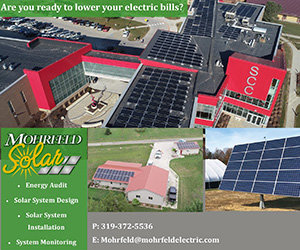 It's how we want them to behave. It's how we need them to behave.
Central Lee also received a call, but Superintendent Dr. Andy Crozier issued a statement right away saying the district had received information about the swatting and did sweeps of the high school immediately without going into a lockdown. Central Lee has an agreement with the Lee County Sheriff's office and has a deputy on site.
Fort Madison's school resource officer was at Lincoln Elementary School and arrived on scene in less than a minute and 15 seconds.
As a reporter when I pulled up to the high school, I saw several pods of parents in the parking lot with arms folded. I spoke to an officer at the front of the building who was accompanied by a Lee County EMS paramedic. He told me it was believed the calls were a hoax, but part of a statewide hoax.
All construction workers at the school were still working so I assumed that things were getting back to normal very quickly.
As horrible as this was for so many people that morning, we have to take away what was a shining moment of reactions…instincts. People moving through the school to get to students regardless of their own safety. Police not only getting to the school extremely quickly, but entering and working to immediately mitigate the situation.
No one waited. No one stood by for direction. No one waited.
Action.
What people can see easily from this is that our school officials' instincts are to run into the fire when students' safety is at risk.
Lamb said staff and teachers acted almost flawlessly. Having every student locked in a room in 20 seconds would have saved lives had this not been a hoax. And remember for the first six minutes they didn't know it was a hoax.
The image of the parents standing in the parking lot south of the high school on Tuesday encroached on the tragedies of years past. Sandy Hook, Santa Fe, Parkland.
A Google search of mass shootings for 2023 alone now stands at 122, 123 if you include Macomb, which you must.
Instincts of the good guys are to continue to plan for the worst - while hoping for the best.
Hope dwindles as I think about those parents standing at the school looking for answers, and those who were getting texts from their children, that something had gone wrong.
Fortunately for all of us, nothing went wrong. It would seem everything went right. As right as we need it to be on days like this.
It makes me wonder how often Police Chief Mark Rohloff and Lee County Sheriff Stacy Weber think it's no longer a matter of if… But that's Beside the Point.
Chuck Vandenberg is editor and co-owner of Pen City Current and can be reached at Charles.v@pencitycurrent.com.