FORT MADISON - Eighteen-year-old Dimari Meredith shook his head and blew a kiss to family in North Lee County Court Friday morning as he was escorted out in handcuffs after being found guilty of 2nd-degree murder.
Meredith was convicted by a jury of four men and eight women of the murder of 15-year-old Deeunta Ceaser on Nov. 3, 2021.
Jurors took the case at about 10:30 a.m. and returned the guilty verdict at 1:45 p.m. with a unanimous verdict.
District 8B Judge Joshua Schier read the verdict and then ordered an eight-week pre-sentence investigation prior to determining sentencing for the conviction.
Conviction of 2nd degree murder in Iowa carries a maximum sentence of 50 years in prison with a mandatory 70% time served before parole, meaning Meredith could be facing 35 years in prison.
It took about an hour for attorneys to wrap up their cases in the murder trial of a Fort Madison man Friday morning,
Meredith admitted Thursday to shooting 15-year-old Deeunta Ceaser on Nov. 3, 2021 in the boy's bedroom in his grandmother's house on the west side of Fort Madison.
Meredith told the jury Thursday afternoon that he accidentally shot Ceaser after the two had smoked pot in Ceaser's bedroom and were playing with the gun.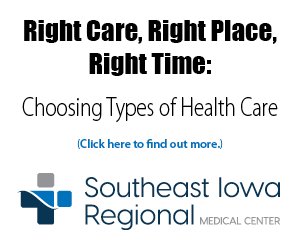 Assistant Attorney General Susan Krisko told the jury during her closing that Meredith had too many inconsistencies in his stories to police and investigators, and now at trial, to believe anything he's saying.
Krisko pointed to statements Meredith made after the shooting to police that he was asleep during the incident, and Ceaser's girlfriend shot him, to Ceaser shooting himself, to a friend shooting the FMHS student that afternoon.
Keokuk attorney Curtis Dial told the jury during the defense's closing that Meredith had made a lot of "dumb" statements since the incident, but said it was a 17-year-old boy who'd just shot his best friend.
"Convict of him manslaughter. That's appropriate," Dial said. "He shot his best friend, but the state hasn't proven malice aforethought and hasn't made the case for 2nd-degree murder."
According to Krisko, Meredith was changing his story at the last minute to entice a manslaughter conviction from the jury.
"We don't have to prove he went with the intent of killing his best friend. We just have to show malice. Testimony showed Mr. Meredith was not himself that day prior to the shooting," Krisko told the jury.
"Friends kill friends. Mothers kill children, Spouses kill other spouses."
Krisko then pulled the murder weapon from a bloodied box, foregoing any protective gloves, and showed the jury just how Meredith would have had to pull the trigger on the Ruger back to surpass the passive safety and fire the weapon.
She then asked the jury to use common sense to return a verdict of guilty on the murder charge and not on the lesser manslaughter.