CORALVILLE – Fort Madison's head girls' wrestling coach Kyle Doherty didn't hesitate when he said this year's girls' wrestling program was a success.
Considering it was the first year the Iowa Girls High School Athletic Union has sanctioned girls wrestling and thusly the first year FMHS launched a program, that's not a small statement.
Doherty watched two girls who had never wrestled prior to Halloween, march into the Xtreme Arena in Coralville and win matches.
Despite the two exiting the tournament on Thursday, there was little sadness and an overwhelming sense of…what's next.
"Obviously these two getting up here to experience this - and winning here is hard - so seeing them win, and going through the rollercoaster of state, I would say it's a success. Absolutely…yes," Doherty said.
Sophomore Hailey Kemper and Mara Smith both went 1-2 on the day. Two losses on the first day results in elimination.
Kemper, who won the 100 lb. regional in Cedar Rapids Friday night advanced in the first round during the day session with a win over Tipton's Koda Fogg, seeded No. 20 in the bracket. Kemper was seeded 13th.
Fogg scored a takedown 23 seconds into the first period and had Kemper underneath, but the Bloodhound wrestled free and slipped into a control position for 2 points. Fogg would wriggle out, quickly scoring her own reversal with just :04 left in the first period.
However, Kemper was given a penalty point on the reversal when Fogg used an illegal hand hold. Kemper then was awarded another penalty point at the end of the period, leaving the score tied at 4.
Kemper was warned for stalling, something watched very closely at state tournaments. She then gained control as the two went to the mat and scored a 3-point nearfall at 1:29 and then stabilized her chest on Fogg to get the pin.
In the second round, Kemper battled No. 4 seed Mariah Michels of North Central High School.
North Central is a five-school coop girls' wrestling program in extreme north central Iowa north of Mason City.
Michels came out aggressive and wrestled Kemper to the mat in about 14 seconds and then scored a nearfall for three points. Kemper at one point almost scored a reversal flipping over the top of Michels, but the freshman pulled Kemper back around under control for 5-0 first period lead.
Michels would escape from Kemper's top spot on the restart, earning a point. She then wrapped up Kemper again took her to the mat, and scored a takedown and a 2-point near fall for a 10-0 lead. Kemper fought under Michels' pressure for about 15 seconds before giving way to the pin, pushing the Lady Hound into consolation wrestlebacks.
Kemper rolled through her first match in the consolation bracket, again Olivya Mack of East Sac County. Kemper was assessed a hold penalty at 1:10 to trail 1-0, but then worked Mack to the mat and quickly rolled her into a near fall with :30 left in the first period. After some pressure for about :20, Kemper was able to secure the pin.
In her final match against No. 5 Ava McNeal of Lewis Central (41-5) in the second round of consolation action, McNeal looked for revenge of her first-round upset by No. 12 Greta Goodman of Ames, and scored 10 quick points on three near falls before ending Kemper's run just 1:34 into the match.
"I gave it my all. I probably could've done better on the bottom, but all I can do is work harder next year in the weight room and wrestling room," Kemper said.
Kemper had never wrestled before Halloween 2022 and said she's never wanted to wrestle.
"A few of my friends got me into it and now I like it. I want to stick with it," she said.
But walking the halls and the notoriety of being the first girl ever to qualify for state in the school's history is something she takes in stride.
"I really don't like all the attention on me like that," Kemper said.
She still had a smile on her face as she walked off Thursday night after losing to McNeal.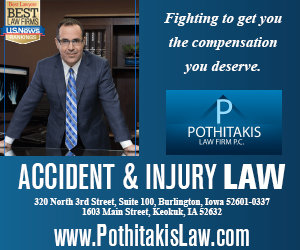 "I try not to show my emotion too much. I don't let it get to me."
Mara Smith qualified for state with her fifth-place finish at regionals. Only the top four qualify, but if one of the qualifiers can't compete, the fifth-place wrestler moves into the qualifying spot. One of the 130 lb. wrestlers, who finished in the top four at regionals, injured her arm and wasn't allowed to participate at state.
With that last-in spot, Smith was seeded 31 of 32 wrestlers and pulled a tough No. 2 ranked Chloe Sander (46-4), a freshman out of Vinton-Shellsburg.
Smith got through the first period trailing just 2-0 after fighting off a couple Sanders' attacks, but a down start in the second period turned into a six-second escape with Sanders spinning out of Smith's grasp. Sanders then pulled Smith to the mat for a takedown. Smith almost got to the circle for a restart, but Sanders was strong enough to work her back inside and then rolled her over for a chest-chest pin.|
Smith said the rollercoaster of getting to state was a bit more difficult than she planned.
"Last night I wasn't even expecting it and didn't realize I was going to state. It wasn't 'til I got here, and I said, 'this is real, and I have to wrestle'," she said.
The Xtreme Arena was standing room only and sold out with lines wrapped around the building as action started at 9 a.m.
An announcement came over the public address system from a union official who said, "I guess Iowa really was ready for girls' wrestling.".
The pageantry and environment weren't lost on Smith.
"This whole thing was so different. The place was completely packed and really loud. I want to stay with this," she said.
But the low ranking didn't bother her. Smith compiled a 22-7 season mark before Thursday and said she should have done better at regionals.
"I don't think where I was seeded, mentally, it didn't affect me. I didn't think about the seeding, just wrestling the girl across from me."
Smith grew up with her brother Teague, and her father Ryan is the FMHS wrestling coach and wrestled under Dan Gable at Iowa. Smith never got on the floor with either of them.
"Nope. Never. I watched a lot of it, but never actually wrestled before," she said.
"I sometimes would just look at the girl across from me and start to get in my own head. But I think I've grown so much from the sport, athletically. I think it helped me and it's been the most mental and emotional sport I've ever played. But it's helped me in a lot of ways."
Smith took on Asia Jehangir of Dallas Center-Grimes in the first round of consolation wrestling at 130 lbs. Jehangir came into the tournament ranked 15th with a 26-7 record as a junior.
Smith is wrestling in her freshman year and compiled a 21-6 record.
After giving up a two point takedown, Smith scored a reversal and that was all the scoring in the first period. Then Smith came out in the second period and got a takedown, taking control and getting the pin halfway through the second period.
Smith then found herself up against 17th seed Charity Mickles, a senior from Perry. Mickles sported a 25-7 record coming in. Smith held Mickles to a draw in the first period and was given the top start in the second period after the 0-0 first. Mickles was able to slip out and reverse control for two points. Smith escaped 15 seconds later, and then got stood up by Mickels who was able to pull her to the ground for a 2-point control and a 4-1 lead going into the third period.
Mickles scored another takedown just 15 seconds into the period. Smith was awarded a penalty point on a hold, but Mickles took advantage of a top start on the break to roll Smith over for the pin ending Smith's bid for more work.
Doherty said he's looking forward to the program growing in year two. He said he was very impressed with the number of girls that came out in the first year and then to take eight to regionals and have five knocking on the door to state was a great barometer of the season.
"Taking eight to regionals and qualifying two, and then having three others knocking on the door, I would say for being a first-year program, from Oct. 31 to regionals, they blew all the expectations out of the water," Doherty said.