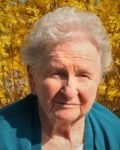 Celestine "Sally" J. Ilmberger, 96, of Fort Madison, IA, passed away on Sunday, December 26, 2021 at 1:50 p.m. at the West Point Care Center.  She was born on December 7, 1925 in Fort Madison, IA to Robert F. & Opal L. Hayden Wilken.  She married Bernard J. Ilmberger on January 29, 1955 at Sacred Heart Church in Fort Madison, IA.  He preceded her in death on October 15, 2008.  She worked at the Sheaffer Pen Company, Witte Engine Works in Kansas City, MO & owned and operated "The Pantry" restaurant in Fort Madison with her husband.  She was a member of Holy Family Parish and the Altar & Rosary Society of the church and was a past member of D.A.R.  Her favorite job was working at the Cattermole Library while in high school.  She moved to Kansas City after working for Sheaffer's to work at Witte Engine Works.  After the war, she moved back to Fort Madison and she and Bernie opened "The Pantry" restaurant where they met many friends.  She made some of the best pies in Fort Madison. 
Sally is survived by: 3-daughters: Julie (Steve) Long of Fort Madison, IA, Mary (Pat) Scott of Fort Madison, IA & Jennie (David) Tatum of Virginia; 2-sons: Mark (Dale Lesher) Ilmberger of Fort Madison, IA & Joseph (Rosie) Ilmberger of Fort Madison, IA; 17-grandchildren: Amanda, Kevin, Nichole, Michelle, Kristen, Dustin, David, Dillan, Cheyenne, Katlin, Sam, Katie, Sara, Grace, Lilli, Tia, Angela; numerous great grandchildren; beloved cousins: Bob Hayden of Texas & Leland Edwards of Fort Madison, IA & numerous nieces & nephews.  She was preceded in death by: her parents, husband, 2-sisters: Elizabeth Richards & Virginia Zimmerman & 1-loving grandson: Ryan Brown.
Cremation has been entrusted to the care of King-Lynk Funeral Home & Crematory.  **Due to the upcoming holiday, services will be held on SATURDAY, JANUARY 8, 2022.** A visitation will be held from 9:30 to 10:30 a.m. on Saturday, January 8, 2022 at Ss. Mary & Joseph Church.  A funeral mass will immediately follow at 10:30 a.m. with Rev. Joseph Phung officiating.  Burial will be held at Soldiers' Circle in Oakland Cemetery.  A memorial has been established in her memory.  Online condolences to Sally's family may be left at the King-Lynk Funeral Home & Crematory website: www.kinglynk.com.