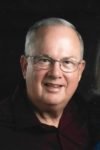 David Luther Smith, 74, of Fort Madison, IA, passed away at 3:57 a.m. on Tuesday, December 7, 2021 at the University of Iowa Hospitals in Iowa City. He was born on March 15, 1947 in Ottumwa, IA to Dr. Charles & Bettie Adams Smith. He spent most of his life in the Kansas City, MO area and graduated from North Kansas City High School in 1965 and later from Northeast Missouri State University (now Truman State University) with a degree in Biology. He married Linda Hutchinson on August 30, 1969 in Fort Madison, IA. He retired from Smurfit-Stone Container Company in 2003 after 31 years of service.  He was a member of the First Christian Church in Fort Madison and served as a deacon. He enjoyed nature, bird watching, gardening and following the Kansas City Chiefs.
David is survived by: his wife: Linda Smith of Fort Madison, IA; 1-brother: Antry (Lea Anne) Smith of Lathrop, MO; 2-sisters: Sandra Ragan of Kansas City, MO & Maria (Richard) Holloway of Gladstone, MO; several nieces, nephews and his dogs: Bear & Moose.  He was preceded in death by his parents.
Cremation has been entrusted to the care of King-Lynk Funeral Home & Crematory. A visitation will be held from 9:30 to 10:30 a.m. on Saturday, December 11, 2021 with a memorial service to immediately follow at 10:30 a.m. at King-Lynk Funeral Home & Crematory with Rev. Leslie Dalstra officiating.  Burial will be held at Oakland Cemetery in Fort Madison. A memorial has been established for the First Christian Church, P.A.W. Animal Shelter or the North Lee County Historical Society. Online condolences to the Smith family may be left at the King-Lynk Funeral Home & Crematory website: www.kinglynk.com.