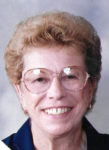 Olive "Margie" M. McCarl, 90, of Ft. Madison passed away on Monday, December 06, 2021 at 9:25 AM at the Southeast Iowa Regional Medical Center in Ft. Madison.
She was born on August 15, 1931 in Henrietta, MO to William and Nina Craig Tory. On August 20, 1949 she married Ray McCarl, Jr. in Ft. Madison and he passed away on August 3, 2020. She worked at Sheaffer Pen Co. and also was a seamstress and did upholstery work. Margie enjoyed doing ceramics, camping, fishing and wintering in Texas with Ray.
Survivors include one son, William McCarl of Ft. Madison; one granddaughter, Jeri McCarl of Highlands Ranch, CO; one great grandson, Cameron McCarl of Centennial, CO; one great great granddaughter, Nyla McCarl of Centennial, CO; one brother, Willie Tory of Ft. Madison and numerous nieces and nephews. She was preceded in death by her parents, husband, one brother Tommy Tory and three sisters, Genevieve Forquer, Alma Dawson and Cynthia Greenwald.
The funeral service will be held at 12 PM on Thursday, December 9, 2021 at King-Lynk Funeral Home & Crematory with Rev. Timothy Greenwald officiating. Burial will follow in Oakland Cemetery. The family will meet with friends from 11 AM until the time of the service at 12 PM.
   A memorial has been established in her memory and online condolences may be left at www.kinglynk.com.