FORT MADISON – With 4:29 left in the fourth quarter, the Lady Hounds looked to make a run at Southeast Conference front-runner Keokuk.
Fort Madison, playing without junior Irelynd Sargent, who's done for the year with an ACL injury, made the most of every chance to upset the Chiefs, but ran out of gas in the 47-38 loss Friday night.
The Hounds closed the gap to three on a bucket by freshman Dayonna Davis, but Keokuk would go on a 7-3 run down the stretch, including 4-of-4 at the free throw line to keep the Hounds off the comeback win.
Head Coach T.J. Sargent said she was a little disappointed in the calls in the game, especially some physical play against Kruse.
"I'm not saying refs cost you the game, but I think it could have changed some things for us had they called some of those pushing fouls. Camille (Kruse) was held all night long," Sargent said.
The Hounds trailed most of the game, but never got into double digit deficits.
Keokuk freshman Kendra Boatman buried a 3-pointer with 2:38 left in the third to make it 34-25, but Fort Madison would start cutting into the lead at that point.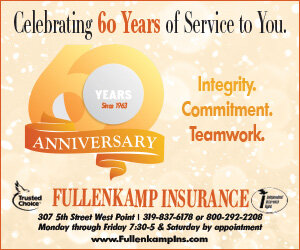 Junior Aija Jenkins scored on a nice drive and dump from the right baseline to get things going for the Lady Hounds on the next possession. Boatman answered for Keokuk, but Fort Madison freshman Davis countered for the Hounds on the next possession. Davis finished with six points in her first game back from a bum ankle.
"I wasn't sure what we'd get from Dayonna, she's only practiced the last couple days lightly. So she's probably going to be super sore. But she played really well."
Fort Madison is getting heavy minutes from underclassmen, including three freshman. Halle Menke and Hadley Wolfe are both getting about 24 minutes per game, while Davis is just working her way back in after the injury.
"We played good. We played hard. We did turn it over, but we are playing a lot of young kids. Halle Menke stepped up and played amazing, diving for balls," Sargent said.
"We're getting some of these girls to contribute. They're just not used to their roles yet. These are freshmen. Hadley (Wolf) does a great job defensively and handles the ball well, but offensively she isn't creating a lot for herself. We just have to get them ready where they feel comfortable."
Boatman would hit another three with the Chiefs up seven to put the game out of reach. Kruse would bury a three in the next Hounds' possession off a pick on the right wing, but she would miss her next two attempts as time ran out.
Kruse ended with 16 points for runner-up game-high totals. Boatman led all scorers with 18. Jenkins and Wolfe each had six points. Molly Knipe had four.
Keokuk moves to 6-1 in the Southeast Conference with the win and 10-5 overall. Fort Madison falls to 4-3 in the conference and 9-6 overall. The Hounds are off until Tuesday when they host Clark County in the Hound Dome.