Christopher Michael Golliher has been missing from Fort Madison home since Feb. 3
BY CHUCK VANDENBERG
PCC EDITOR
FORT MADISON - The parents of a 35-year-old missing U.S. Marine from Fort Madison are looking for answers.
Christopher M. Golliher, Jr., of Fort Madison, was reported missing by his mother Michelle Shelton of Keokuk, on Feb. 7, after hearing from his roommates that the man had left his home without a coat, his wallet, or any belongings.
Golliher had been sharing a residence with two other people in the 2000 block of Avenue E in Fort Madison. He served two– four-year tours of service in Afghanistan and was on full disability after an honorable discharge from the service.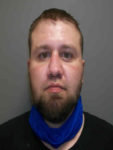 Fort Madison Police have Golliher in the state's missing person system, the National Crime Information Center, and Capt. Jamie Carle said any contact with Golliher would have flagged the missing person listing.
Carle said Golliher had two outstanding warrants for possession of marijuana and possession of methamphetamine. He said at this point, police don't suspect foul play in the disappearance.
Shelton said her son had turned to drugs to help deal with a diagnosed Post-Traumatic Stress Disorder following his tours in Afghanistan. She said she knows he had recently admitted to not taking his medications for the disorder.
"The last time I talked to him, he cut it short and said he wasn't feeling right and he would talk to me later," Shelton said.
She also said her son told her there was some arguing going on between Golliher and his roommates several days before he disappeared, and one of the roommates reported the disappearance to Fort Madison Police.
Carle said police have spoken with the other residents of the home as part of the investigation.
Golliher spent the weekend at his mother's home in Keokuk before he turned up missing.
"He stayed with me Friday and Saturday before he disappeared. We talked about doing things together because I've had my own battles with depression. We talked about some things we could do together that would help both of us," she said.
"If he's turned back to drugs and doesn't want to see me again, I'll live with that, but I want to know he's safe. My plea is that if anyone knows where he is or if he reads this, that his nieces and nephews miss him. We all miss him. Just call us and let us know you're safe."
Lee County Sheriff Stacy Weber said he hadn't been contacted regarding the missing person and wasn't aware, but spoke with Golliher's father, Christopher Golliher, Sr., Wednesday and offered to help. Weber turned the investigation over to a detective after speaking with Golliher, Sr.
Keokuk Police Chief Dave Hinton said they received a call from Shelton on Feb. 14 letting Keokuk Police know she had filed a missing person's report, but didn't have any other information on the case. He said the police arrested Golliher about a year ago.
Golliher, Sr., said it was unlike his son to not make a phone call to him or his mother for such a long time. Shelton said the same, adding that he always returned her phone calls.
Golliher, Sr., said there has been no activity in his son's bank account since his disappearance. He said he wasn't notified by family or the police until the middle of March about their son's disappearance.
"I don't expect the outcome to be good," Golliher, Sr., said. "It's the money. There's been no movement at all in his account and he didn't take his wallet."
Shelton is of the same mindset.
"I just feel like this isn't going to come out well," she said. "He never doesn't return my calls and won't go more than a couple days without just calling me. It's been six weeks."
Shelton is asking anyone with information on her son's whereabouts to contact the nearest police department. She's offering a $1,000 reward for information that results in the location of Golliher.
If anyone has information about the investigation or Golliher's whereabouts, they are encouraged to contact LeeComm Dispatch at 319-372-1310, the Fort Madison Police Department at 319-372-2525, or Keokuk Police Department at 319-524-3131.