Central Lee hangs in for first quarter before Notre Dame takes control
BY CHUCK VANDENBERG
PCC EDITOR
BURLINGTON - Head Coach Kritter Hayes had his team playing pretty good basketball for a quarter Tuesday night, and then the inexperience of the Central Lee Hawks showed up.
The last three quarters were more of what the young squad has encountered all year as Notre Dame downed Central Lee 75-42 in Southeast Iowa Superconference South boys basketball action.
A 3-ball from sophomore Corbin Pohren from the left wing cut the lead to two at 18-16 at the end of the first quarter. Pohren led Central Lee with 12 points on the night.
"I think Corbin comes off the bench and gives us a steady presence. He's got a little bit of experience although it's limited, but he's got a toughness to him that our other guys need to find," Hayes said.
Notre Dame would then go on a 16-0 run to take a 34-16 lead before freshman Brayden Wyrick broke the drought with a couple of freethrows when he was fouled rebounding a Pohren miss. It was one of a very few offensive rebounds on the night for Central Lee.
Dante Merschman connected on a 3-pointer before the half, but Notre Dame put up five more for a 39-21 lead at the break.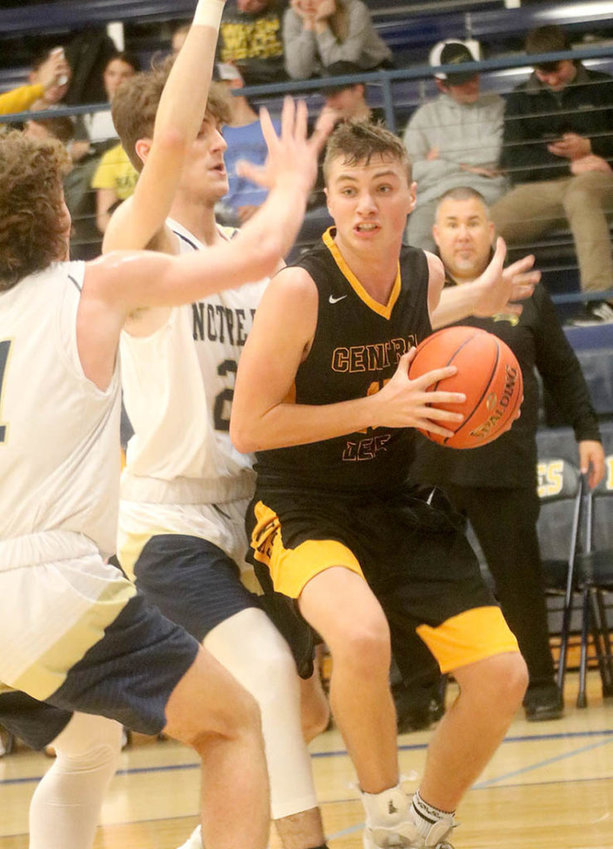 The Hawks' shooting went cold in the third period as the Nikes raced to a 61-26 lead at the end of three, holding Central Lee to just two buckets and a freethrow in the period to put the game all but out of reach.
Hayes said the squad has been decent off the tip, but loses confidence fast after seeing a few mistakes.
"We hang in there at the beginning and make a few mistakes and our confidence level drops significantly. It can't drop to those levels. You have to be able to face a little adversity and they're not used to facing adversity. They're learning that, but they're not there yet," Hayes said.
The Hawks have three seniors in the starting rotation in Alex Sandoval, Bryce Finney, and Maddox Doty, but only Sandoval, and Pohren coming off the bench, had any real floor time coming into this year.
"Our depth is needing to come along faster than I would have wanted. We need time to develop that depth and we're gonna start doing things," he said.
"We just don't have any experience. It's hard for them to face pressure and know how to handle it and not just get sped up. We go to fast and commit turnovers. I bet we had 20 turnovers today and, in reality, that can translate into 40 or 50 points."
Central Lee did have nine players get in the scoring led by Pohren. Cory Jones had eight on the night, followed by Wyrick's six. Ryan Wilbert had five, Finney, Sandoval, and Merschman all had three points for the Hawks. Aden Ross and Chase Johnson rounded out the scoring with a point each.
Wyrick and Sandoval each had four rebounds to lead Central Lee. Pohren had two blocks on the night.
The Hawks (0-5) take on cross-county Holy Trinity Catholic (1-5) on Friday night in Central Lee for a girls/boys doubleheader.