The smash hit "Drinking Habits" by Tom Smith was such a success for Old Fort Players Community Theater in 2020 that they are bringing the lovable zany characters back to the stage for the much-anticipated sequel, "Drinking Habits 2: Caught in the Act" this February.
The Sisters of Perpetual Sewing miss the excitement of the old days when they were saving convents and reuniting long-lost families. So, when they learn that the orphanage where Paul and Kate grew up is in peril, they can't wait to come to the rescue. Paul is played by OFP perennial favorite, James Salisbury. The role of Kate has been assigned to OFP Board Member and faithful volunteer, Jennifer Pranger. Jennifer makes her stage debut with this production.
Everyone pitches in to mount a play to raise money, but it's no easy feat when Kate's expecting any day, Sally's hiding from stage-fright-stricken Paul after another flight from the altar, Mother Superior's acting is unexpectedly narcoleptic, and the sisters' award-winning wine keeps getting switched with the grape juice. The merry mix-ups multiply in this warm and winsome sequel to "Drinking Habits."
Sally is portrayed by a recent addition to the theater, Taegan Hamilton. Taegan has her work cut out for her as she doubles as Stage Manager and triples as Assistant Director.
Theater veteran Shelley Dowling reprises her role as Mother Superior as does returning favorite, Karen Schumaker as Sister Augusta. Jim French is happy to return to the character of Father Chenille and share the stage with the rest of the cast – old and new.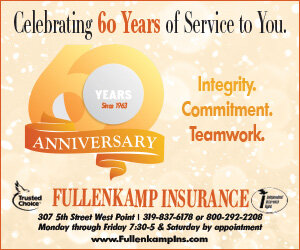 John Todd Gorham is in his second play in a row for OFP. After a non-existent hiatus following "Miracle on 34th Street" John has taken on the role of George. And because the show cannot go on without her, the indefatigable Richar Abel (fresh off her role as director of "Miracle on 34th Street") will portray Sister Philomena.
Co-directors Ty Clute and Angela Sanford are having just as much fun this time around. "They are both such funny plays, but knowing what a success the first one was, it adds some pressure. The cast is looking forward to a packed house again this time and so are we," Clute said.
To help cover the cost of our shows, OFP turns to local businesses. This time we would like to send a big thank you to our sponsor for this production, Shottenkirk Chevrolet Buick GMC Fort Madison. We are grateful for their support of arts in the community.
"Drinking Habits 2: Caught in the Act," written by Tom Smith is produced by Special Arrangement with Playscripts, Inc. (www.playscripts.com), performances are scheduled to run February 17-19 & 24-26, 2023. Friday and Saturday shows begin at 7:30 and the Sunday matinee begins at 2:00 pm. Adult tickets are $15, Senior, Vet & Military are $12, and Students are $10. You can reserve a seat by phone or Facebook Messenger.
The theater is located in downtown Fort Madison at 725 Avenue G. Send a Facebook message, send an email to oldfortplayersfm@gmail.com or call 319-372-9559 for more information. Like them on Facebook (Fb@oldfortplayers) or visit www.oldfortplayers.com to keep up with everything that's going on at the theater.