BY CHUCK VANDENBERG
PCC EDITOR
BURLINGTON - Nicholas Pothitakis didn't really know what he wanted out of life when he headed off to college in Iowa City in 1984.
The son of Inez and Nick Pothitakis was off and running and settled on an economics and finance undergrad degree before heading to Texas for grad school.
He was pretty sure his parents, who owned the regional favorite Palms Supper Club, weren't going to let him be a restaurateur. They wanted their children to get college degrees, and more specifically, graduate degrees.
But Nicholas, more affectionately known throughout southeast Iowa as Niko, parlayed his 1988 business degree into a grad degree and took a flyer on law school at the University of Texas. That 1991 degree has turned him into one of the most recognizable names in worker's compensation and personal injury law in Iowa.
Since 2001, Pothitakis Law firm at 320 N. 3rd Street in Burlington, is not only a leader in the discipline in southeast Iowa, but is regularly recognized in such business reads as U.S. News & World Report as a top Worker's Compensation law firm.
Niko's company celebrated its 20th anniversary in October this year.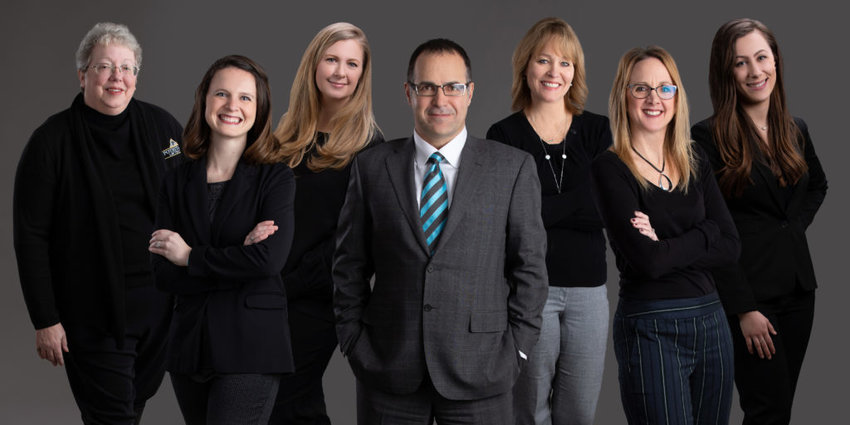 "My parents never really wanted me in the restaurant at all. They always encouraged us to get some type of graduate degree," Pothitakis said.
"I got done with undergrad work and I had no great aspirations to be a lawyer and it wasn't anything on my radar. But then I just decided to go to law school because I could do a lot of things with a law degree."
Pothitakis went to law school in Texas and was just a semester from graduating when his father died. He came home to help his mother and family figure things out with the restaurant and then returned over the summer to complete his degree and then returned to Iowa, again to help his family.
"I had no intention of coming back to Iowa and was interviewing for jobs in Dallas, that's where I was headed, but I wanted to come back here and help her with that. She was trying to sell the restaurant."
Selling the restaurant became a daunting task as his mother kept running it on her own. So while Niko and his brother Mark helped her at the restaurant in the evening, he started practicing law in Fort Madison.
After a stint in Fort Madison, Pothitakis decided to join Steve Crowley and Darwin Bunger at a practice in Burlington, but he was still "lawyer by day and restaurant worker by night."
In the spring of 2001, Niko was presented an ultrasound picture by his wife, Carrie. It had two tiny bubbles. He asked his wife what that was and she said - TWINS!!  
Over the next few months he and his wife decided that the flexibility of operating his own law firm may be exactly what would be needed for this first-time mom and dad with two, not one, on the way. After much thought and planning he opened his own office, the Pothitakis Law Firm, P.C. at the Burlington Building on October 1, 2001.
But the double career with the restaurant continued until 2004.
"My brother and I ran that from 1993 to 2004, with my mom. I would work here and leave here and head to the restaurant," he said.
"That was crazy. I would drive by my house where I had two or three little kids and was like this is stupid, so we sold that as quickly as we could - but it took forever to sell it."
Pothitakis started his firm doing worker's compensation and personal injury, including auto accidents. In the 20 years he's never deviated or added legal services, but has added square footage and staff.
Starting with just himself and a legal secretary in a two-room office, Pothitakis now has the entire first floor of the building and a staff of eight, including six full-time.
"My part of the success of my firm is small compared to the ability and work of all the members of our firm. At times I have considered hiring another attorney or attorneys, but our system has worked tremendously well with the group we have in place."
Longevity is a key for most of the employees. The average tenure of these employees is around 14 years.
Pothitakis said technology, and even the COVID virus, have ushered in changes in how work is done around worker's compensation and personal injury.
"Everything's gone electronic and there's different stages where it changed," Pothitakis said.
"It used to be a lot of writing and typing, and computers were just starting. Then it got more computerized. My phone used to ring off the hook, and now its done by email, which is easier and quicker, and for record purposes is great."
"So it's kinda progressed to that, and now with COVID, people aren't coming in as much and everything's done by Zoom. I do hearings in front of a judge by Zoom and I don't think it goes back. A good chunk of this stays electronic, which is great."
Pothitakis said his future is probably right where he is. He said the future of his law firm will be determined in the next 10 to 15 years and won't include a judge's seat. He does, however, sit on the 8th District Judicial Nominating Commission.
Twenty years is a long time and a rare feat for most businesses. When asked if another 20 years was on the horizon, Niko wasn't willing to commit.
"Every client we have has gone through some type of injury or trauma. We help them emotionally and financially to try to get their lives back together and on track. It is very rewarding."   
"I love what I do. I love helping people. But doing this 20 years from now at age 75? Check back in 15 and I will let you know," he said.