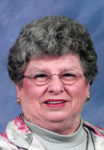 Barbara Joyce Hoewing, 85, formerly of Burlington, died at 5:25 PM Tuesday, March 15, 2022, at her home in Danville with her daughters by her side.
Born September 19, 1936, in Minneapolis, MN, she was the daughter of Wilber Suelter and Maude Farnsworth. On July 18, 1954, she married Emery Wayne Hoewing in Burlington. He died on January 11, 2012.
Barbara attended Keokuk High school then moved to Burlington her Senior year and graduated.
She worked for Midwest Biscuit/Vista Bakery.
Barbara was a member of the First Congregational Church. She enjoyed shopping, working on puzzles and word searches, watching the birds and looking at flowers. But most of all Barbara loved family. She was the happiest when she was surrounded by all of her family. Barb always joked that she was the oldest Suelter and everyday she set the new record; 85 years, 5 months and 24 days.
Survivors include two daughters, Kristina (Scott) Hoewing-Hays and Candi (Curtis Doyle) Lewis of Danville; six grandchildren, Kyle and Ryan Millizer, Kayla, Allanah, and Aiden Lewis, and Kinley Doyle; six great-grandchildren, Emery, Siles, Raymond and Charlotte Millizer, Kaliya and Keyanah Richardson; one brother, John Suelter of NC, two sisters, Mary Lippert of Burlington and Kay Davis of Arizona; brother-in-law, Raymond (Reva) Hoewing of Maryland.
Besides her husband, she is preceded in death by her parents, four brothers, and two sisters.
Visitation will be from noon until 1:00 PM with the family to receive friends Saturday, March 19, 2022 at Prugh~Thielen Funeral Home.
The funeral service for Mrs. Hoewing will be 1:00 PM Saturday, March 19, 2022, at Prugh~Thielen Funeral Home with officiating. Burial will be in Jaggar Cemetery.
A memorial has been established for Hospice.
Prugh Funeral Service is in care of the arrangements.
A photo tribute can be viewed and condolences can be sent to the family by visiting Barbara's obituary at www.prughfuneral.com.