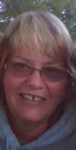 Karla Jo McPherson, 56, of Fort Madison, Iowa, passed away at 9:36 a.m., Saturday, December 11, 2021, at Southeast Iowa Regional Medical Center in West Burlington, Iowa.
Born on December 8, 1965, the daughter of Van and Barbara (Scheurkamp) Jefferson. She married David Anderson they divorced. She married Dana McPherson, they later divorced.
Survivors include her daughter: Heather (Noah) Hunter of Fort Madison, Iowa; son: Dakota (Tabby) McPherson of Fort Madison; her mother: Barb Brown of Nauvoo, Illinois; brother: Victor (Angel) Jefferson of Argyle, Iowa; sister: Robin Fuller of Hamilton, Illinois; step-sisters: Melanie Wood, and Erin Dusenberry; stepbrother: Nate Brown; grandchildren: Venus Hunter, Damon Hunter, Gavin Hunter, Sunny Welsh, Lillian McPherson, Adelynn McPherson, and baby Braxton McPherson on the way. Also surviving is her special friend Jonny McDonell.
She was preceded in death by her father Van Jefferson, step-father Randy Brown and her grandparents.
Karla graduated from Nauvoo-Colusa High School in the class of 1983. She enjoyed gardening, shooting pool and her dog "Buddy". She especially enjoyed spending time with grandchildren, family and friends.
The Family will receive friends from 2:00 p.m. to 3:00 p.m., Friday, January 7, 2022 at the Nauvoo United Methodist Church.
A memorial service will be held at 3:00 p.m. with Pastor Mark Anderson and Pastor Randy Azbell officiating.
A celebration of life will be held at 7:00 p.m. that evening at Vinnie's Long Branch.
In lieu of flowers a memorial has been establish in her memory.
Online condolences may be made to the family at www.sbbfuneralhome.com. Schmitz -Banks & Beals Funeral Home is assisting the family with arrangements.