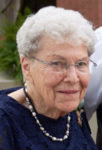 Mary Ann (Schmitz) Garrelts, age 88, died peacefully in her sleep on Saturday, January 1, 2022, at Hickory Grove in Carthage, Illinois.
She was born on April 17, 1933 in Nauvoo, Illinois to Kenneth and Marguerite (Kachle) Schmitz. She married Minor J. Garrelts in Nauvoo, Illinois on January 19, 1952.
In addition to her husband Minor, Mary Ann is survived by her three daughters: Linda (Grant) MacLean, LuAnn (Tom) Haas, and Lora (Steve) Buckert. She was thankful for eight grandchildren: Kaili Maclean (Lonnie Bosak), MacKenzie (Nick) Pettyjohn, Cassie MacLean, David (Sarah) Haas, Michael (Mattie) Haas, Chris (Jilene) Haas, Greg (Ann) Buckert, and Brian (Abby) Buckert; and one step-brother: Tom Yager. Also surviving are many nieces and nephews. At last count there are seven great-grandchildren who brought her much joy during their visits to the farm and Hickory Grove!
She was preceded in death by her parents; three brothers: Edward, William, and Robert Schmitz; one sister: Beverly (Schmitz) Smith and her step-father: Earl Yager.
Growing up in Nauvoo, Mary Ann helped with the family vineyard and fruit stand. She graduated from Sts. Peter and Paul Catholic High School. After her wedding, they moved to California and Washington while Minor served in the Army National Guard. Following Minor's discharge, they moved back to Illinois and began farming. They ended up on a farm outside of Hamilton, Illinois where Minor and Michael Haas continue the farming legacy. Mary Ann devoted herself to raising their daughters, supporting Minor in the farm business, and establishing a career at Kron Pharmacy as a pharmacy technician. Her fifty plus years of service to the community in the pharmacy was valued by all. In fact, the pharmacy was an important part of the Garrelts' family as all three daughters worked with Eldred J. Kron during their high school and college time. Both Linda and LuAnn went on to become pharmacists and LuAnn currently owns Nauvoo Pharmacy. Additionally, Mary Ann contributed her time, caring, and friendly smile to a wide range of volunteer endeavors over the years. These included service to Trinity Lutheran Church; support for the grandsons' musical activities, concerts and athletic endeavors; creating beautiful sewing designs including wedding dresses for all three daughters and bridal keepsakes for the granddaughters. She and Minor loved to square dance and play cards with their friends and family!
A Celebration of Life for Mary Ann will be held at 11:00 a.m. Saturday, May 28, 2022, at Trinity Lutheran Church in Carthage with Pastor David Poland officiating. Following the service the family will receive friends at a luncheon in the fellowship hall.
Burial will be in Thornber Cemetery near Powellton, Illinois.
Memorials may be directed to Blessing Hospice, Memorial Hospital Foundation, Trinity Lutheran Church Kitchen Committee or donor's choice.
Online condolences may be made to the family at www.sbbfuneralhome.com. Schmitz -Banks & Beals Funeral Home is assisting the family with arrangements.