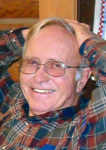 Clarence E. "Sonny" Hootman, 83, of Farmington, Iowa, passed away at 7:50 a.m. Thursday, December 30, 2021, at his home.
He was born on March 12, 1938, in Douds, Iowa, the son of Frank Henry and Dorothy Faye (Channel) Hootman. On May 25, 1968, he married Cheryl Barnes in Farmington, Iowa.
Survivors include his wife: Cheryl; four children: Sonny D. (Sandy) Hootman of Farmington, Iowa, Dawn (Blake) Robison of Cantril, Iowa, Dorian (Jamie) Hootman of Douds, Iowa and Dolan Hootman of Farmington, Iowa; grandchildren: Andrew Sonny, Benaiah (Audrie), Kate, Micaiah, Collin and Blakelan (Branden).
He was preceded in death by his parents.
Sonny was a 1956 graduate of Douds - Leando High School. He had served in the United States Navy from 1956 to 1960 and later served in the Iowa National Guard 224th Engineer Battalion. Sonny was a Christian. He enjoyed fishing, trapping, coon calling and riding his four wheeler with his beloved dog "Jack".
The family will receive friends from 12:00 noon to 1:00 p.m. Monday, January 3, 2022, at the Bonaparte Baptist Church in Bonaparte, Iowa. Following the visitation, a graveside service will be held at the Zion - Lutheran Cemetery in Douds, Iowa with Pastor Mark Caston officiating.
In lieu of flowers, a memorial has been established in his memory for Saint Jude Children's Hospital.
Online condolences may be made to the family at www.schmitzfuneralhomes.com. Schmitz Funeral Home of Farmington is assisting the family with arrangements.