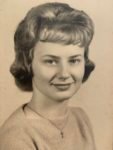 Ginger E. Breitenstein, 78, of Farmington, Iowa, passed away at 1:30 p.m. on Saturday, December 4, 2021, at Southeast Iowa Regional Medical Center in Fort Madison.
Born on February 25, 1943, in Burlington, Iowa, the daughter of Wilford and Delores (Boyd) Gantz. On December 22, 1963, she married Larry Breitenstein at Union Presbyterian Church in Fort Madison.
Survivors include her husband: Larry; daughters: Shawn (Ken) Perkins of Bonaparte, Iowa, Rhonda (Bill) Jordan of Donnellson, Iowa; son: Darin (Casey) Breitenstein of Farmington, Iowa; grandchildren: Brittany McClure, Billy Perkins, Spencer Breitenstein, Richard Jordan, Kaitlin Jordan, Adrian Breitenstein, Sara Breitenstein; great-grandchildren: Landen Jones, Logan McClure, Cameron McClure, Weston McClure, Xander Breitenstein, Ryder Breitenstein, Lane Breitenstein, Sailor Breitenstein; two sisters: Valerie Schwartz and Terrie Hawke. Also surviving are several nieces and nephews.
She is preceded in death by her parents.
Ginger graduated in 1961 from Burlington High School. From 1963 to 2008 she worked for the Sheaffer Pen Company. She enjoyed doing puzzles, coloring, visiting her sisters, babysitting and being with family.
Friends may call after 12:00 noon Wednesday, December 8, 2021, at Schmitz Funeral Home Farmington, where the family will receive friends from 5:00 p.m. to 7:00 p.m.
Funeral services will be held at 10:00 a.m. Thursday, December 9, 2021 at the Schmitz Funeral Home Farmington with Reverend Ellis Andrews officiating.
Burial will be at Acklam Cemetery near Primrose, Iowa.
A memorial has been established in her memory.
Online condolences may be made to the family at www.schmitzfuneralhomes.com. Schmitz Funeral Home of Farmington is assisting the family with arrangements.